A Message From Our Founder
NEW! Listen to Rick Murray's interview with Jonny Hartwell for iHeartRadio's CEO'S You Should Know Podcast.

***

Are you passionate about serving individuals and families with autism spectrum disorders and behavioral health or intellectual challenges?
Are you longing for an organization that will invest in your long term professional development?
Are you looking for a company that recognizes you as a contributing employee now and moving forward to grow with the organization's mission?
---
If you answered "yes" to any of these questions, then ATS may be the place for you! Please keep reading.

Achieving True Self was started with a clear vision. Our organization was founded by people with an unstoppable passion and unquestionable commitment to helping those that receive our services to achieve the best version of themselves. People impacted by the autism spectrum have very unique needs, strengths, and desires. No two paths will look the same. Treatment and goals will most certainly vary. A cookie cutter, one size fits all approach just does not work. Cultivating and developing a plan to aid an individual in becoming successful, independent, and ultimately happy, is important to us. Why? We know it's important to you and your loved ones. As the old phrase reminds us, "to thine own self be true." It's an exciting time for clinicians across the country! We are building an organization which recognizes that to truly provide the best possible care and service to the individuals we are so fortunate to serve, we must have the best team members - and we do that by fostering an encouraging environment with endless opportunities so that our strongest team members wish to stay. We want to build careers, not provide stepping stones.
At ATS, we like to say that people matter. Well, the concept itself may seem far from novel, but the execution and practice of it is something that sadly is often not seen in many companies. Many experienced and talented clinicians have shared stories with us about how they were forced to either become someone far different from what their initial aspirations were in order to work in the field, or to ultimately face their demise within their organization. Times are changing. Many organizations are looking at mergers and acquisitions and partnerships to build a stronger and healthier organization to compete in the current marketplace.
ATS fully believes in the power of an organization of committed and talented individuals who are treated with respect, well-compensated (through competitive pay, health care options and year-round professional development opportunities), and valued. An organization that demonstrates staff longevity will result in consistency and continuity of care for its consumers. That goes a long way and further confirms what we at ATS aren't afraid to say over and over again: people matter. Do you wish that such an opportunity was in your area? Please reach out! Our mission-driven organization is committed to national growth. If you fit this description and meet our qualifications, we want to talk to you about bringing ATS to your community!
Send a resume and letter of interest to recruiting@achievingtrueself.com or visit our Employment page!

I can't wait to hear from you. Together, let's make this world a better place.

I'm ready. Are you?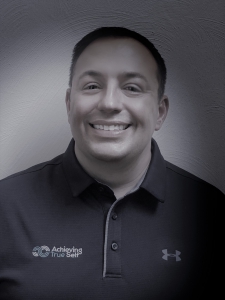 Rick J. Murray, LSW, BCBA, LBA
President / CEO and Founder
Proud uncle of two young adults on the autism spectrum