Employment Opportunities: Come Work With Us
Achieving True Self is passionately cultivating and inspiring growth through the delivery of evidence-based treatment to assist individuals, families, organizations and their surrounding communities to achieve their self-defined goals. Through a supportive organizational culture focused on developing and retaining team members, we are determined to change the world by instilling hope and helping each person whose life we touch achieve their truest self. Does this resonate with you? Find your why in ABA with our ever-growing team! We look forward to meeting you!

Do you have specific questions? Not sure what position is right for you? Excited but overwhelmed with our growing list of options? Contact our Recruitment Team!
---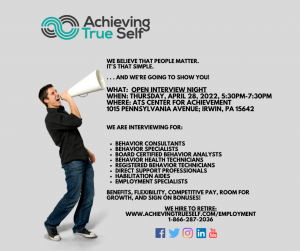 Join us on April 28th at 5:30pm for our Open Interview Night at 1015 Pennsylvania Avenue in Irwin, Pennsylvania! Learn more about our company and meet with a recruiter. We have a number of part-time and full-time positions available. No RSVP needed -- just bring your passion and talent!
---
Are you a job seeker with autism? Click here for tips, resources, and information that you may find helpful!
---
---
Achieving True Self is an equal opportunity and affirmative action employer that celebrates differences and thrives on diversity. Applicants will not be discriminated against because of their age, ancestry, color, citizenship status, creed, disability, gender identity or expression, marital status, medical condition, national origin, orientation, race, religion, sex, sexual orientation, veteran status, or any protected category or characteristic prohibited by local, state or federal laws.
---
ABA Behavior Health Technician (BHT-ABA)

Location:

Gibsonia, PA

Apply Details Department:

BHT- PA- Allegheny

Back

ABA Behavior Health Technician (BHT-ABA)

Location: Gibsonia, PA  Department: BHT- PA- Allegheny
Type: Part Time

Job description

Achieving True Self (ATS) wants to invest in you!

PAID TRAINING! $500 Sign On Bonus!!

At ATS, you have the opportunity to make a change in the life of a child. As a Behavior Technician, you will use the principles of Applied Behavior Analysis (ABA) to provide 1:1 direct services in homes and community settings. You will get to have fun and let your personality shine while applying individualized treatment! You will be a part of an exceptionally supportive work environment where team members thrive, feel valued, and are ultimately appreciated for their contributions.

What are the benefits of working at Achieving True Self?

Part-time, flexible opportunities, available to work afternoons and evenings.

Medical, dental, vision, retirement options, and employee assistance programs.

Supplemental insurance through Aflac to include short term disability options.

Travel time reimbursement; included in your total weekly hours.

Considerate client matching based on your location and availability.

We "Hire to Retire" providing you with the tools necessary to grow with Achieving True Self. Tuition discounts, college and university partnerships, and continued education and supervision opportunities.

Paid training for your Registered Behavior Technician within the first month of employment.

A company that strives for work/life balance.

Company chromebook provided.

The best perk we can offer is to provide you with a chance to make a difference in young lives while working with talented and dedicated people who love what they do.

What qualifications do I need to join the ATS team?

Proof of high school diploma or transcripts.

A valid driver's license with proof of car insurance, a good driving record and your own reliable vehicle.

Experience working with children, children with disabilities, or adults with disabilities is a plus.

An unstoppable passion for excellence and an unquestionable commitment to those we serve.

What are the core responsibilities?

Carry out individualized treatment and behavior intervention plans to support our kiddos within the home and community setting.

Collect data as defined within the plan.

Be a part of the ongoing success and achievement of our kiddos by focusing on their strengths, needs, abilities, and preferences.

Help to guide and support families and caregivers to implement new skills.

Record data within the Electronic Health Records (EHR) system.

Be a stewart of ATSs mission, vision, values, and beliefs.

Who is ATS, and What is our Mission?

Achieving True Self is passionately cultivating and inspiring growth through the delivery of evidenced based treatment to assist individuals, families, organizations and their surrounding communities to achieve their self-defined goals. Through a supportive organizational culture focused on developing and retaining team members, we are determined to change the world by instilling hope and helping each person whose life we touch achieve their truest self.

*Bonus to be paid out after 90 days in the field.

Achieving True Self is an Equal Opportunity Employer (EOE). Qualified applicants will receive consideration for employment without regard to race, color, religion, sex, age, disability, military status, national origin or any other characteristic protected under federal, state, or applicable local law.

Apply

Back

ABA Behavior Health Technician (BHT-ABA)

Location: Gibsonia, PA  Department: BHT- PA- Allegheny
Type: Part Time

ABA Behavior Health Technician (BHT-ABA)

Location:

Homer City, PA

Apply Details Department:

BHT- PA- Indiana

Back

ABA Behavior Health Technician (BHT-ABA)

Location: Homer City, PA  Department: BHT- PA- Indiana
Type: Part Time

Job description

Achieving True Self (ATS) wants to invest in you!

PAID TRAINING! $500 Sign On Bonus!!

At ATS, you have the opportunity to make a change in the life of a child. As a Behavior Technician, you will use the principles of Applied Behavior Analysis (ABA) to provide 1:1 direct services in homes and community settings. You will get to have fun and let your personality shine while applying individualized treatment! You will be a part of an exceptionally supportive work environment where team members thrive, feel valued, and are ultimately appreciated for their contributions.

What are the benefits of working at Achieving True Self?

Part-time, flexible opportunities, available to work afternoons and evenings.

Medical, dental, vision, retirement options, and employee assistance programs.

Supplemental insurance through Aflac to include short term disability options.

Travel time reimbursement; included in your total weekly hours.

Considerate client matching based on your location and availability.

We "Hire to Retire" providing you with the tools necessary to grow with Achieving True Self. Tuition discounts, college and university partnerships, and continued education and supervision opportunities.

Paid training for your Registered Behavior Technician within the first month of employment.

A company that strives for work/life balance.

Company chromebook provided.

The best perk we can offer is to provide you with a chance to make a difference in young lives while working with talented and dedicated people who love what they do.

What qualifications do I need to join the ATS team?

Proof of high school diploma or transcripts.

A valid driver's license with proof of car insurance, a good driving record and your own reliable vehicle.

Experience working with children, children with disabilities, or adults with disabilities is a plus.

An unstoppable passion for excellence and an unquestionable commitment to those we serve.

What are the core responsibilities?

Carry out individualized treatment and behavior intervention plans to support our kiddos within the home and community setting.

Collect data as defined within the plan.

Be a part of the ongoing success and achievement of our kiddos by focusing on their strengths, needs, abilities, and preferences.

Help to guide and support families and caregivers to implement new skills.

Record data within the Electronic Health Records (EHR) system.

Be a stewart of ATSs mission, vision, values, and beliefs.

Who is ATS, and What is our Mission?

Achieving True Self is passionately cultivating and inspiring growth through the delivery of evidenced based treatment to assist individuals, families, organizations and their surrounding communities to achieve their self-defined goals. Through a supportive organizational culture focused on developing and retaining team members, we are determined to change the world by instilling hope and helping each person whose life we touch achieve their truest self.

*Bonus to be paid out after 90 days in the field.

Achieving True Self is an Equal Opportunity Employer (EOE). Qualified applicants will receive consideration for employment without regard to race, color, religion, sex, age, disability, military status, national origin or any other characteristic protected under federal, state, or applicable local law.

Apply

Back

ABA Behavior Health Technician (BHT-ABA)

Location: Homer City, PA  Department: BHT- PA- Indiana
Type: Part Time

ABA Behavior Health Technician (BHT-ABA)

Location:

Meyersdale, PA

Apply Details Department:

BHT- PA- Somerset

Back

ABA Behavior Health Technician (BHT-ABA)

Location: Meyersdale, PA  Department: BHT- PA- Somerset
Type: Part Time

Job description

Achieving True Self (ATS) wants to invest in you!

PAID TRAINING! $500 Sign On Bonus!!

At ATS, you have the opportunity to make a change in the life of a child. As a Behavior Technician, you will use the principles of Applied Behavior Analysis (ABA) to provide 1:1 direct services in homes and community settings. You will get to have fun and let your personality shine while applying individualized treatment! You will be a part of an exceptionally supportive work environment where team members thrive, feel valued, and are ultimately appreciated for their contributions.

What are the benefits of working at Achieving True Self?

Part-time, flexible opportunities, available to work afternoons and evenings.

Medical, dental, vision, retirement options, and employee assistance programs.

Supplemental insurance through Aflac to include short term disability options.

Travel time reimbursement; included in your total weekly hours.

Considerate client matching based on your location and availability.

We "Hire to Retire" providing you with the tools necessary to grow with Achieving True Self. Tuition discounts, college and university partnerships, and continued education and supervision opportunities.

Paid training for your Registered Behavior Technician within the first month of employment.

A company that strives for work/life balance.

Company chromebook provided.

The best perk we can offer is to provide you with a chance to make a difference in young lives while working with talented and dedicated people who love what they do.

What qualifications do I need to join the ATS team?

Proof of high school diploma or transcripts.

A valid driver's license with proof of car insurance, a good driving record and your own reliable vehicle.

Experience working with children, children with disabilities, or adults with disabilities is a plus.

An unstoppable passion for excellence and an unquestionable commitment to those we serve.

What are the core responsibilities?

Carry out individualized treatment and behavior intervention plans to support our kiddos within the home and community setting.

Collect data as defined within the plan.

Be a part of the ongoing success and achievement of our kiddos by focusing on their strengths, needs, abilities, and preferences.

Help to guide and support families and caregivers to implement new skills.

Record data within the Electronic Health Records (EHR) system.

Be a stewart of ATSs mission, vision, values, and beliefs.

Who is ATS, and What is our Mission?

Achieving True Self is passionately cultivating and inspiring growth through the delivery of evidenced based treatment to assist individuals, families, organizations and their surrounding communities to achieve their self-defined goals. Through a supportive organizational culture focused on developing and retaining team members, we are determined to change the world by instilling hope and helping each person whose life we touch achieve their truest self.

*Bonus to be paid out after 90 days in the field.

Achieving True Self is an Equal Opportunity Employer (EOE). Qualified applicants will receive consideration for employment without regard to race, color, religion, sex, age, disability, military status, national origin or any other characteristic protected under federal, state, or applicable local law.

Apply

Back

ABA Behavior Health Technician (BHT-ABA)

Location: Meyersdale, PA  Department: BHT- PA- Somerset
Type: Part Time

ABA Behavior Health Technician (BHT-ABA)

Location:

Irwin, PA

Apply Details Department:

BHT- PA-Westmoreland

Back

ABA Behavior Health Technician (BHT-ABA)

Location: Irwin, PA  Department: BHT- PA-Westmoreland
Type: Part Time

Job description

Achieving True Self (ATS) wants to invest in you!

PAID TRAINING! $500 Sign On Bonus!!

At ATS, you have the opportunity to make a change in the life of a child. As a Behavior Technician, you will use the principles of Applied Behavior Analysis (ABA) to provide 1:1 direct services in homes and community settings. You will get to have fun and let your personality shine while applying individualized treatment! You will be a part of an exceptionally supportive work environment where team members thrive, feel valued, and are ultimately appreciated for their contributions.

What are the benefits of working at Achieving True Self?

Part-time, flexible opportunities, available to work afternoons and evenings.

Medical, dental, vision, retirement options, and employee assistance programs.

Supplemental insurance through Aflac to include short term disability options.

Travel time reimbursement; included in your total weekly hours.

Considerate client matching based on your location and availability.

We "Hire to Retire" providing you with the tools necessary to grow with Achieving True Self. Tuition discounts, college and university partnerships, and continued education and supervision opportunities.

Paid training for your Registered Behavior Technician within the first month of employment.

A company that strives for work/life balance.

Company chromebook provided.

The best perk we can offer is to provide you with a chance to make a difference in young lives while working with talented and dedicated people who love what they do.

What qualifications do I need to join the ATS team?

Proof of high school diploma or transcripts.

A valid driver's license with proof of car insurance, a good driving record and your own reliable vehicle.

Experience working with children, children with disabilities, or adults with disabilities is a plus.

An unstoppable passion for excellence and an unquestionable commitment to those we serve.

What are the core responsibilities?

Carry out individualized treatment and behavior intervention plans to support our kiddos within the home and community setting.

Collect data as defined within the plan.

Be a part of the ongoing success and achievement of our kiddos by focusing on their strengths, needs, abilities, and preferences.

Help to guide and support families and caregivers to implement new skills.

Record data within the Electronic Health Records (EHR) system.

Be a stewart of ATSs mission, vision, values, and beliefs.

Who is ATS, and What is our Mission?

Achieving True Self is passionately cultivating and inspiring growth through the delivery of evidenced based treatment to assist individuals, families, organizations and their surrounding communities to achieve their self-defined goals. Through a supportive organizational culture focused on developing and retaining team members, we are determined to change the world by instilling hope and helping each person whose life we touch achieve their truest self.

*Bonus to be paid out after 90 days in the field.

Achieving True Self is an Equal Opportunity Employer (EOE). Qualified applicants will receive consideration for employment without regard to race, color, religion, sex, age, disability, military status, national origin or any other characteristic protected under federal, state, or applicable local law.

Apply

Back

ABA Behavior Health Technician (BHT-ABA)

Location: Irwin, PA  Department: BHT- PA-Westmoreland
Type: Part Time

ABA Behavior Health Technician (BHT-ABA)

Location:

Moon Township, PA

Apply Details Department:

BHT- PA- Allegheny

Back

ABA Behavior Health Technician (BHT-ABA)

Location: Moon Township, PA  Department: BHT- PA- Allegheny
Type: Part Time

Job description

Achieving True Self (ATS) wants to invest in you!

PAID TRAINING! $500 Sign On Bonus!!

At ATS, you have the opportunity to make a change in the life of a child. As a Behavior Technician, you will use the principles of Applied Behavior Analysis (ABA) to provide 1:1 direct services in homes and community settings. You will get to have fun and let your personality shine while applying individualized treatment! You will be a part of an exceptionally supportive work environment where team members thrive, feel valued, and are ultimately appreciated for their contributions.

What are the benefits of working at Achieving True Self?

Part-time, flexible opportunities, available to work afternoons and evenings.

Medical, dental, vision, retirement options, and employee assistance programs.

Supplemental insurance through Aflac to include short term disability options.

Travel time reimbursement; included in your total weekly hours.

Considerate client matching based on your location and availability.

We "Hire to Retire" providing you with the tools necessary to grow with Achieving True Self. Tuition discounts, college and university partnerships, and continued education and supervision opportunities.

Paid training for your Registered Behavior Technician within the first month of employment.

A company that strives for work/life balance.

Company chromebook provided.

The best perk we can offer is to provide you with a chance to make a difference in young lives while working with talented and dedicated people who love what they do.

What qualifications do I need to join the ATS team?

Proof of high school diploma or transcripts.

A valid driver's license with proof of car insurance, a good driving record and your own reliable vehicle.

Experience working with children, children with disabilities, or adults with disabilities is a plus.

An unstoppable passion for excellence and an unquestionable commitment to those we serve.

What are the core responsibilities?

Carry out individualized treatment and behavior intervention plans to support our kiddos within the home and community setting.

Collect data as defined within the plan.

Be a part of the ongoing success and achievement of our kiddos by focusing on their strengths, needs, abilities, and preferences.

Help to guide and support families and caregivers to implement new skills.

Record data within the Electronic Health Records (EHR) system.

Be a stewart of ATSs mission, vision, values, and beliefs.

Who is ATS, and What is our Mission?

Achieving True Self is passionately cultivating and inspiring growth through the delivery of evidenced based treatment to assist individuals, families, organizations and their surrounding communities to achieve their self-defined goals. Through a supportive organizational culture focused on developing and retaining team members, we are determined to change the world by instilling hope and helping each person whose life we touch achieve their truest self.

*Bonus to be paid out after 90 days in the field.

Achieving True Self is an Equal Opportunity Employer (EOE). Qualified applicants will receive consideration for employment without regard to race, color, religion, sex, age, disability, military status, national origin or any other characteristic protected under federal, state, or applicable local law.

Apply

Back

ABA Behavior Health Technician (BHT-ABA)

Location: Moon Township, PA  Department: BHT- PA- Allegheny
Type: Part Time

ABA Behavior Health Technician (BHT-ABA)

Location:

New Alexandria, PA

Apply Details Department:

BHT- PA-Westmoreland

Back

ABA Behavior Health Technician (BHT-ABA)

Location: New Alexandria, PA  Department: BHT- PA-Westmoreland
Type: Part Time

Job description

Achieving True Self (ATS) wants to invest in you!

PAID TRAINING! $500 Sign On Bonus!!

At ATS, you have the opportunity to make a change in the life of a child. As a Behavior Technician, you will use the principles of Applied Behavior Analysis (ABA) to provide 1:1 direct services in homes and community settings. You will get to have fun and let your personality shine while applying individualized treatment! You will be a part of an exceptionally supportive work environment where team members thrive, feel valued, and are ultimately appreciated for their contributions.

What are the benefits of working at Achieving True Self?

Part-time, flexible opportunities, available to work afternoons and evenings.

Medical, dental, vision, retirement options, and employee assistance programs.

Supplemental insurance through Aflac to include short term disability options.

Travel time reimbursement; included in your total weekly hours.

Considerate client matching based on your location and availability.

We "Hire to Retire" providing you with the tools necessary to grow with Achieving True Self. Tuition discounts, college and university partnerships, and continued education and supervision opportunities.

Paid training for your Registered Behavior Technician within the first month of employment.

A company that strives for work/life balance.

Company chromebook provided.

The best perk we can offer is to provide you with a chance to make a difference in young lives while working with talented and dedicated people who love what they do.

What qualifications do I need to join the ATS team?

Proof of high school diploma or transcripts.

A valid driver's license with proof of car insurance, a good driving record and your own reliable vehicle.

Experience working with children, children with disabilities, or adults with disabilities is a plus.

An unstoppable passion for excellence and an unquestionable commitment to those we serve.

What are the core responsibilities?

Carry out individualized treatment and behavior intervention plans to support our kiddos within the home and community setting.

Collect data as defined within the plan.

Be a part of the ongoing success and achievement of our kiddos by focusing on their strengths, needs, abilities, and preferences.

Help to guide and support families and caregivers to implement new skills.

Record data within the Electronic Health Records (EHR) system.

Be a stewart of ATSs mission, vision, values, and beliefs.

Who is ATS, and What is our Mission?

Achieving True Self is passionately cultivating and inspiring growth through the delivery of evidenced based treatment to assist individuals, families, organizations and their surrounding communities to achieve their self-defined goals. Through a supportive organizational culture focused on developing and retaining team members, we are determined to change the world by instilling hope and helping each person whose life we touch achieve their truest self.

*Bonus to be paid out after 90 days in the field.

Achieving True Self is an Equal Opportunity Employer (EOE). Qualified applicants will receive consideration for employment without regard to race, color, religion, sex, age, disability, military status, national origin or any other characteristic protected under federal, state, or applicable local law.

Apply

Back

ABA Behavior Health Technician (BHT-ABA)

Location: New Alexandria, PA  Department: BHT- PA-Westmoreland
Type: Part Time

ABA Behavior Health Technician (BHT-ABA)

Location:

Mercersburg, PA

Apply Details Department:

BHT- PA- Franklin

Back

ABA Behavior Health Technician (BHT-ABA)

Location: Mercersburg, PA  Department: BHT- PA- Franklin
Type: Part Time

Job description

Achieving True Self (ATS) wants to invest in you!

PAID TRAINING! $500 Sign On Bonus!!

At ATS, you have the opportunity to make a change in the life of a child. As a Behavior Technician, you will use the principles of Applied Behavior Analysis (ABA) to provide 1:1 direct services in homes and community settings. You will get to have fun and let your personality shine while applying individualized treatment! You will be a part of an exceptionally supportive work environment where team members thrive, feel valued, and are ultimately appreciated for their contributions.

What are the benefits of working at Achieving True Self?

Part-time, flexible opportunities, available to work afternoons and evenings.

Medical, dental, vision, retirement options, and employee assistance programs.

Supplemental insurance through Aflac to include short term disability options.

Travel time reimbursement; included in your total weekly hours.

Considerate client matching based on your location and availability.

We "Hire to Retire" providing you with the tools necessary to grow with Achieving True Self. Tuition discounts, college and university partnerships, and continued education and supervision opportunities.

Paid training for your Registered Behavior Technician within the first month of employment.

A company that strives for work/life balance.

Company chromebook provided.

The best perk we can offer is to provide you with a chance to make a difference in young lives while working with talented and dedicated people who love what they do.

What qualifications do I need to join the ATS team?

Proof of high school diploma or transcripts.

A valid driver's license with proof of car insurance, a good driving record and your own reliable vehicle.

Experience working with children, children with disabilities, or adults with disabilities is a plus.

An unstoppable passion for excellence and an unquestionable commitment to those we serve.

What are the core responsibilities?

Carry out individualized treatment and behavior intervention plans to support our kiddos within the home and community setting.

Collect data as defined within the plan.

Be a part of the ongoing success and achievement of our kiddos by focusing on their strengths, needs, abilities, and preferences.

Help to guide and support families and caregivers to implement new skills.

Record data within the Electronic Health Records (EHR) system.

Be a stewart of ATSs mission, vision, values, and beliefs.

Who is ATS, and What is our Mission?

Achieving True Self is passionately cultivating and inspiring growth through the delivery of evidenced based treatment to assist individuals, families, organizations and their surrounding communities to achieve their self-defined goals. Through a supportive organizational culture focused on developing and retaining team members, we are determined to change the world by instilling hope and helping each person whose life we touch achieve their truest self.

*Bonus to be paid out after 90 days in the field.

Achieving True Self is an Equal Opportunity Employer (EOE). Qualified applicants will receive consideration for employment without regard to race, color, religion, sex, age, disability, military status, national origin or any other characteristic protected under federal, state, or applicable local law.

Apply

Back

ABA Behavior Health Technician (BHT-ABA)

Location: Mercersburg, PA  Department: BHT- PA- Franklin
Type: Part Time

ABA Behavior Health Technician (BHT-ABA)

Location:

Waynesboro, PA

Apply Details Department:

BHT- PA- Franklin

Back

ABA Behavior Health Technician (BHT-ABA)

Location: Waynesboro, PA  Department: BHT- PA- Franklin
Type: Part Time

Job description

Achieving True Self (ATS) wants to invest in you!

PAID TRAINING! $500 Sign On Bonus!!

At ATS, you have the opportunity to make a change in the life of a child. As a Behavior Technician, you will use the principles of Applied Behavior Analysis (ABA) to provide 1:1 direct services in homes and community settings. You will get to have fun and let your personality shine while applying individualized treatment! You will be a part of an exceptionally supportive work environment where team members thrive, feel valued, and are ultimately appreciated for their contributions.

What are the benefits of working at Achieving True Self?

Part-time, flexible opportunities, available to work afternoons and evenings.

Medical, dental, vision, retirement options, and employee assistance programs.

Supplemental insurance through Aflac to include short term disability options.

Travel time reimbursement; included in your total weekly hours.

Considerate client matching based on your location and availability.

We "Hire to Retire" providing you with the tools necessary to grow with Achieving True Self. Tuition discounts, college and university partnerships, and continued education and supervision opportunities.

Paid training for your Registered Behavior Technician within the first month of employment.

A company that strives for work/life balance.

Company chromebook provided.

The best perk we can offer is to provide you with a chance to make a difference in young lives while working with talented and dedicated people who love what they do.

What qualifications do I need to join the ATS team?

Proof of high school diploma or transcripts.

A valid driver's license with proof of car insurance, a good driving record and your own reliable vehicle.

Experience working with children, children with disabilities, or adults with disabilities is a plus.

An unstoppable passion for excellence and an unquestionable commitment to those we serve.

What are the core responsibilities?

Carry out individualized treatment and behavior intervention plans to support our kiddos within the home and community setting.

Collect data as defined within the plan.

Be a part of the ongoing success and achievement of our kiddos by focusing on their strengths, needs, abilities, and preferences.

Help to guide and support families and caregivers to implement new skills.

Record data within the Electronic Health Records (EHR) system.

Be a stewart of ATSs mission, vision, values, and beliefs.

Who is ATS, and What is our Mission?

Achieving True Self is passionately cultivating and inspiring growth through the delivery of evidenced based treatment to assist individuals, families, organizations and their surrounding communities to achieve their self-defined goals. Through a supportive organizational culture focused on developing and retaining team members, we are determined to change the world by instilling hope and helping each person whose life we touch achieve their truest self.

*Bonus to be paid out after 90 days in the field.

Achieving True Self is an Equal Opportunity Employer (EOE). Qualified applicants will receive consideration for employment without regard to race, color, religion, sex, age, disability, military status, national origin or any other characteristic protected under federal, state, or applicable local law.

Apply

Back

ABA Behavior Health Technician (BHT-ABA)

Location: Waynesboro, PA  Department: BHT- PA- Franklin
Type: Part Time

ABA Behavior Health Technician (BHT-ABA)

Location:

New Stanton, PA

Apply Details Department:

BHT- PA-Westmoreland

Back

ABA Behavior Health Technician (BHT-ABA)

Location: New Stanton, PA  Department: BHT- PA-Westmoreland
Type: Part Time

Job description

Achieving True Self (ATS) wants to invest in you!

PAID TRAINING! $500 Sign On Bonus!!

At ATS, you have the opportunity to make a change in the life of a child. As a Behavior Technician, you will use the principles of Applied Behavior Analysis (ABA) to provide 1:1 direct services in homes and community settings. You will get to have fun and let your personality shine while applying individualized treatment! You will be a part of an exceptionally supportive work environment where team members thrive, feel valued, and are ultimately appreciated for their contributions.

What are the benefits of working at Achieving True Self?

Part-time, flexible opportunities, available to work afternoons and evenings.

Medical, dental, vision, retirement options, and employee assistance programs.

Supplemental insurance through Aflac to include short term disability options.

Travel time reimbursement; included in your total weekly hours.

Considerate client matching based on your location and availability.

We "Hire to Retire" providing you with the tools necessary to grow with Achieving True Self. Tuition discounts, college and university partnerships, and continued education and supervision opportunities.

Paid training for your Registered Behavior Technician within the first month of employment.

A company that strives for work/life balance.

Company chromebook provided.

The best perk we can offer is to provide you with a chance to make a difference in young lives while working with talented and dedicated people who love what they do.

What qualifications do I need to join the ATS team?

Proof of high school diploma or transcripts.

A valid driver's license with proof of car insurance, a good driving record and your own reliable vehicle.

Experience working with children, children with disabilities, or adults with disabilities is a plus.

An unstoppable passion for excellence and an unquestionable commitment to those we serve.

What are the core responsibilities?

Carry out individualized treatment and behavior intervention plans to support our kiddos within the home and community setting.

Collect data as defined within the plan.

Be a part of the ongoing success and achievement of our kiddos by focusing on their strengths, needs, abilities, and preferences.

Help to guide and support families and caregivers to implement new skills.

Record data within the Electronic Health Records (EHR) system.

Be a stewart of ATSs mission, vision, values, and beliefs.

Who is ATS, and What is our Mission?

Achieving True Self is passionately cultivating and inspiring growth through the delivery of evidenced based treatment to assist individuals, families, organizations and their surrounding communities to achieve their self-defined goals. Through a supportive organizational culture focused on developing and retaining team members, we are determined to change the world by instilling hope and helping each person whose life we touch achieve their truest self.

*Bonus to be paid out after 90 days in the field.

Achieving True Self is an Equal Opportunity Employer (EOE). Qualified applicants will receive consideration for employment without regard to race, color, religion, sex, age, disability, military status, national origin or any other characteristic protected under federal, state, or applicable local law.

Apply

Back

ABA Behavior Health Technician (BHT-ABA)

Location: New Stanton, PA  Department: BHT- PA-Westmoreland
Type: Part Time

ABA Behavior Health Technician (BHT-ABA)

Location:

Pittsburgh, PA

Apply Details Department:

BHT- PA- Allegheny

Back

ABA Behavior Health Technician (BHT-ABA)

Location: Pittsburgh, PA  Department: BHT- PA- Allegheny
Type: Part Time

Job description

Achieving True Self (ATS) wants to invest in you!

PAID TRAINING! $500 Sign On Bonus!!

At ATS, you have the opportunity to make a change in the life of a child. As a Behavior Technician, you will use the principles of Applied Behavior Analysis (ABA) to provide 1:1 direct services in homes and community settings. You will get to have fun and let your personality shine while applying individualized treatment! You will be a part of an exceptionally supportive work environment where team members thrive, feel valued, and are ultimately appreciated for their contributions.

What are the benefits of working at Achieving True Self?

Part-time, flexible opportunities, available to work afternoons and evenings.

Medical, dental, vision, retirement options, and employee assistance programs.

Supplemental insurance through Aflac to include short term disability options.

Travel time reimbursement; included in your total weekly hours.

Considerate client matching based on your location and availability.

We "Hire to Retire" providing you with the tools necessary to grow with Achieving True Self. Tuition discounts, college and university partnerships, and continued education and supervision opportunities.

Paid training for your Registered Behavior Technician within the first month of employment.

A company that strives for work/life balance.

Company chromebook provided.

The best perk we can offer is to provide you with a chance to make a difference in young lives while working with talented and dedicated people who love what they do.

What qualifications do I need to join the ATS team?

Proof of high school diploma or transcripts.

A valid driver's license with proof of car insurance, a good driving record and your own reliable vehicle.

Experience working with children, children with disabilities, or adults with disabilities is a plus.

An unstoppable passion for excellence and an unquestionable commitment to those we serve.

What are the core responsibilities?

Carry out individualized treatment and behavior intervention plans to support our kiddos within the home and community setting.

Collect data as defined within the plan.

Be a part of the ongoing success and achievement of our kiddos by focusing on their strengths, needs, abilities, and preferences.

Help to guide and support families and caregivers to implement new skills.

Record data within the Electronic Health Records (EHR) system.

Be a stewart of ATSs mission, vision, values, and beliefs.

Who is ATS, and What is our Mission?

Achieving True Self is passionately cultivating and inspiring growth through the delivery of evidenced based treatment to assist individuals, families, organizations and their surrounding communities to achieve their self-defined goals. Through a supportive organizational culture focused on developing and retaining team members, we are determined to change the world by instilling hope and helping each person whose life we touch achieve their truest self.

*Bonus to be paid out after 90 days in the field.

Achieving True Self is an Equal Opportunity Employer (EOE). Qualified applicants will receive consideration for employment without regard to race, color, religion, sex, age, disability, military status, national origin or any other characteristic protected under federal, state, or applicable local law.

Apply

Back

ABA Behavior Health Technician (BHT-ABA)

Location: Pittsburgh, PA  Department: BHT- PA- Allegheny
Type: Part Time

ABA Behavior Health Technician (BHT-ABA)

Location:

Lancaster, PA

Apply Details Department:

BHT- PA- Lancaster

Back

ABA Behavior Health Technician (BHT-ABA)

Location: Lancaster, PA  Department: BHT- PA- Lancaster
Type: Part Time

Job description

Achieving True Self (ATS) wants to invest in you!

PAID TRAINING! $500 Sign On Bonus!!

At ATS, you have the opportunity to make a change in the life of a child. As a Behavior Technician, you will use the principles of Applied Behavior Analysis (ABA) to provide 1:1 direct services in homes and community settings. You will get to have fun and let your personality shine while applying individualized treatment! You will be a part of an exceptionally supportive work environment where team members thrive, feel valued, and are ultimately appreciated for their contributions.

What are the benefits of working at Achieving True Self?

Part-time, flexible opportunities, available to work afternoons and evenings.

Medical, dental, vision, retirement options, and employee assistance programs.

Supplemental insurance through Aflac to include short term disability options.

Travel time reimbursement; included in your total weekly hours.

Considerate client matching based on your location and availability.

We "Hire to Retire" providing you with the tools necessary to grow with Achieving True Self. Tuition discounts, college and university partnerships, and continued education and supervision opportunities.

Paid training for your Registered Behavior Technician within the first month of employment.

A company that strives for work/life balance.

Company chromebook provided.

The best perk we can offer is to provide you with a chance to make a difference in young lives while working with talented and dedicated people who love what they do.

What qualifications do I need to join the ATS team?

Proof of high school diploma or transcripts.

A valid driver's license with proof of car insurance, a good driving record and your own reliable vehicle.

Experience working with children, children with disabilities, or adults with disabilities is a plus.

An unstoppable passion for excellence and an unquestionable commitment to those we serve.

What are the core responsibilities?

Carry out individualized treatment and behavior intervention plans to support our kiddos within the home and community setting.

Collect data as defined within the plan.

Be a part of the ongoing success and achievement of our kiddos by focusing on their strengths, needs, abilities, and preferences.

Help to guide and support families and caregivers to implement new skills.

Record data within the Electronic Health Records (EHR) system.

Be a stewart of ATSs mission, vision, values, and beliefs.

Who is ATS, and What is our Mission?

Achieving True Self is passionately cultivating and inspiring growth through the delivery of evidenced based treatment to assist individuals, families, organizations and their surrounding communities to achieve their self-defined goals. Through a supportive organizational culture focused on developing and retaining team members, we are determined to change the world by instilling hope and helping each person whose life we touch achieve their truest self.

*Bonus to be paid out after 90 days in the field.

Achieving True Self is an Equal Opportunity Employer (EOE). Qualified applicants will receive consideration for employment without regard to race, color, religion, sex, age, disability, military status, national origin or any other characteristic protected under federal, state, or applicable local law.

Apply

Back

ABA Behavior Health Technician (BHT-ABA)

Location: Lancaster, PA  Department: BHT- PA- Lancaster
Type: Part Time

ABA Behavior Health Technician (BHT-ABA)

Location:

Kittanning, PA

Apply Details Department:

BHT- PA- Armstrong

Back

ABA Behavior Health Technician (BHT-ABA)

Location: Kittanning, PA  Department: BHT- PA- Armstrong
Type: Part Time

Job description

Achieving True Self (ATS) wants to invest in you!

PAID TRAINING! $500 Sign On Bonus!!

At ATS, you have the opportunity to make a change in the life of a child. As a Behavior Technician, you will use the principles of Applied Behavior Analysis (ABA) to provide 1:1 direct services in homes and community settings. You will get to have fun and let your personality shine while applying individualized treatment! You will be a part of an exceptionally supportive work environment where team members thrive, feel valued, and are ultimately appreciated for their contributions.

What are the benefits of working at Achieving True Self?

Part-time, flexible opportunities, available to work afternoons and evenings.

Medical, dental, vision, retirement options, and employee assistance programs.

Supplemental insurance through Aflac to include short term disability options.

Travel time reimbursement; included in your total weekly hours.

Considerate client matching based on your location and availability.

We "Hire to Retire" providing you with the tools necessary to grow with Achieving True Self. Tuition discounts, college and university partnerships, and continued education and supervision opportunities.

Paid training for your Registered Behavior Technician within the first month of employment.

A company that strives for work/life balance.

Company chromebook provided.

The best perk we can offer is to provide you with a chance to make a difference in young lives while working with talented and dedicated people who love what they do.

What qualifications do I need to join the ATS team?

Proof of high school diploma or transcripts.

A valid driver's license with proof of car insurance, a good driving record and your own reliable vehicle.

Experience working with children, children with disabilities, or adults with disabilities is a plus.

An unstoppable passion for excellence and an unquestionable commitment to those we serve.

What are the core responsibilities?

Carry out individualized treatment and behavior intervention plans to support our kiddos within the home and community setting.

Collect data as defined within the plan.

Be a part of the ongoing success and achievement of our kiddos by focusing on their strengths, needs, abilities, and preferences.

Help to guide and support families and caregivers to implement new skills.

Record data within the Electronic Health Records (EHR) system.

Be a stewart of ATSs mission, vision, values, and beliefs.

Who is ATS, and What is our Mission?

Achieving True Self is passionately cultivating and inspiring growth through the delivery of evidenced based treatment to assist individuals, families, organizations and their surrounding communities to achieve their self-defined goals. Through a supportive organizational culture focused on developing and retaining team members, we are determined to change the world by instilling hope and helping each person whose life we touch achieve their truest self.

*Bonus to be paid out after 90 days in the field.

Achieving True Self is an Equal Opportunity Employer (EOE). Qualified applicants will receive consideration for employment without regard to race, color, religion, sex, age, disability, military status, national origin or any other characteristic protected under federal, state, or applicable local law.

Apply

Back

ABA Behavior Health Technician (BHT-ABA)

Location: Kittanning, PA  Department: BHT- PA- Armstrong
Type: Part Time

ABA Behavior Health Technician (BHT-ABA)

Location:

Lititz, PA

Apply Details Department:

BHT- PA- Lancaster

Back

ABA Behavior Health Technician (BHT-ABA)

Location: Lititz, PA  Department: BHT- PA- Lancaster
Type: Part Time

Job description

Achieving True Self (ATS) wants to invest in you!

PAID TRAINING! $500 Sign On Bonus!!

At ATS, you have the opportunity to make a change in the life of a child. As a Behavior Technician, you will use the principles of Applied Behavior Analysis (ABA) to provide 1:1 direct services in homes and community settings. You will get to have fun and let your personality shine while applying individualized treatment! You will be a part of an exceptionally supportive work environment where team members thrive, feel valued, and are ultimately appreciated for their contributions.

What are the benefits of working at Achieving True Self?

Part-time, flexible opportunities, available to work afternoons and evenings.

Medical, dental, vision, retirement options, and employee assistance programs.

Supplemental insurance through Aflac to include short term disability options.

Travel time reimbursement; included in your total weekly hours.

Considerate client matching based on your location and availability.

We "Hire to Retire" providing you with the tools necessary to grow with Achieving True Self. Tuition discounts, college and university partnerships, and continued education and supervision opportunities.

Paid training for your Registered Behavior Technician within the first month of employment.

A company that strives for work/life balance.

Company chromebook provided.

The best perk we can offer is to provide you with a chance to make a difference in young lives while working with talented and dedicated people who love what they do.

What qualifications do I need to join the ATS team?

Proof of high school diploma or transcripts.

A valid driver's license with proof of car insurance, a good driving record and your own reliable vehicle.

Experience working with children, children with disabilities, or adults with disabilities is a plus.

An unstoppable passion for excellence and an unquestionable commitment to those we serve.

What are the core responsibilities?

Carry out individualized treatment and behavior intervention plans to support our kiddos within the home and community setting.

Collect data as defined within the plan.

Be a part of the ongoing success and achievement of our kiddos by focusing on their strengths, needs, abilities, and preferences.

Help to guide and support families and caregivers to implement new skills.

Record data within the Electronic Health Records (EHR) system.

Be a stewart of ATSs mission, vision, values, and beliefs.

Who is ATS, and What is our Mission?

Achieving True Self is passionately cultivating and inspiring growth through the delivery of evidenced based treatment to assist individuals, families, organizations and their surrounding communities to achieve their self-defined goals. Through a supportive organizational culture focused on developing and retaining team members, we are determined to change the world by instilling hope and helping each person whose life we touch achieve their truest self.

*Bonus to be paid out after 90 days in the field.

Achieving True Self is an Equal Opportunity Employer (EOE). Qualified applicants will receive consideration for employment without regard to race, color, religion, sex, age, disability, military status, national origin or any other characteristic protected under federal, state, or applicable local law.

Apply

Back

ABA Behavior Health Technician (BHT-ABA)

Location: Lititz, PA  Department: BHT- PA- Lancaster
Type: Part Time

ABA Behavior Health Technician (BHT-ABA)

Location:

Mt. Pleasant, PA

Apply Details Department:

BHT- PA-Westmoreland

Back

ABA Behavior Health Technician (BHT-ABA)

Location: Mt. Pleasant, PA  Department: BHT- PA-Westmoreland
Type: Part Time

Job description

Achieving True Self (ATS) wants to invest in you!

PAID TRAINING! $500 Sign On Bonus!!

At ATS, you have the opportunity to make a change in the life of a child. As a Behavior Technician, you will use the principles of Applied Behavior Analysis (ABA) to provide 1:1 direct services in homes and community settings. You will get to have fun and let your personality shine while applying individualized treatment! You will be a part of an exceptionally supportive work environment where team members thrive, feel valued, and are ultimately appreciated for their contributions.

What are the benefits of working at Achieving True Self?

Part-time, flexible opportunities, available to work afternoons and evenings.

Medical, dental, vision, retirement options, and employee assistance programs.

Supplemental insurance through Aflac to include short term disability options.

Travel time reimbursement; included in your total weekly hours.

Considerate client matching based on your location and availability.

We "Hire to Retire" providing you with the tools necessary to grow with Achieving True Self. Tuition discounts, college and university partnerships, and continued education and supervision opportunities.

Paid training for your Registered Behavior Technician within the first month of employment.

A company that strives for work/life balance.

Company chromebook provided.

The best perk we can offer is to provide you with a chance to make a difference in young lives while working with talented and dedicated people who love what they do.

What qualifications do I need to join the ATS team?

Proof of high school diploma or transcripts.

A valid driver's license with proof of car insurance, a good driving record and your own reliable vehicle.

Experience working with children, children with disabilities, or adults with disabilities is a plus.

An unstoppable passion for excellence and an unquestionable commitment to those we serve.

What are the core responsibilities?

Carry out individualized treatment and behavior intervention plans to support our kiddos within the home and community setting.

Collect data as defined within the plan.

Be a part of the ongoing success and achievement of our kiddos by focusing on their strengths, needs, abilities, and preferences.

Help to guide and support families and caregivers to implement new skills.

Record data within the Electronic Health Records (EHR) system.

Be a stewart of ATSs mission, vision, values, and beliefs.

Who is ATS, and What is our Mission?

Achieving True Self is passionately cultivating and inspiring growth through the delivery of evidenced based treatment to assist individuals, families, organizations and their surrounding communities to achieve their self-defined goals. Through a supportive organizational culture focused on developing and retaining team members, we are determined to change the world by instilling hope and helping each person whose life we touch achieve their truest self.

*Bonus to be paid out after 90 days in the field.

Achieving True Self is an Equal Opportunity Employer (EOE). Qualified applicants will receive consideration for employment without regard to race, color, religion, sex, age, disability, military status, national origin or any other characteristic protected under federal, state, or applicable local law.

Apply

Back

ABA Behavior Health Technician (BHT-ABA)

Location: Mt. Pleasant, PA  Department: BHT- PA-Westmoreland
Type: Part Time

ABA Behavior Health Technician (BHT-ABA)

Location:

Lebanon, PA

Apply Details Department:

BHT- PA- Labanon

Back

ABA Behavior Health Technician (BHT-ABA)

Location: Lebanon, PA  Department: BHT- PA- Labanon
Type: Part Time

Job description

Achieving True Self (ATS) wants to invest in you!

PAID TRAINING! $500 Sign On Bonus!!

At ATS, you have the opportunity to make a change in the life of a child. As a Behavior Technician, you will use the principles of Applied Behavior Analysis (ABA) to provide 1:1 direct services in homes and community settings. You will get to have fun and let your personality shine while applying individualized treatment! You will be a part of an exceptionally supportive work environment where team members thrive, feel valued, and are ultimately appreciated for their contributions.

What are the benefits of working at Achieving True Self?

Part-time, flexible opportunities, available to work afternoons and evenings.

Medical, dental, vision, retirement options, and employee assistance programs.

Supplemental insurance through Aflac to include short term disability options.

Travel time reimbursement; included in your total weekly hours.

Considerate client matching based on your location and availability.

We "Hire to Retire" providing you with the tools necessary to grow with Achieving True Self. Tuition discounts, college and university partnerships, and continued education and supervision opportunities.

Paid training for your Registered Behavior Technician within the first month of employment.

A company that strives for work/life balance.

Company chromebook provided.

The best perk we can offer is to provide you with a chance to make a difference in young lives while working with talented and dedicated people who love what they do.

What qualifications do I need to join the ATS team?

Proof of high school diploma or transcripts.

A valid driver's license with proof of car insurance, a good driving record and your own reliable vehicle.

Experience working with children, children with disabilities, or adults with disabilities is a plus.

An unstoppable passion for excellence and an unquestionable commitment to those we serve.

What are the core responsibilities?

Carry out individualized treatment and behavior intervention plans to support our kiddos within the home and community setting.

Collect data as defined within the plan.

Be a part of the ongoing success and achievement of our kiddos by focusing on their strengths, needs, abilities, and preferences.

Help to guide and support families and caregivers to implement new skills.

Record data within the Electronic Health Records (EHR) system.

Be a stewart of ATSs mission, vision, values, and beliefs.

Who is ATS, and What is our Mission?

Achieving True Self is passionately cultivating and inspiring growth through the delivery of evidenced based treatment to assist individuals, families, organizations and their surrounding communities to achieve their self-defined goals. Through a supportive organizational culture focused on developing and retaining team members, we are determined to change the world by instilling hope and helping each person whose life we touch achieve their truest self.

*Bonus to be paid out after 90 days in the field.

Achieving True Self is an Equal Opportunity Employer (EOE). Qualified applicants will receive consideration for employment without regard to race, color, religion, sex, age, disability, military status, national origin or any other characteristic protected under federal, state, or applicable local law.

Apply

Back

ABA Behavior Health Technician (BHT-ABA)

Location: Lebanon, PA  Department: BHT- PA- Labanon
Type: Part Time

ABA Behavior Health Technician (BHT-ABA)

Location:

Washington, PA

Apply Details Department:

BHT- PA- Washington

Back

ABA Behavior Health Technician (BHT-ABA)

Location: Washington, PA  Department: BHT- PA- Washington
Type: Part Time

Job description

Achieving True Self (ATS) wants to invest in you!

PAID TRAINING! $500 Sign On Bonus!!

At ATS, you have the opportunity to make a change in the life of a child. As a Behavior Technician, you will use the principles of Applied Behavior Analysis (ABA) to provide 1:1 direct services in homes and community settings. You will get to have fun and let your personality shine while applying individualized treatment! You will be a part of an exceptionally supportive work environment where team members thrive, feel valued, and are ultimately appreciated for their contributions.

What are the benefits of working at Achieving True Self?

Part-time, flexible opportunities, available to work afternoons and evenings.

Medical, dental, vision, retirement options, and employee assistance programs.

Supplemental insurance through Aflac to include short term disability options.

Travel time reimbursement; included in your total weekly hours.

Considerate client matching based on your location and availability.

We "Hire to Retire" providing you with the tools necessary to grow with Achieving True Self. Tuition discounts, college and university partnerships, and continued education and supervision opportunities.

Paid training for your Registered Behavior Technician within the first month of employment.

A company that strives for work/life balance.

Company chromebook provided.

The best perk we can offer is to provide you with a chance to make a difference in young lives while working with talented and dedicated people who love what they do.

What qualifications do I need to join the ATS team?

Proof of high school diploma or transcripts.

A valid driver's license with proof of car insurance, a good driving record and your own reliable vehicle.

Experience working with children, children with disabilities, or adults with disabilities is a plus.

An unstoppable passion for excellence and an unquestionable commitment to those we serve.

What are the core responsibilities?

Carry out individualized treatment and behavior intervention plans to support our kiddos within the home and community setting.

Collect data as defined within the plan.

Be a part of the ongoing success and achievement of our kiddos by focusing on their strengths, needs, abilities, and preferences.

Help to guide and support families and caregivers to implement new skills.

Record data within the Electronic Health Records (EHR) system.

Be a stewart of ATSs mission, vision, values, and beliefs.

Who is ATS, and What is our Mission?

Achieving True Self is passionately cultivating and inspiring growth through the delivery of evidenced based treatment to assist individuals, families, organizations and their surrounding communities to achieve their self-defined goals. Through a supportive organizational culture focused on developing and retaining team members, we are determined to change the world by instilling hope and helping each person whose life we touch achieve their truest self.

*Bonus to be paid out after 90 days in the field.

Achieving True Self is an Equal Opportunity Employer (EOE). Qualified applicants will receive consideration for employment without regard to race, color, religion, sex, age, disability, military status, national origin or any other characteristic protected under federal, state, or applicable local law.

Apply

Back

ABA Behavior Health Technician (BHT-ABA)

Location: Washington, PA  Department: BHT- PA- Washington
Type: Part Time

ABA Behavior Health Technician (BHT-ABA)

Location:

Greencastle, PA

Apply Details Department:

BHT- PA- Franklin

Back

ABA Behavior Health Technician (BHT-ABA)

Location: Greencastle, PA  Department: BHT- PA- Franklin
Type: Part Time

Job description

Achieving True Self (ATS) wants to invest in you!

PAID TRAINING! $500 Sign On Bonus!!

At ATS, you have the opportunity to make a change in the life of a child. As a Behavior Technician, you will use the principles of Applied Behavior Analysis (ABA) to provide 1:1 direct services in homes and community settings. You will get to have fun and let your personality shine while applying individualized treatment! You will be a part of an exceptionally supportive work environment where team members thrive, feel valued, and are ultimately appreciated for their contributions.

What are the benefits of working at Achieving True Self?

Part-time, flexible opportunities, available to work afternoons and evenings.

Medical, dental, vision, retirement options, and employee assistance programs.

Supplemental insurance through Aflac to include short term disability options.

Travel time reimbursement; included in your total weekly hours.

Considerate client matching based on your location and availability.

We "Hire to Retire" providing you with the tools necessary to grow with Achieving True Self. Tuition discounts, college and university partnerships, and continued education and supervision opportunities.

Paid training for your Registered Behavior Technician within the first month of employment.

A company that strives for work/life balance.

Company chromebook provided.

The best perk we can offer is to provide you with a chance to make a difference in young lives while working with talented and dedicated people who love what they do.

What qualifications do I need to join the ATS team?

Proof of high school diploma or transcripts.

A valid driver's license with proof of car insurance, a good driving record and your own reliable vehicle.

Experience working with children, children with disabilities, or adults with disabilities is a plus.

An unstoppable passion for excellence and an unquestionable commitment to those we serve.

What are the core responsibilities?

Carry out individualized treatment and behavior intervention plans to support our kiddos within the home and community setting.

Collect data as defined within the plan.

Be a part of the ongoing success and achievement of our kiddos by focusing on their strengths, needs, abilities, and preferences.

Help to guide and support families and caregivers to implement new skills.

Record data within the Electronic Health Records (EHR) system.

Be a stewart of ATSs mission, vision, values, and beliefs.

Who is ATS, and What is our Mission?

Achieving True Self is passionately cultivating and inspiring growth through the delivery of evidenced based treatment to assist individuals, families, organizations and their surrounding communities to achieve their self-defined goals. Through a supportive organizational culture focused on developing and retaining team members, we are determined to change the world by instilling hope and helping each person whose life we touch achieve their truest self.

*Bonus to be paid out after 90 days in the field.

Achieving True Self is an Equal Opportunity Employer (EOE). Qualified applicants will receive consideration for employment without regard to race, color, religion, sex, age, disability, military status, national origin or any other characteristic protected under federal, state, or applicable local law.

Job Type: Part-time

Apply

Back

ABA Behavior Health Technician (BHT-ABA)

Location: Greencastle, PA  Department: BHT- PA- Franklin
Type: Part Time

ABA Behavior Health Technician (BHT-ABA)

Location:

Aspinwall, PA

Apply Details Department:

BHT- PA- Allegheny

Back

ABA Behavior Health Technician (BHT-ABA)

Location: Aspinwall, PA  Department: BHT- PA- Allegheny
Type: Part Time

Job description

Achieving True Self (ATS) wants to invest in you!

PAID TRAINING! $500 Sign On Bonus!!

At ATS, you have the opportunity to make a change in the life of a child. As a Behavior Technician, you will use the principles of Applied Behavior Analysis (ABA) to provide 1:1 direct services in homes and community settings. You will get to have fun and let your personality shine while applying individualized treatment! You will be a part of an exceptionally supportive work environment where team members thrive, feel valued, and are ultimately appreciated for their contributions.

What are the benefits of working at Achieving True Self?

Part-time, flexible opportunities, available to work afternoons and evenings.

Medical, dental, vision, retirement options, and employee assistance programs.

Supplemental insurance through Aflac to include short term disability options.

Travel time reimbursement; included in your total weekly hours.

Considerate client matching based on your location and availability.

We "Hire to Retire" providing you with the tools necessary to grow with Achieving True Self. Tuition discounts, college and university partnerships, and continued education and supervision opportunities.

Paid training for your Registered Behavior Technician within the first month of employment.

A company that strives for work/life balance.

Company chromebook provided.

The best perk we can offer is to provide you with a chance to make a difference in young lives while working with talented and dedicated people who love what they do.

What qualifications do I need to join the ATS team?

Proof of high school diploma or transcripts.

A valid driver's license with proof of car insurance, a good driving record and your own reliable vehicle.

Experience working with children, children with disabilities, or adults with disabilities is a plus.

An unstoppable passion for excellence and an unquestionable commitment to those we serve.

What are the core responsibilities?

Carry out individualized treatment and behavior intervention plans to support our kiddos within the home and community setting.

Collect data as defined within the plan.

Be a part of the ongoing success and achievement of our kiddos by focusing on their strengths, needs, abilities, and preferences.

Help to guide and support families and caregivers to implement new skills.

Record data within the Electronic Health Records (EHR) system.

Be a stewart of ATSs mission, vision, values, and beliefs.

Who is ATS, and What is our Mission?

Achieving True Self is passionately cultivating and inspiring growth through the delivery of evidenced based treatment to assist individuals, families, organizations and their surrounding communities to achieve their self-defined goals. Through a supportive organizational culture focused on developing and retaining team members, we are determined to change the world by instilling hope and helping each person whose life we touch achieve their truest self.

*Bonus to be paid out after 90 days in the field.

Achieving True Self is an Equal Opportunity Employer (EOE). Qualified applicants will receive consideration for employment without regard to race, color, religion, sex, age, disability, military status, national origin or any other characteristic protected under federal, state, or applicable local law.

Apply

Back

ABA Behavior Health Technician (BHT-ABA)

Location: Aspinwall, PA  Department: BHT- PA- Allegheny
Type: Part Time

ABA Behavior Health Technician (BHT-ABA)

Location:

Greensburg, PA

Apply Details Department:

BHT- PA-Westmoreland

Back

ABA Behavior Health Technician (BHT-ABA)

Location: Greensburg, PA  Department: BHT- PA-Westmoreland
Type: Part Time

Job description

Achieving True Self (ATS) wants to invest in you!

PAID TRAINING! $500 Sign On Bonus!!

At ATS, you have the opportunity to make a change in the life of a child. As a Behavior Technician, you will use the principles of Applied Behavior Analysis (ABA) to provide 1:1 direct services in homes and community settings. You will get to have fun and let your personality shine while applying individualized treatment! You will be a part of an exceptionally supportive work environment where team members thrive, feel valued, and are ultimately appreciated for their contributions.

What are the benefits of working at Achieving True Self?

Part-time, flexible opportunities, available to work afternoons and evenings.

Medical, dental, vision, retirement options, and employee assistance programs.

Supplemental insurance through Aflac to include short term disability options.

Travel time reimbursement; included in your total weekly hours.

Considerate client matching based on your location and availability.

We "Hire to Retire" providing you with the tools necessary to grow with Achieving True Self. Tuition discounts, college and university partnerships, and continued education and supervision opportunities.

Paid training for your Registered Behavior Technician within the first month of employment.

A company that strives for work/life balance.

Company chromebook provided.

The best perk we can offer is to provide you with a chance to make a difference in young lives while working with talented and dedicated people who love what they do.

What qualifications do I need to join the ATS team?

Proof of high school diploma or transcripts.

A valid driver's license with proof of car insurance, a good driving record and your own reliable vehicle.

Experience working with children, children with disabilities, or adults with disabilities is a plus.

An unstoppable passion for excellence and an unquestionable commitment to those we serve.

What are the core responsibilities?

Carry out individualized treatment and behavior intervention plans to support our kiddos within the home and community setting.

Collect data as defined within the plan.

Be a part of the ongoing success and achievement of our kiddos by focusing on their strengths, needs, abilities, and preferences.

Help to guide and support families and caregivers to implement new skills.

Record data within the Electronic Health Records (EHR) system.

Be a stewart of ATSs mission, vision, values, and beliefs.

Who is ATS, and What is our Mission?

Achieving True Self is passionately cultivating and inspiring growth through the delivery of evidenced based treatment to assist individuals, families, organizations and their surrounding communities to achieve their self-defined goals. Through a supportive organizational culture focused on developing and retaining team members, we are determined to change the world by instilling hope and helping each person whose life we touch achieve their truest self.

*Bonus to be paid out after 90 days in the field.

Achieving True Self is an Equal Opportunity Employer (EOE). Qualified applicants will receive consideration for employment without regard to race, color, religion, sex, age, disability, military status, national origin or any other characteristic protected under federal, state, or applicable local law.

Apply

Back

ABA Behavior Health Technician (BHT-ABA)

Location: Greensburg, PA  Department: BHT- PA-Westmoreland
Type: Part Time

ABA Behavior Health Technician (BHT-ABA)

Location:

Cranberry Township, PA

Apply Details Department:

BHT- PA- Butler

Back

ABA Behavior Health Technician (BHT-ABA)

Location: Cranberry Township, PA  Department: BHT- PA- Butler
Type: Part Time

Job description

Achieving True Self (ATS) wants to invest in you!

PAID TRAINING! $500 Sign On Bonus!!

At ATS, you have the opportunity to make a change in the life of a child. As a Behavior Technician, you will use the principles of Applied Behavior Analysis (ABA) to provide 1:1 direct services in homes and community settings. You will get to have fun and let your personality shine while applying individualized treatment! You will be a part of an exceptionally supportive work environment where team members thrive, feel valued, and are ultimately appreciated for their contributions.

What are the benefits of working at Achieving True Self?

Part-time, flexible opportunities, available to work afternoons and evenings.

Medical, dental, vision, retirement options, and employee assistance programs.

Supplemental insurance through Aflac to include short term disability options.

Travel time reimbursement; included in your total weekly hours.

Considerate client matching based on your location and availability.

We "Hire to Retire" providing you with the tools necessary to grow with Achieving True Self. Tuition discounts, college and university partnerships, and continued education and supervision opportunities.

Paid training for your Registered Behavior Technician within the first month of employment.

A company that strives for work/life balance.

Company chromebook provided.

The best perk we can offer is to provide you with a chance to make a difference in young lives while working with talented and dedicated people who love what they do.

What qualifications do I need to join the ATS team?

Proof of high school diploma or transcripts.

A valid driver's license with proof of car insurance, a good driving record and your own reliable vehicle.

Experience working with children, children with disabilities, or adults with disabilities is a plus.

An unstoppable passion for excellence and an unquestionable commitment to those we serve.

What are the core responsibilities?

Carry out individualized treatment and behavior intervention plans to support our kiddos within the home and community setting.

Collect data as defined within the plan.

Be a part of the ongoing success and achievement of our kiddos by focusing on their strengths, needs, abilities, and preferences.

Help to guide and support families and caregivers to implement new skills.

Record data within the Electronic Health Records (EHR) system.

Be a stewart of ATSs mission, vision, values, and beliefs.

Who is ATS, and What is our Mission?

Achieving True Self is passionately cultivating and inspiring growth through the delivery of evidenced based treatment to assist individuals, families, organizations and their surrounding communities to achieve their self-defined goals. Through a supportive organizational culture focused on developing and retaining team members, we are determined to change the world by instilling hope and helping each person whose life we touch achieve their truest self.

*Bonus to be paid out after 90 days in the field.

Achieving True Self is an Equal Opportunity Employer (EOE). Qualified applicants will receive consideration for employment without regard to race, color, religion, sex, age, disability, military status, national origin or any other characteristic protected under federal, state, or applicable local law.

Apply

Back

ABA Behavior Health Technician (BHT-ABA)

Location: Cranberry Township, PA  Department: BHT- PA- Butler
Type: Part Time

ABA Behavior Health Technician (BHT-ABA)

Location:

Indiana, PA

Apply Details Department:

BHT- PA- Indiana

Back

ABA Behavior Health Technician (BHT-ABA)

Location: Indiana, PA  Department: BHT- PA- Indiana
Type: Part Time

Job description

Achieving True Self (ATS) wants to invest in you!

PAID TRAINING! $500 Sign On Bonus!!

At ATS, you have the opportunity to make a change in the life of a child. As a Behavior Technician, you will use the principles of Applied Behavior Analysis (ABA) to provide 1:1 direct services in homes and community settings. You will get to have fun and let your personality shine while applying individualized treatment! You will be a part of an exceptionally supportive work environment where team members thrive, feel valued, and are ultimately appreciated for their contributions.

What are the benefits of working at Achieving True Self?

Part-time, flexible opportunities, available to work afternoons and evenings.

Medical, dental, vision, retirement options, and employee assistance programs.

Supplemental insurance through Aflac to include short term disability options.

Travel time reimbursement; included in your total weekly hours.

Considerate client matching based on your location and availability.

We "Hire to Retire" providing you with the tools necessary to grow with Achieving True Self. Tuition discounts, college and university partnerships, and continued education and supervision opportunities.

Paid training for your Registered Behavior Technician within the first month of employment.

A company that strives for work/life balance.

Company chromebook provided.

The best perk we can offer is to provide you with a chance to make a difference in young lives while working with talented and dedicated people who love what they do.

What qualifications do I need to join the ATS team?

Proof of high school diploma or transcripts.

A valid driver's license with proof of car insurance, a good driving record and your own reliable vehicle.

Experience working with children, children with disabilities, or adults with disabilities is a plus.

An unstoppable passion for excellence and an unquestionable commitment to those we serve.

What are the core responsibilities?

Carry out individualized treatment and behavior intervention plans to support our kiddos within the home and community setting.

Collect data as defined within the plan.

Be a part of the ongoing success and achievement of our kiddos by focusing on their strengths, needs, abilities, and preferences.

Help to guide and support families and caregivers to implement new skills.

Record data within the Electronic Health Records (EHR) system.

Be a stewart of ATSs mission, vision, values, and beliefs.

Who is ATS, and What is our Mission?

Achieving True Self is passionately cultivating and inspiring growth through the delivery of evidenced based treatment to assist individuals, families, organizations and their surrounding communities to achieve their self-defined goals. Through a supportive organizational culture focused on developing and retaining team members, we are determined to change the world by instilling hope and helping each person whose life we touch achieve their truest self.

*Bonus to be paid out after 90 days in the field.

Achieving True Self is an Equal Opportunity Employer (EOE). Qualified applicants will receive consideration for employment without regard to race, color, religion, sex, age, disability, military status, national origin or any other characteristic protected under federal, state, or applicable local law.

Apply

Back

ABA Behavior Health Technician (BHT-ABA)

Location: Indiana, PA  Department: BHT- PA- Indiana
Type: Part Time

ABA Behavior Health Technician (BHT-ABA)

Location:

Carlisle, PA

Apply Details Department:

BHT- PA- Cumberland

Back

ABA Behavior Health Technician (BHT-ABA)

Location: Carlisle, PA  Department: BHT- PA- Cumberland
Type: Part Time

Job description

Achieving True Self (ATS) wants to invest in you!

PAID TRAINING! $500 Sign On Bonus!!

At ATS, you have the opportunity to make a change in the life of a child. As a Behavior Technician, you will use the principles of Applied Behavior Analysis (ABA) to provide 1:1 direct services in homes and community settings. You will get to have fun and let your personality shine while applying individualized treatment! You will be a part of an exceptionally supportive work environment where team members thrive, feel valued, and are ultimately appreciated for their contributions.

What are the benefits of working at Achieving True Self?

Part-time, flexible opportunities, available to work afternoons and evenings.

Medical, dental, vision, retirement options, and employee assistance programs.

Supplemental insurance through Aflac to include short term disability options.

Travel time reimbursement; included in your total weekly hours.

Considerate client matching based on your location and availability.

We "Hire to Retire" providing you with the tools necessary to grow with Achieving True Self. Tuition discounts, college and university partnerships, and continued education and supervision opportunities.

Paid training for your Registered Behavior Technician within the first month of employment.

A company that strives for work/life balance.

Company chromebook provided.

The best perk we can offer is to provide you with a chance to make a difference in young lives while working with talented and dedicated people who love what they do.

What qualifications do I need to join the ATS team?

Proof of high school diploma or transcripts.

A valid driver's license with proof of car insurance, a good driving record and your own reliable vehicle.

Experience working with children, children with disabilities, or adults with disabilities is a plus.

An unstoppable passion for excellence and an unquestionable commitment to those we serve.

What are the core responsibilities?

Carry out individualized treatment and behavior intervention plans to support our kiddos within the home and community setting.

Collect data as defined within the plan.

Be a part of the ongoing success and achievement of our kiddos by focusing on their strengths, needs, abilities, and preferences.

Help to guide and support families and caregivers to implement new skills.

Record data within the Electronic Health Records (EHR) system.

Be a stewart of ATSs mission, vision, values, and beliefs.

Who is ATS, and What is our Mission?

Achieving True Self is passionately cultivating and inspiring growth through the delivery of evidenced based treatment to assist individuals, families, organizations and their surrounding communities to achieve their self-defined goals. Through a supportive organizational culture focused on developing and retaining team members, we are determined to change the world by instilling hope and helping each person whose life we touch achieve their truest self.

*Bonus to be paid out after 90 days in the field.

Achieving True Self is an Equal Opportunity Employer (EOE). Qualified applicants will receive consideration for employment without regard to race, color, religion, sex, age, disability, military status, national origin or any other characteristic protected under federal, state, or applicable local law.

Apply

Back

ABA Behavior Health Technician (BHT-ABA)

Location: Carlisle, PA  Department: BHT- PA- Cumberland
Type: Part Time

ABA Behavior Health Technician (BHT-ABA)

Location:

Hanover, PA

Apply Details Department:

BHT- PA-York

Back

ABA Behavior Health Technician (BHT-ABA)

Location: Hanover, PA  Department: BHT- PA-York
Type: Part Time

Job description

Achieving True Self (ATS) wants to invest in you!

PAID TRAINING! $500 Sign On Bonus!!

At ATS, you have the opportunity to make a change in the life of a child. As a Behavior Technician, you will use the principles of Applied Behavior Analysis (ABA) to provide 1:1 direct services in homes and community settings. You will get to have fun and let your personality shine while applying individualized treatment! You will be a part of an exceptionally supportive work environment where team members thrive, feel valued, and are ultimately appreciated for their contributions.

What are the benefits of working at Achieving True Self?

Part-time, flexible opportunities, available to work afternoons and evenings.

Medical, dental, vision, retirement options, and employee assistance programs.

Supplemental insurance through Aflac to include short term disability options.

Travel time reimbursement; included in your total weekly hours.

Considerate client matching based on your location and availability.

We "Hire to Retire" providing you with the tools necessary to grow with Achieving True Self. Tuition discounts, college and university partnerships, and continued education and supervision opportunities.

Paid training for your Registered Behavior Technician within the first month of employment.

A company that strives for work/life balance.

Company chromebook provided.

The best perk we can offer is to provide you with a chance to make a difference in young lives while working with talented and dedicated people who love what they do.

What qualifications do I need to join the ATS team?

Proof of high school diploma or transcripts.

A valid driver's license with proof of car insurance, a good driving record and your own reliable vehicle.

Experience working with children, children with disabilities, or adults with disabilities is a plus.

An unstoppable passion for excellence and an unquestionable commitment to those we serve.

What are the core responsibilities?

Carry out individualized treatment and behavior intervention plans to support our kiddos within the home and community setting.

Collect data as defined within the plan.

Be a part of the ongoing success and achievement of our kiddos by focusing on their strengths, needs, abilities, and preferences.

Help to guide and support families and caregivers to implement new skills.

Record data within the Electronic Health Records (EHR) system.

Be a stewart of ATSs mission, vision, values, and beliefs.

Who is ATS, and What is our Mission?

Achieving True Self is passionately cultivating and inspiring growth through the delivery of evidenced based treatment to assist individuals, families, organizations and their surrounding communities to achieve their self-defined goals. Through a supportive organizational culture focused on developing and retaining team members, we are determined to change the world by instilling hope and helping each person whose life we touch achieve their truest self.

*Bonus to be paid out after 90 days in the field.

Achieving True Self is an Equal Opportunity Employer (EOE). Qualified applicants will receive consideration for employment without regard to race, color, religion, sex, age, disability, military status, national origin or any other characteristic protected under federal, state, or applicable local law.

Apply

Back

ABA Behavior Health Technician (BHT-ABA)

Location: Hanover, PA  Department: BHT- PA-York
Type: Part Time

ABA Behavior Health Technician (BHT-ABA)

Location:

Dry Run, PA

Apply Details Department:

BHT- PA- Franklin

Back

ABA Behavior Health Technician (BHT-ABA)

Location: Dry Run, PA  Department: BHT- PA- Franklin
Type: Part Time

Job description

Achieving True Self (ATS) wants to invest in you!

PAID TRAINING! $500 Sign On Bonus!!

At ATS, you have the opportunity to make a change in the life of a child. As a Behavior Technician, you will use the principles of Applied Behavior Analysis (ABA) to provide 1:1 direct services in homes and community settings. You will get to have fun and let your personality shine while applying individualized treatment! You will be a part of an exceptionally supportive work environment where team members thrive, feel valued, and are ultimately appreciated for their contributions.

What are the benefits of working at Achieving True Self?

Part-time, flexible opportunities, available to work afternoons and evenings.

Medical, dental, vision, retirement options, and employee assistance programs.

Supplemental insurance through Aflac to include short term disability options.

Travel time reimbursement; included in your total weekly hours.

Considerate client matching based on your location and availability.

We "Hire to Retire" providing you with the tools necessary to grow with Achieving True Self. Tuition discounts, college and university partnerships, and continued education and supervision opportunities.

Paid training for your Registered Behavior Technician within the first month of employment.

A company that strives for work/life balance.

Company chromebook provided.

The best perk we can offer is to provide you with a chance to make a difference in young lives while working with talented and dedicated people who love what they do.

What qualifications do I need to join the ATS team?

Proof of high school diploma or transcripts.

A valid driver's license with proof of car insurance, a good driving record and your own reliable vehicle.

Experience working with children, children with disabilities, or adults with disabilities is a plus.

An unstoppable passion for excellence and an unquestionable commitment to those we serve.

What are the core responsibilities?

Carry out individualized treatment and behavior intervention plans to support our kiddos within the home and community setting.

Collect data as defined within the plan.

Be a part of the ongoing success and achievement of our kiddos by focusing on their strengths, needs, abilities, and preferences.

Help to guide and support families and caregivers to implement new skills.

Record data within the Electronic Health Records (EHR) system.

Be a stewart of ATSs mission, vision, values, and beliefs.

Who is ATS, and What is our Mission?

Achieving True Self is passionately cultivating and inspiring growth through the delivery of evidenced based treatment to assist individuals, families, organizations and their surrounding communities to achieve their self-defined goals. Through a supportive organizational culture focused on developing and retaining team members, we are determined to change the world by instilling hope and helping each person whose life we touch achieve their truest self.

*Bonus to be paid out after 90 days in the field.

Achieving True Self is an Equal Opportunity Employer (EOE). Qualified applicants will receive consideration for employment without regard to race, color, religion, sex, age, disability, military status, national origin or any other characteristic protected under federal, state, or applicable local law.

Apply

Back

ABA Behavior Health Technician (BHT-ABA)

Location: Dry Run, PA  Department: BHT- PA- Franklin
Type: Part Time

ABA Behavior Health Technician (BHT-ABA)

Location:

West Mifflin, PA

Apply Details Department:

BHT- PA- Allegheny

Back

ABA Behavior Health Technician (BHT-ABA)

Location: West Mifflin, PA  Department: BHT- PA- Allegheny
Type: Part Time

Job description

Achieving True Self (ATS) wants to invest in you!

PAID TRAINING! $500 Sign On Bonus!!

At ATS, you have the opportunity to make a change in the life of a child. As a Behavior Technician, you will use the principles of Applied Behavior Analysis (ABA) to provide 1:1 direct services in homes and community settings. You will get to have fun and let your personality shine while applying individualized treatment! You will be a part of an exceptionally supportive work environment where team members thrive, feel valued, and are ultimately appreciated for their contributions.

What are the benefits of working at Achieving True Self?

Part-time, flexible opportunities, available to work afternoons and evenings.

Medical, dental, vision, retirement options, and employee assistance programs.

Supplemental insurance through Aflac to include short term disability options.

Travel time reimbursement; included in your total weekly hours.

Considerate client matching based on your location and availability.

We "Hire to Retire" providing you with the tools necessary to grow with Achieving True Self. Tuition discounts, college and university partnerships, and continued education and supervision opportunities.

Paid training for your Registered Behavior Technician within the first month of employment.

A company that strives for work/life balance.

Company chromebook provided.

The best perk we can offer is to provide you with a chance to make a difference in young lives while working with talented and dedicated people who love what they do.

What qualifications do I need to join the ATS team?

Proof of high school diploma or transcripts.

A valid driver's license with proof of car insurance, a good driving record and your own reliable vehicle.

Experience working with children, children with disabilities, or adults with disabilities is a plus.

An unstoppable passion for excellence and an unquestionable commitment to those we serve.

What are the core responsibilities?

Carry out individualized treatment and behavior intervention plans to support our kiddos within the home and community setting.

Collect data as defined within the plan.

Be a part of the ongoing success and achievement of our kiddos by focusing on their strengths, needs, abilities, and preferences.

Help to guide and support families and caregivers to implement new skills.

Record data within the Electronic Health Records (EHR) system.

Be a stewart of ATSs mission, vision, values, and beliefs.

Who is ATS, and What is our Mission?

Achieving True Self is passionately cultivating and inspiring growth through the delivery of evidenced based treatment to assist individuals, families, organizations and their surrounding communities to achieve their self-defined goals. Through a supportive organizational culture focused on developing and retaining team members, we are determined to change the world by instilling hope and helping each person whose life we touch achieve their truest self.

*Bonus to be paid out after 90 days in the field.

Achieving True Self is an Equal Opportunity Employer (EOE). Qualified applicants will receive consideration for employment without regard to race, color, religion, sex, age, disability, military status, national origin or any other characteristic protected under federal, state, or applicable local law.

Apply

Back

ABA Behavior Health Technician (BHT-ABA)

Location: West Mifflin, PA  Department: BHT- PA- Allegheny
Type: Part Time

ABA Behavior Health Technician (BHT-ABA)

Location:

Bridgeville, PA

Apply Details Department:

BHT- PA- Allegheny

Back

ABA Behavior Health Technician (BHT-ABA)

Location: Bridgeville, PA  Department: BHT- PA- Allegheny
Type: Part Time

Job description

Achieving True Self (ATS) wants to invest in you!

PAID TRAINING!

$500 Sign on Bonus after 90 days!

At ATS, you have the opportunity to make a change in the life of a child. As a Behavior Technician, you will use the principles of Applied Behavior Analysis (ABA) to provide 1:1 direct services in family homes and community settings. You will get to have fun and let your personality shine while applying individualized treatment!
We offer paid training, professional development with field experts, and opportunities for external education. You will be a part of an exceptionally supportive work environment where team members thrive, feel valued, and are ultimately appreciated for their contributions.

Benefits of working at Achieving True Self:

Competitive pay
Part-time opportunities
Bi-weekly paydays
Paid time off
Medical, Dental, Vision, and Retirement Options
Travel time reimbursement
Continued education supervision opportunities
Work/Life Balance
Company Chromebook provided

Required Qualifications:

High school diploma
A valid driver's license with proof of car insurance and a good driving record
Your own reliable vehicle

Preferred Qualifications:Already an RBT or BCaBA? You can grow with us!

BCaBA certification
RBT certification
BCAT certification
Behavior analysis certification from an organization that is accredited by the National Commission for Certifying Agencies or the American National Standards Institute

Don't meet any of these? We would still love to talk to you!Core Responsibilities:

Carry out individualized treatment and behavior intervention plans as defined by the BCBA/QHCP in home, school and/or community settings
Collect data as defined within the plan
Be a part of the ongoing assessment of consumer strengths, needs, abilities, and preferences
Help to transfer skills to families and caregivers as directed
Record data within the Electronic Health Records (EHR) system

Achieving True Self is an Equal Opportunity Employer (EOE). Qualified applicants will receive consideration for employment without regard to race, color, religion, sex, age, disability, military status, national origin or any other characteristic protected under federal, state, or applicable local law.Job Type: Part-time Achieving True Self is an Equal Opportunity Employer (EOE). Qualified applicants will receive consideration for employment without regard to race, color, religion, sex, age, disability, military status, national origin or any other characteristic protected under federal, state, or applicable local law.

Apply

Back

ABA Behavior Health Technician (BHT-ABA)

Location: Bridgeville, PA  Department: BHT- PA- Allegheny
Type: Part Time

ABA Behavior Health Technician (BHT-ABA)

Location:

Sewickley, PA

Apply Details Department:

BHT- PA- Allegheny

Back

ABA Behavior Health Technician (BHT-ABA)

Location: Sewickley, PA  Department: BHT- PA- Allegheny
Type: Part Time

Job description

Achieving True Self (ATS) wants to invest in you!

PAID TRAINING! $500 Sign On Bonus!!

At ATS, you have the opportunity to make a change in the life of a child. As a Behavior Technician, you will use the principles of Applied Behavior Analysis (ABA) to provide 1:1 direct services in homes and community settings. You will get to have fun and let your personality shine while applying individualized treatment! You will be a part of an exceptionally supportive work environment where team members thrive, feel valued, and are ultimately appreciated for their contributions.

What are the benefits of working at Achieving True Self?

Part-time, flexible opportunities, available to work afternoons and evenings.

Medical, dental, vision, retirement options, and employee assistance programs.

Supplemental insurance through Aflac to include short term disability options.

Travel time reimbursement; included in your total weekly hours.

Considerate client matching based on your location and availability.

We "Hire to Retire" providing you with the tools necessary to grow with Achieving True Self. Tuition discounts, college and university partnerships, and continued education and supervision opportunities.

Paid training for your Registered Behavior Technician within the first month of employment.

A company that strives for work/life balance.

Company chromebook provided.

The best perk we can offer is to provide you with a chance to make a difference in young lives while working with talented and dedicated people who love what they do.

What qualifications do I need to join the ATS team?

Proof of high school diploma or transcripts.

A valid driver's license with proof of car insurance, a good driving record and your own reliable vehicle.

Experience working with children, children with disabilities, or adults with disabilities is a plus.

An unstoppable passion for excellence and an unquestionable commitment to those we serve.

What are the core responsibilities?

Carry out individualized treatment and behavior intervention plans to support our kiddos within the home and community setting.

Collect data as defined within the plan.

Be a part of the ongoing success and achievement of our kiddos by focusing on their strengths, needs, abilities, and preferences.

Help to guide and support families and caregivers to implement new skills.

Record data within the Electronic Health Records (EHR) system.

Be a stewart of ATSs mission, vision, values, and beliefs.

Who is ATS, and What is our Mission?

Achieving True Self is passionately cultivating and inspiring growth through the delivery of evidenced based treatment to assist individuals, families, organizations and their surrounding communities to achieve their self-defined goals. Through a supportive organizational culture focused on developing and retaining team members, we are determined to change the world by instilling hope and helping each person whose life we touch achieve their truest self.

*Bonus to be paid out after 90 days in the field.

Achieving True Self is an Equal Opportunity Employer (EOE). Qualified applicants will receive consideration for employment without regard to race, color, religion, sex, age, disability, military status, national origin or any other characteristic protected under federal, state, or applicable local law.

Apply

Back

ABA Behavior Health Technician (BHT-ABA)

Location: Sewickley, PA  Department: BHT- PA- Allegheny
Type: Part Time

ABA Behavior Health Technician (BHT-ABA)

Location:

Apollo, PA

Apply Details Department:

BHT- PA- Armstrong

Back

ABA Behavior Health Technician (BHT-ABA)

Location: Apollo, PA  Department: BHT- PA- Armstrong
Type: Part Time

Job description

Achieving True Self (ATS) wants to invest in you!

PAID TRAINING! $500 Sign On Bonus!!

At ATS, you have the opportunity to make a change in the life of a child. As a Behavior Technician, you will use the principles of Applied Behavior Analysis (ABA) to provide 1:1 direct services in homes and community settings. You will get to have fun and let your personality shine while applying individualized treatment! You will be a part of an exceptionally supportive work environment where team members thrive, feel valued, and are ultimately appreciated for their contributions.

What are the benefits of working at Achieving True Self?

Part-time, flexible opportunities, available to work afternoons and evenings.

Medical, dental, vision, retirement options, and employee assistance programs.

Supplemental insurance through Aflac to include short term disability options.

Travel time reimbursement; included in your total weekly hours.

Considerate client matching based on your location and availability.

We "Hire to Retire" providing you with the tools necessary to grow with Achieving True Self. Tuition discounts, college and university partnerships, and continued education and supervision opportunities.

Paid training for your Registered Behavior Technician within the first month of employment.

A company that strives for work/life balance.

Company chromebook provided.

The best perk we can offer is to provide you with a chance to make a difference in young lives while working with talented and dedicated people who love what they do.

What qualifications do I need to join the ATS team?

Proof of high school diploma or transcripts.

A valid driver's license with proof of car insurance, a good driving record and your own reliable vehicle.

Experience working with children, children with disabilities, or adults with disabilities is a plus.

An unstoppable passion for excellence and an unquestionable commitment to those we serve.

What are the core responsibilities?

Carry out individualized treatment and behavior intervention plans to support our kiddos within the home and community setting.

Collect data as defined within the plan.

Be a part of the ongoing success and achievement of our kiddos by focusing on their strengths, needs, abilities, and preferences.

Help to guide and support families and caregivers to implement new skills.

Record data within the Electronic Health Records (EHR) system.

Be a stewart of ATSs mission, vision, values, and beliefs.

Who is ATS, and What is our Mission?

Achieving True Self is passionately cultivating and inspiring growth through the delivery of evidenced based treatment to assist individuals, families, organizations and their surrounding communities to achieve their self-defined goals. Through a supportive organizational culture focused on developing and retaining team members, we are determined to change the world by instilling hope and helping each person whose life we touch achieve their truest self.

*Bonus to be paid out after 90 days in the field.

Achieving True Self is an Equal Opportunity Employer (EOE). Qualified applicants will receive consideration for employment without regard to race, color, religion, sex, age, disability, military status, national origin or any other characteristic protected under federal, state, or applicable local law.

Job Type: Part-time

Apply

Back

ABA Behavior Health Technician (BHT-ABA)

Location: Apollo, PA  Department: BHT- PA- Armstrong
Type: Part Time

ABA Behavior Health Technician (BHT-ABA)

Location:

Chambersburg, PA

Apply Details Department:

BHT- PA- Franklin

Back

ABA Behavior Health Technician (BHT-ABA)

Location: Chambersburg, PA  Department: BHT- PA- Franklin
Type: Part Time

Job description

Achieving True Self (ATS) wants to invest in you!

PAID TRAINING! $500 Sign On Bonus!!

At ATS, you have the opportunity to make a change in the life of a child. As a Behavior Technician, you will use the principles of Applied Behavior Analysis (ABA) to provide 1:1 direct services in homes and community settings. You will get to have fun and let your personality shine while applying individualized treatment! You will be a part of an exceptionally supportive work environment where team members thrive, feel valued, and are ultimately appreciated for their contributions.

What are the benefits of working at Achieving True Self?

Part-time, flexible opportunities, available to work afternoons and evenings.

Medical, dental, vision, retirement options, and employee assistance programs.

Supplemental insurance through Aflac to include short term disability options.

Travel time reimbursement; included in your total weekly hours.

Considerate client matching based on your location and availability.

We "Hire to Retire" providing you with the tools necessary to grow with Achieving True Self. Tuition discounts, college and university partnerships, and continued education and supervision opportunities.

Paid training for your Registered Behavior Technician within the first month of employment.

A company that strives for work/life balance.

Company chromebook provided.

The best perk we can offer is to provide you with a chance to make a difference in young lives while working with talented and dedicated people who love what they do.

What qualifications do I need to join the ATS team?

Proof of high school diploma or transcripts.

A valid driver's license with proof of car insurance, a good driving record and your own reliable vehicle.

Experience working with children, children with disabilities, or adults with disabilities is a plus.

An unstoppable passion for excellence and an unquestionable commitment to those we serve.

What are the core responsibilities?

Carry out individualized treatment and behavior intervention plans to support our kiddos within the home and community setting.

Collect data as defined within the plan.

Be a part of the ongoing success and achievement of our kiddos by focusing on their strengths, needs, abilities, and preferences.

Help to guide and support families and caregivers to implement new skills.

Record data within the Electronic Health Records (EHR) system.

Be a stewart of ATSs mission, vision, values, and beliefs.

Who is ATS, and What is our Mission?

Achieving True Self is passionately cultivating and inspiring growth through the delivery of evidenced based treatment to assist individuals, families, organizations and their surrounding communities to achieve their self-defined goals. Through a supportive organizational culture focused on developing and retaining team members, we are determined to change the world by instilling hope and helping each person whose life we touch achieve their truest self.

*Bonus to be paid out after 90 days in the field.

Achieving True Self is an Equal Opportunity Employer (EOE). Qualified applicants will receive consideration for employment without regard to race, color, religion, sex, age, disability, military status, national origin or any other characteristic protected under federal, state, or applicable local law.

Apply

Back

ABA Behavior Health Technician (BHT-ABA)

Location: Chambersburg, PA  Department: BHT- PA- Franklin
Type: Part Time

ABA Behavior Health Technician (BHT-ABA)

Location:

Hanover, PA

Apply Details Department:

BHT- PA- York

Back

ABA Behavior Health Technician (BHT-ABA)

Location: Hanover, PA  Department: BHT- PA- York
Type: Part Time

Job description

Achieving True Self (ATS) wants to invest in you!

PAID TRAINING! $500 Sign On Bonus!!

At ATS, you have the opportunity to make a change in the life of a child. As a Behavior Technician, you will use the principles of Applied Behavior Analysis (ABA) to provide 1:1 direct services in homes and community settings. You will get to have fun and let your personality shine while applying individualized treatment! You will be a part of an exceptionally supportive work environment where team members thrive, feel valued, and are ultimately appreciated for their contributions.

What are the benefits of working at Achieving True Self?

Part-time, flexible opportunities, available to work afternoons and evenings.

Medical, dental, vision, retirement options, and employee assistance programs.

Supplemental insurance through Aflac to include short term disability options.

Travel time reimbursement; included in your total weekly hours.

Considerate client matching based on your location and availability.

We "Hire to Retire" providing you with the tools necessary to grow with Achieving True Self. Tuition discounts, college and university partnerships, and continued education and supervision opportunities.

Paid training for your Registered Behavior Technician within the first month of employment.

A company that strives for work/life balance.

Company chromebook provided.

The best perk we can offer is to provide you with a chance to make a difference in young lives while working with talented and dedicated people who love what they do.

What qualifications do I need to join the ATS team?

Proof of high school diploma or transcripts.

A valid driver's license with proof of car insurance, a good driving record and your own reliable vehicle.

Experience working with children, children with disabilities, or adults with disabilities is a plus.

An unstoppable passion for excellence and an unquestionable commitment to those we serve.

What are the core responsibilities?

Carry out individualized treatment and behavior intervention plans to support our kiddos within the home and community setting.

Collect data as defined within the plan.

Be a part of the ongoing success and achievement of our kiddos by focusing on their strengths, needs, abilities, and preferences.

Help to guide and support families and caregivers to implement new skills.

Record data within the Electronic Health Records (EHR) system.

Be a stewart of ATSs mission, vision, values, and beliefs.

Who is ATS, and What is our Mission?

Achieving True Self is passionately cultivating and inspiring growth through the delivery of evidenced based treatment to assist individuals, families, organizations and their surrounding communities to achieve their self-defined goals. Through a supportive organizational culture focused on developing and retaining team members, we are determined to change the world by instilling hope and helping each person whose life we touch achieve their truest self.

*Bonus to be paid out after 90 days in the field.

Achieving True Self is an Equal Opportunity Employer (EOE). Qualified applicants will receive consideration for employment without regard to race, color, religion, sex, age, disability, military status, national origin or any other characteristic protected under federal, state, or applicable local law.

Apply

Back

ABA Behavior Health Technician (BHT-ABA)

Location: Hanover, PA  Department: BHT- PA- York
Type: Part Time

ABA Behavior Health Technician (BHT-ABA)

Location:

McCandless Township, PA

Apply Details Department:

BHT- PA- Allegheny

Back

ABA Behavior Health Technician (BHT-ABA)

Location: McCandless Township, PA  Department: BHT- PA- Allegheny
Type: Part Time

Job description

Achieving True Self (ATS) wants to invest in you!

PAID TRAINING! $500 Sign On Bonus!!

At ATS, you have the opportunity to make a change in the life of a child. As a Behavior Technician, you will use the principles of Applied Behavior Analysis (ABA) to provide 1:1 direct services in homes and community settings. You will get to have fun and let your personality shine while applying individualized treatment! You will be a part of an exceptionally supportive work environment where team members thrive, feel valued, and are ultimately appreciated for their contributions.

What are the benefits of working at Achieving True Self?

Part-time, flexible opportunities, available to work afternoons and evenings.

Medical, dental, vision, retirement options, and employee assistance programs.

Supplemental insurance through Aflac to include short term disability options.

Travel time reimbursement; included in your total weekly hours.

Considerate client matching based on your location and availability.

We "Hire to Retire" providing you with the tools necessary to grow with Achieving True Self. Tuition discounts, college and university partnerships, and continued education and supervision opportunities.

Paid training for your Registered Behavior Technician within the first month of employment.

A company that strives for work/life balance.

Company chromebook provided.

The best perk we can offer is to provide you with a chance to make a difference in young lives while working with talented and dedicated people who love what they do.

What qualifications do I need to join the ATS team?

Proof of high school diploma or transcripts.

A valid driver's license with proof of car insurance, a good driving record and your own reliable vehicle.

Experience working with children, children with disabilities, or adults with disabilities is a plus.

An unstoppable passion for excellence and an unquestionable commitment to those we serve.

What are the core responsibilities?

Carry out individualized treatment and behavior intervention plans to support our kiddos within the home and community setting.

Collect data as defined within the plan.

Be a part of the ongoing success and achievement of our kiddos by focusing on their strengths, needs, abilities, and preferences.

Help to guide and support families and caregivers to implement new skills.

Record data within the Electronic Health Records (EHR) system.

Be a stewart of ATSs mission, vision, values, and beliefs.

Who is ATS, and What is our Mission?

Achieving True Self is passionately cultivating and inspiring growth through the delivery of evidenced based treatment to assist individuals, families, organizations and their surrounding communities to achieve their self-defined goals. Through a supportive organizational culture focused on developing and retaining team members, we are determined to change the world by instilling hope and helping each person whose life we touch achieve their truest self.

*Bonus to be paid out after 90 days in the field.

Achieving True Self is an Equal Opportunity Employer (EOE). Qualified applicants will receive consideration for employment without regard to race, color, religion, sex, age, disability, military status, national origin or any other characteristic protected under federal, state, or applicable local law.

Apply

Back

ABA Behavior Health Technician (BHT-ABA)

Location: McCandless Township, PA  Department: BHT- PA- Allegheny
Type: Part Time

ABA Behavior Health Technician (BHT-ABA)

Location:

Harrisburg, PA

Apply Details Department:

BHT- PA- Dauphin

Back

ABA Behavior Health Technician (BHT-ABA)

Location: Harrisburg, PA  Department: BHT- PA- Dauphin
Type: Part Time

Job description

Achieving True Self (ATS) wants to invest in you!

PAID TRAINING! $500 Sign On Bonus!!

At ATS, you have the opportunity to make a change in the life of a child. As a Behavior Technician, you will use the principles of Applied Behavior Analysis (ABA) to provide 1:1 direct services in homes and community settings. You will get to have fun and let your personality shine while applying individualized treatment! You will be a part of an exceptionally supportive work environment where team members thrive, feel valued, and are ultimately appreciated for their contributions.

What are the benefits of working at Achieving True Self?

Part-time, flexible opportunities, available to work afternoons and evenings.

Medical, dental, vision, retirement options, and employee assistance programs.

Supplemental insurance through Aflac to include short term disability options.

Travel time reimbursement; included in your total weekly hours.

Considerate client matching based on your location and availability.

We "Hire to Retire" providing you with the tools necessary to grow with Achieving True Self. Tuition discounts, college and university partnerships, and continued education and supervision opportunities.

Paid training for your Registered Behavior Technician within the first month of employment.

A company that strives for work/life balance.

Company chromebook provided.

The best perk we can offer is to provide you with a chance to make a difference in young lives while working with talented and dedicated people who love what they do.

What qualifications do I need to join the ATS team?

Proof of high school diploma or transcripts.

A valid driver's license with proof of car insurance, a good driving record and your own reliable vehicle.

Experience working with children, children with disabilities, or adults with disabilities is a plus.

An unstoppable passion for excellence and an unquestionable commitment to those we serve.

What are the core responsibilities?

Carry out individualized treatment and behavior intervention plans to support our kiddos within the home and community setting.

Collect data as defined within the plan.

Be a part of the ongoing success and achievement of our kiddos by focusing on their strengths, needs, abilities, and preferences.

Help to guide and support families and caregivers to implement new skills.

Record data within the Electronic Health Records (EHR) system.

Be a stewart of ATSs mission, vision, values, and beliefs.

Who is ATS, and What is our Mission?

Achieving True Self is passionately cultivating and inspiring growth through the delivery of evidenced based treatment to assist individuals, families, organizations and their surrounding communities to achieve their self-defined goals. Through a supportive organizational culture focused on developing and retaining team members, we are determined to change the world by instilling hope and helping each person whose life we touch achieve their truest self.

*Bonus to be paid out after 90 days in the field.

Achieving True Self is an Equal Opportunity Employer (EOE). Qualified applicants will receive consideration for employment without regard to race, color, religion, sex, age, disability, military status, national origin or any other characteristic protected under federal, state, or applicable local law.

Apply

Back

ABA Behavior Health Technician (BHT-ABA)

Location: Harrisburg, PA  Department: BHT- PA- Dauphin
Type: Part Time

ABA Behavior Health Technician (BHT-ABA) -Clinic

Location:

Monroeville, PA

Apply Details Department:

BHT- PA- Allegheny

Back

ABA Behavior Health Technician (BHT-ABA) -Clinic

Location: Monroeville, PA  Department: BHT- PA- Allegheny
Type: Full Time

Job description

Achieving True Self (ATS) wants to invest in you!

PAID TRAINING! $500 Sign On Bonus!!

At ATS, you have the opportunity to make a change in the life of a child. As a Behavior Technician, you will use the principles of Applied Behavior Analysis (ABA) to provide to come work within our Center of Achievement in Irwin. You will get to have fun and let your personality shine while applying individualized treatment! You will be a part of an exceptionally supportive work environment where team members thrive, feel valued, and are ultimately appreciated for their contributions.

What are the benefits of working at Achieving True Self?

Part-time, flexible opportunities, available to work afternoons and evenings.

Medical, dental, vision, retirement options, and employee assistance programs.

Supplemental insurance through Aflac to include short term disability options.

Travel time reimbursement; included in your total weekly hours.

Considerate client matching based on your location and availability.

We "Hire to Retire" providing you with the tools necessary to grow with Achieving True Self. Tuition discounts, college and university partnerships, and continued education and supervision opportunities.

Paid training for your Registered Behavior Technician within the first month of employment.

A company that strives for work/life balance.

Company chromebook provided.

The best perk we can offer is to provide you with a chance to make a difference in young lives while working with talented and dedicated people who love what they do.

What qualifications do I need to join the ATS team?

Proof of high school diploma or transcripts.

A valid driver's license with proof of car insurance, a good driving record and your own reliable vehicle.

Experience working with children, children with disabilities, or adults with disabilities is a plus.

An unstoppable passion for excellence and an unquestionable commitment to those we serve.

What are the core responsibilities?

Carry out individualized treatment and behavior intervention plans to support our kiddos within the home and community setting.

Collect data as defined within the plan.

Be a part of the ongoing success and achievement of our kiddos by focusing on their strengths, needs, abilities, and preferences.

Help to guide and support families and caregivers to implement new skills.

Record data within the Electronic Health Records (EHR) system.

Be a stewart of ATSs mission, vision, values, and beliefs.

Who is ATS, and What is our Mission?

Achieving True Self is passionately cultivating and inspiring growth through the delivery of evidenced based treatment to assist individuals, families, organizations and their surrounding communities to achieve their self-defined goals. Through a supportive organizational culture focused on developing and retaining team members, we are determined to change the world by instilling hope and helping each person whose life we touch achieve their truest self.

*Bonus to be paid out after 90 days in the field.

Achieving True Self is an Equal Opportunity Employer (EOE). Qualified applicants will receive consideration for employment without regard to race, color, religion, sex, age, disability, military status, national origin or any other characteristic protected under federal, state, or applicable local law.

Apply

Back

ABA Behavior Health Technician (BHT-ABA) -Clinic

Location: Monroeville, PA  Department: BHT- PA- Allegheny
Type: Full Time

Back

ABA Staff Scheduling Specialist

Location: Irwin, PA  Department: Achieving True Self
Type: Full Time

ACHIEVING TRUE SELF-IRWIN, PA.

ABA Staff Scheduler- Irwin, PA

What Does an ABA Staff Scheduler do for ATS?

A Scheduling Specialist is responsible for facilitating relationships between Consumers, Employees, and the Leadership team for the purpose of ensuring that positive and supportive communication occurs. This position will work with Consumers and Employees to ensure staffing requirements are met.

A Few Benefits of Working at Achieving True Self:

Full time employment

Paid time off

Medical, Dental, Vision, and Retirement Options

Opportunities to collaborate with other professionals and field experts

An exceptionally supportive work environment where team members can thrive, feel valued, and are ultimately appreciated for their contributions

Consistent professional development through training and mentoring, and external opportunities (seminars, conferences, etc.)

Bi-weekly paydays

Paid holidays

Core Responsibilities:

Manage the employee/consumer relationship (e.g. communicating expectations and duties; problem-solving employee/consumer issues) for the purpose of ensuring consumer success and maintaining a positive relationship with the employer

Work closely with the leadership team to coordinate the staffing and scheduling of ABA services across many clients and staff, in several states.

Identify staffing needs and support recruitment of new positions; utilize Jazz HR, our applicant tracking system.

Ensure staff hours are scheduled in accordance with company policies

Manage cancellations as they occur and arrange for substitute coverage and/or make up sessions

Maintain up to date records on the availability of staff and clients

Run weekly reports to ensure staff members have completed appointments for the week before week's end.

Participate in various events and meetings for the purpose of representing ATS and their mission and belief; Promotes and embodies ATS culture to employees and staff.

Perform other related duties as assigned for the purpose of ensuring the efficient and effective functioning of ATS.

Available after-hours and weekends to respond to urgent communication, as needed

Minimum Qualifications:

1 Year of prior experience in staffing, scheduling, and customer service (past work history with ABA scheduling is strongly preferred)

Ability to work in a fast-paced office environment; Position is not remote but does have flexibility when necessary.

Strong ability to multi-task and problem-solve

Expertise in Google Drive applications and systems

Good organization, communication, and attention to detail

Positive, friendly attitude

Must be flexible and adaptable to rapid changes in the daily work environment and be resourceful in solving problems

Be able to give and receive transparent and direct communication.

Bilingual candidates strongly urged to apply, but not required.

Who is ATS, and What is our Mission?:

Achieving True Self is passionately cultivating and inspiring growth through the delivery of evidenced based treatment to assist individuals, families, organizations, and their surrounding communities to achieve their self-defined goals. Through a supportive organizational culture focused on developing and retaining team members, we are determined to change the world by instilling hope and helping each person whose life we touch achieve their truest self.

Achieving True Self is an Equal Opportunity Employer (EOE). Qualified applicants will receive consideration for employment without regard to race, color, religion, sex, age, disability, military status, national origin, or any other characteristic protected under federal, state, or applicable local law.

Apply

Back

ABA Staff Scheduling Specialist

Location: Irwin, PA  Department: Achieving True Self
Type: Full Time

Behavior Technician - Bilingual in ASL

Location:

Frederick, MD

Apply Details Department:

RBT-MD-Frederick

Back

Behavior Technician - Bilingual in ASL

Location: Frederick, MD  Department: RBT-MD-Frederick
Type: Part Time

Job description

Achieving True Self (ATS) wants to invest in you!

*$1,000 Sign on Bonus after first week of billable hours as an RBT.

At ATS, you have the opportunity to make a change in the life of a child. As a Registered Behavior Technician, you will use the principles of Applied Behavior Analysis (ABA) to provide 1:1 direct services in homes and community settings. You will get to have fun and let your personality shine while applying individualized treatment! You will be a part of an exceptionally supportive work environment where team members thrive, feel valued, and are ultimately appreciated for their contributions.

What are the benefits of working at Achieving True Self?

Part-time, flexible opportunities, available to work afternoons and evenings.

Medical, dental, vision, retirement options, and employee assistance programs.

Supplemental insurance through Aflac to include short term disability options.

Travel time reimbursement; included in your total weekly hours.

Considerate client matching based on your location and availability.

We "Hire to Retire" providing you with the tools necessary to grow with Achieving True Self. Tuition discounts, college and university partnerships, and continued education and supervision opportunities.

Paid training for your Registered Behavior Technician within the first month of employment.

A company that strives for work/life balance.

Company chromebook provided.

The best perk we can offer is to provide you with a chance to make a difference in young lives while working with talented and dedicated people who love what they do.

What qualifications do I need to join the ATS team?

Proof of high school diploma or transcripts.
Bilingual in ASL

A valid driver's license with proof of car insurance, a good driving record and your own reliable vehicle.

Experience working with children, children with disabilities, or adults with disabilities is a plus.

An unstoppable passion for excellence and an unquestionable commitment to those we serve.

What are the core responsibilities?

Carry out individualized treatment and behavior intervention plans to support our kiddos within the home and community setting.

Collect data as defined within the plan.

Be a part of the ongoing success and achievement of our kiddos by focusing on their strengths, needs, abilities, and preferences.

Help to guide and support families and caregivers to implement new skills.

Record data within the Electronic Health Records (EHR) system.

Be a stewart of ATSs mission, vision, values, and beliefs.

Who is ATS, and What is our Mission?

Achieving True Self is passionately cultivating and inspiring growth through the delivery of evidenced based treatment to assist individuals, families, organizations and their surrounding communities to achieve their self-defined goals. Through a supportive organizational culture focused on developing and retaining team members, we are determined to change the world by instilling hope and helping each person whose life we touch achieve their truest self.

*Bonus to be paid out after 90 days in the field.

Achieving True Self is an Equal Opportunity Employer (EOE). Qualified applicants will receive consideration for employment without regard to race, color, religion, sex, age, disability, military status, national origin or any other characteristic protected under federal, state, or applicable local law.

Apply

Back

Behavior Technician - Bilingual in ASL

Location: Frederick, MD  Department: RBT-MD-Frederick
Type: Part Time

Behavior Technician - Bilingual in Spanish

Location:

Damascus, MD

Apply Details Department:

RBT-MD-Montgomery

Back

Behavior Technician - Bilingual in Spanish

Location: Damascus, MD  Department: RBT-MD-Montgomery
Type: Part Time

Job description

Achieving True Self (ATS) wants to invest in you!

*$1,000 Sign on Bonus after first week of billable hours.

At ATS, you have the opportunity to make a change in the life of a child. As a Registered Behavior Technician, you will use the principles of Applied Behavior Analysis (ABA) to provide 1:1 direct services in homes and community settings. You will get to have fun and let your personality shine while applying individualized treatment! You will be a part of an exceptionally supportive work environment where team members thrive, feel valued, and are ultimately appreciated for their contributions.

What are the benefits of working at Achieving True Self?

Part-time, flexible opportunities, available to work afternoons and evenings.

Medical, dental, vision, retirement options, and employee assistance programs.

Supplemental insurance through Aflac to include short term disability options.

Travel time reimbursement; included in your total weekly hours.

Considerate client matching based on your location and availability.

We "Hire to Retire" providing you with the tools necessary to grow with Achieving True Self. Tuition discounts, college and university partnerships, and continued education and supervision opportunities.

Paid training for your Registered Behavior Technician within the first month of employment.

A company that strives for work/life balance.

Company chromebook provided.

The best perk we can offer is to provide you with a chance to make a difference in young lives while working with talented and dedicated people who love what they do.

What qualifications do I need to join the ATS team?

Proof of high school diploma or transcripts.
Bilingual in Spanish

A valid driver's license with proof of car insurance, a good driving record and your own reliable vehicle.

Experience working with children, children with disabilities, or adults with disabilities is a plus.

An unstoppable passion for excellence and an unquestionable commitment to those we serve.

What are the core responsibilities?

Carry out individualized treatment and behavior intervention plans to support our kiddos within the home and community setting.

Collect data as defined within the plan.

Be a part of the ongoing success and achievement of our kiddos by focusing on their strengths, needs, abilities, and preferences.

Help to guide and support families and caregivers to implement new skills.

Record data within the Electronic Health Records (EHR) system.

Be a stewart of ATSs mission, vision, values, and beliefs.

Who is ATS, and What is our Mission?

Achieving True Self is passionately cultivating and inspiring growth through the delivery of evidenced based treatment to assist individuals, families, organizations and their surrounding communities to achieve their self-defined goals. Through a supportive organizational culture focused on developing and retaining team members, we are determined to change the world by instilling hope and helping each person whose life we touch achieve their truest self.

*Bonus to be paid out after 90 days in the field.

Achieving True Self is an Equal Opportunity Employer (EOE). Qualified applicants will receive consideration for employment without regard to race, color, religion, sex, age, disability, military status, national origin or any other characteristic protected under federal, state, or applicable local law.

Apply

Back

Behavior Technician - Bilingual in Spanish

Location: Damascus, MD  Department: RBT-MD-Montgomery
Type: Part Time

Behavior Technician - Bilingual in Spanish

Location:

Hagerstown, MD

Apply Details Department:

RBT-MD-Washington

Back

Behavior Technician - Bilingual in Spanish

Location: Hagerstown, MD  Department: RBT-MD-Washington
Type: Part Time

Job description

Achieving True Self (ATS) wants to invest in you!

*$1,000 Sign on Bonus after first week of billable hours.

At ATS, you have the opportunity to make a change in the life of a child. As a Registered Behavior Technician, you will use the principles of Applied Behavior Analysis (ABA) to provide 1:1 direct services in homes and community settings. You will get to have fun and let your personality shine while applying individualized treatment! You will be a part of an exceptionally supportive work environment where team members thrive, feel valued, and are ultimately appreciated for their contributions.

What are the benefits of working at Achieving True Self?

Part-time, flexible opportunities, available to work afternoons and evenings.

Medical, dental, vision, retirement options, and employee assistance programs.

Supplemental insurance through Aflac to include short term disability options.

Travel time reimbursement; included in your total weekly hours.

Considerate client matching based on your location and availability.

We "Hire to Retire" providing you with the tools necessary to grow with Achieving True Self. Tuition discounts, college and university partnerships, and continued education and supervision opportunities.

Paid training for your Registered Behavior Technician within the first month of employment.

A company that strives for work/life balance.

Company chromebook provided.

The best perk we can offer is to provide you with a chance to make a difference in young lives while working with talented and dedicated people who love what they do.

What qualifications do I need to join the ATS team?

Proof of high school diploma or transcripts.
Bilingual in Spanish

A valid driver's license with proof of car insurance, a good driving record and your own reliable vehicle.

Experience working with children, children with disabilities, or adults with disabilities is a plus.

An unstoppable passion for excellence and an unquestionable commitment to those we serve.

What are the core responsibilities?

Carry out individualized treatment and behavior intervention plans to support our kiddos within the home and community setting.

Collect data as defined within the plan.

Be a part of the ongoing success and achievement of our kiddos by focusing on their strengths, needs, abilities, and preferences.

Help to guide and support families and caregivers to implement new skills.

Record data within the Electronic Health Records (EHR) system.

Be a stewart of ATSs mission, vision, values, and beliefs.

Who is ATS, and What is our Mission?

Achieving True Self is passionately cultivating and inspiring growth through the delivery of evidenced based treatment to assist individuals, families, organizations and their surrounding communities to achieve their self-defined goals. Through a supportive organizational culture focused on developing and retaining team members, we are determined to change the world by instilling hope and helping each person whose life we touch achieve their truest self.

*Bonus to be paid out after 90 days in the field.

Achieving True Self is an Equal Opportunity Employer (EOE). Qualified applicants will receive consideration for employment without regard to race, color, religion, sex, age, disability, military status, national origin or any other characteristic protected under federal, state, or applicable local law.

Apply

Back

Behavior Technician - Bilingual in Spanish

Location: Hagerstown, MD  Department: RBT-MD-Washington
Type: Part Time

Behavior Technician - Bilingual in Spanish

Location:

Jessup, MD

Apply Details Department:

RBT-MD-Howard

Back

Behavior Technician - Bilingual in Spanish

Location: Jessup, MD  Department: RBT-MD-Howard
Type: Part Time

Job description

Achieving True Self (ATS) wants to invest in you!

PAID TRAINING! $500 Sign On Bonus

At ATS, you have the opportunity to make a change in the life of a child. As a Registered Behavior Technician, you will use the principles of Applied Behavior Analysis (ABA) to provide 1:1 direct services in homes and community settings. You will get to have fun and let your personality shine while applying individualized treatment! You will be a part of an exceptionally supportive work environment where team members thrive, feel valued, and are ultimately appreciated for their contributions.

What are the benefits of working at Achieving True Self?

Part-time, flexible opportunities, available to work afternoons and evenings.

Medical, dental, vision, retirement options, and employee assistance programs.

Supplemental insurance through Aflac to include short term disability options.

Travel time reimbursement; included in your total weekly hours.

Considerate client matching based on your location and availability.

We "Hire to Retire" providing you with the tools necessary to grow with Achieving True Self. Tuition discounts, college and university partnerships, and continued education and supervision opportunities.

Paid training for your Registered Behavior Technician within the first month of employment.

A company that strives for work/life balance.

Company chromebook provided.

The best perk we can offer is to provide you with a chance to make a difference in young lives while working with talented and dedicated people who love what they do.

What qualifications do I need to join the ATS team?

Proof of high school diploma or transcripts.

A valid driver's license with proof of car insurance, a good driving record and your own reliable vehicle.

Experience working with children, children with disabilities, or adults with disabilities is a plus.

An unstoppable passion for excellence and an unquestionable commitment to those we serve.

What are the core responsibilities?

Carry out individualized treatment and behavior intervention plans to support our kiddos within the home and community setting.

Collect data as defined within the plan.

Be a part of the ongoing success and achievement of our kiddos by focusing on their strengths, needs, abilities, and preferences.

Help to guide and support families and caregivers to implement new skills.

Record data within the Electronic Health Records (EHR) system.

Be a stewart of ATSs mission, vision, values, and beliefs.

Who is ATS, and What is our Mission?

Achieving True Self is passionately cultivating and inspiring growth through the delivery of evidenced based treatment to assist individuals, families, organizations and their surrounding communities to achieve their self-defined goals. Through a supportive organizational culture focused on developing and retaining team members, we are determined to change the world by instilling hope and helping each person whose life we touch achieve their truest self.

*Bonus to be paid out after 90 days in the field.

Achieving True Self is an Equal Opportunity Employer (EOE). Qualified applicants will receive consideration for employment without regard to race, color, religion, sex, age, disability, military status, national origin or any other characteristic protected under federal, state, or applicable local law.

Apply

Back

Behavior Technician - Bilingual in Spanish

Location: Jessup, MD  Department: RBT-MD-Howard
Type: Part Time

Behavior Technician - Bilingual in Spanish

Location:

Baltimore, MD

Apply Details Department:

RBT-MD-Baltimore

Back

Behavior Technician - Bilingual in Spanish

Location: Baltimore, MD  Department: RBT-MD-Baltimore
Type: Part Time

Job description

Achieving True Self (ATS) wants to invest in you!

PAID TRAINING! $500 Sign On Bonus!!

At ATS, you have the opportunity to make a change in the life of a child. As a Registered Behavior Technician, you will use the principles of Applied Behavior Analysis (ABA) to provide 1:1 direct services in homes and community settings. You will get to have fun and let your personality shine while applying individualized treatment! You will be a part of an exceptionally supportive work environment where team members thrive, feel valued, and are ultimately appreciated for their contributions.

What are the benefits of working at Achieving True Self?

Part-time, flexible opportunities, available to work afternoons and evenings.

Medical, dental, vision, retirement options, and employee assistance programs.

Supplemental insurance through Aflac to include short term disability options.

Travel time reimbursement; included in your total weekly hours.

Considerate client matching based on your location and availability.

We "Hire to Retire" providing you with the tools necessary to grow with Achieving True Self. Tuition discounts, college and university partnerships, and continued education and supervision opportunities.

Paid training for your Registered Behavior Technician within the first month of employment.

A company that strives for work/life balance.

Company chromebook provided.

The best perk we can offer is to provide you with a chance to make a difference in young lives while working with talented and dedicated people who love what they do.

What qualifications do I need to join the ATS team?

Proof of high school diploma or transcripts.

A valid driver's license with proof of car insurance, a good driving record and your own reliable vehicle.

Experience working with children, children with disabilities, or adults with disabilities is a plus.

An unstoppable passion for excellence and an unquestionable commitment to those we serve.

What are the core responsibilities?

Carry out individualized treatment and behavior intervention plans to support our kiddos within the home and community setting.

Collect data as defined within the plan.

Be a part of the ongoing success and achievement of our kiddos by focusing on their strengths, needs, abilities, and preferences.

Help to guide and support families and caregivers to implement new skills.

Record data within the Electronic Health Records (EHR) system.

Be a stewart of ATSs mission, vision, values, and beliefs.

Who is ATS, and What is our Mission?

Achieving True Self is passionately cultivating and inspiring growth through the delivery of evidenced based treatment to assist individuals, families, organizations and their surrounding communities to achieve their self-defined goals. Through a supportive organizational culture focused on developing and retaining team members, we are determined to change the world by instilling hope and helping each person whose life we touch achieve their truest self.

*Bonus to be paid out after 90 days in the field.

Achieving True Self is an Equal Opportunity Employer (EOE). Qualified applicants will receive consideration for employment without regard to race, color, religion, sex, age, disability, military status, national origin or any other characteristic protected under federal, state, or applicable local law.

Apply

Back

Behavior Technician - Bilingual in Spanish

Location: Baltimore, MD  Department: RBT-MD-Baltimore
Type: Part Time

Board Certified Behavior Analyst (BCBA)

Location:

Falling Waters, MD

Apply Details Department:

BCBA- WV

Back

Board Certified Behavior Analyst (BCBA)

Location: Falling Waters, MD  Department: BCBA- WV
Type: Full Time

Board Certified Behavior Analyst (BCBA)

$5000 Sign on Bonus for current BCBAs!

Achieving True Self (ATS) wants to be a part of your professional journey!

At ATS, you will be able to use your knowledge and experience to make an impact on the life of a child. You will be a part of a supportive organizational culture focused on developing and retaining team members. You will have the ability to collaborate with like minded professionals and opportunities for continuing education to build your knowledge and skills. You will feel empowered to thrive, contribute, and ultimately feel appreciated

Benefits of working with Achieving True Self:

Competitive rates

Full and part time opportunities

Flexible scheduling with a focus on work/life balance

Medical, Dental, Vision, and Retirement Options

Paid time off

Paid indirect time for travel reimbursement, training and mentoring

Daily operational and administrative support

EHR for data collection and analytics

Company laptop

What Qualifications Do I Need to Join the ATS Team?:

Master's degree in Applied Behavior Analysis or related field and be recognized as a Board Certified Behavior Analyst (BCBA).

A valid driver's license with proof of car insurance and a good driving record is required

New grads are encouraged to apply!

What Do ATS BCBAs do?

Board Certified Behavioral Analysts (BCBAs) at Achieving True Self (ATS) use the principles of Applied Behavior Analysis (ABA) to provide assessment, development, and oversight of treatment for individuals with Autism Spectrum Disorder or behavioral health needs within their home, school, and community. You get to meet families where they are. As one of our therapists, you will create a fun, motivating experience for our clients.

Responsibilities include, but are not limited to:

Delivering exceptional consumer-focused, evidence-based treatment through ethical interactions

Emphasizing individual motivation and engagement to create the space for ongoing progress

Completing initial evidence-based assessments and reassessments per deadline

Assessing the family's and consumer's strengths, needs, abilities, and preferences

Implementing individualized treatment and behavior intervention plans, facilitating skill transfer to all caregivers

Maintaining and completing data collection and treatment records

Apply

Back

Board Certified Behavior Analyst (BCBA)

Location: Falling Waters, MD  Department: BCBA- WV
Type: Full Time

Board Certified Behavior Analyst (BCBA)

Location:

Lebanon, PA

Apply Details Department:

BCBA-PA-Lebanon

Back

Board Certified Behavior Analyst (BCBA)

Location: Lebanon, PA  Department: BCBA-PA-Lebanon
Type: Full Time

Board Certified Behavior Analyst (BCBA)

$5000 Sign on Bonus!!

New graduates welcome!
Achieving True Self is expanding, and we have incredible opportunities for talented clinicians! Interested candidates should have a strong desire and passion to make an impact in the lives of your clients.
Benefits of working with Achieving True Self:

Competitive rates
Flexible scheduling offering a work/life balance with FT/PT status options
Medical, Dental, Vision, and Retirement Options
Continuing education opportunities
Paid time off
Paid indirect time for travel reimbursement, training and mentoring
Employee Assistance Program
Tuition discounts at several Colleges and Universities
Clinical collaboration with field experts to continue skill development
Daily operational and administrative support
EHR for data collection and analytics through provided laptop
Empowerment to thrive, grow, contribute, and ultimately feel appreciated

Responsibilities:

Deliver exceptional consumer-focused, evidence-based treatment through ethical interactions
Emphasize individual motivation and engagement to create the space for ongoing progress
Complete initial evidence-based assessments and reassessments per deadline
Assess the family's and consumer's strengths, needs, abilities and preferences
Implement individualized treatment and behavior intervention plans, facilitating skill transfer to all caregivers
Maintain and complete data collection and treatment records

Qualifications (must meet one of the following):

Licensed as:
Psychologist
Professional Counselor
Marriage and Family Therapist
Clinical Social Worker
Social Worker
Behavior Specialist
Registered Certified Nurse Practitioner

A professional with a scope of practice that includes overseeing the provision of ABA services and have one of the following:
BCaBA certification
At least 1 year of full-time experience providing ABA services AND at least 12 credits in ABA from an accredited college or university
At least 1 year of full-time experience providing ABA services under a BCBA AND a minimum of 40 hours of training related to ABA

Licensed as a psychologist AND have a minimum of 1 year of full-time experience providing ABA services AND a minimum of 40 hours of training related to ABA

Who is ATS, and What is our Mission?:
Achieving True Self is passionately cultivating and inspiring growth through the delivery of evidenced based treatment to assist individuals, families, organizations and their surrounding communities to achieve their self-defined goals. Through a supportive organizational culture focused on developing and retaining team members, we are determined to change the world by instilling hope and helping each person whose life we touch achieve their truest self.

Bonus to be paid out after 90 days in the field

Achieving True Self is an Equal Opportunity Employer and does not discriminate based on race, religion, creed, color, sex, pregnancy, age, national origin, ancestry, sexual orientation, military service or protected veteran status, citizenship, disability, gender identity, or any other status protected by applicable law.
Achieving True Self is an Equal Opportunity Employer (EOE). Qualified applicants will receive consideration for employment without regard to race, color, religion, sex, age, disability, military status, national origin or any other characteristic protected under federal, state, or applicable local law.

Apply

Back

Board Certified Behavior Analyst (BCBA)

Location: Lebanon, PA  Department: BCBA-PA-Lebanon
Type: Full Time

Board Certified Behavior Analyst (BCBA)

Location:

Greensburg, PA

Apply Details Department:

BC-PA- Westmoreland

Back

Board Certified Behavior Analyst (BCBA)

Location: Greensburg, PA  Department: BC-PA- Westmoreland
Type: Part Time to Full Time

Job Description

ABA Behavior Consultant

$5000 SIgn on Bonus for BCBAs and BCs with a qualifying license*

Achieving True Self (ATS) wants to be a part of your professional journey!

At ATS, you will be able to use your knowledge and experience to make an impact on the life of a child. You will be a part of a supportive organizational culture focused on developing and retaining team members. You will have the ability to collaborate with like minded professionals and opportunities for continuing education to build your knowledge and skills. You will feel empowered to thrive, contribute, and ultimately feel appreciated

Benefits of working with Achieving True Self:

Full and part time opportunities

Flexible scheduling with a focus on work/life balance

Medical, Dental, Vision, and Retirement Options

Paid indirect time for travel reimbursement, training and mentoring
Employee Assistance Program
Tuition discounts at several Colleges and Universities
Daily operational and administrative support
EHR for data collection and analytics

Qualifications (must meet one of the following):

Licensed as:

Marriage and Family Therapist

Registered Certified Nurse Practitioner

A professional with a scope of practice that includes overseeing the provision of ABA services and have one of the following:

At least 1 year of full-time experience providing ABA services AND at least 12 credits in ABA from an accredited college or university

At least 1 year of full-time experience providing ABA services under a BCBA AND a minimum of 40 hours of training related to ABA

Licensed as a psychologist AND have a minimum of 1 year of full-time experience providing ABA services AND a minimum of 40 hours of training related to ABA

Responsibilities:

Deliver exceptional consumer-focused, evidence-based treatment through ethical interactions

Emphasize individual motivation and engagement to create the space for ongoing progress

Complete initial evidence-based assessments and reassessments per deadline

Assess the family's and consumer's strengths, needs, abilities and preferences

Implement individualized treatment and behavior intervention plans, facilitating skill transfer to all caregivers

Maintain and complete data collection and treatment records

Who is ATS, and What is our Mission?

Achieving True Self is passionately cultivating and inspiring growth through the delivery of evidenced based treatment to assist individuals, families, organizations and their surrounding communities to achieve their self-defined goals. Through a supportive organizational culture focused on developing and retaining team members, we are determined to change the world by instilling hope and helping each person whose life we touch achieve their truest self.

*Bonus to be paid out after 90 days in the field

Achieving True Self is an Equal Opportunity Employer and does not discriminate based on race, religion, creed, color, sex, pregnancy, age, national origin, ancestry, sexual orientation, military service or protected veteran status, citizenship, disability, gender identity, or any other status protected by applicable law.

Job Types: Full-time, Part-time

Apply

Back

Board Certified Behavior Analyst (BCBA)

Location: Greensburg, PA  Department: BC-PA- Westmoreland
Type: Part Time to Full Time

Board Certified Behavior Analyst (BCBA)

Location:

Irwin, PA

Apply Details Department:

BC- PA - Westmoreland

Back

Board Certified Behavior Analyst (BCBA)

Location: Irwin, PA  Department: BC- PA - Westmoreland
Type: Part Time to Full Time

Board Certified Behavior Analyst (BCBA) / ABA Behavior Consultant

Greensburg, Pennsylvania

$5000 Sign on Bonus for current BCBAs and BCs with a qualifying license*

New graduates welcome!

Achieving True Self is expanding, and we have incredible opportunities for talented clinicians! Interested candidates should have a strong desire and passion to make an impact in the lives of your clients.

Benefits of working with Achieving True Self:

Competitive rates
Flexible scheduling offering a work/life balance with FT/PT status options
Medical, Dental, Vision, and Retirement Options
Continuing education opportunities
Paid time off
Paid indirect time for travel reimbursement, training and mentoring
Employee Assistance Program
Tuition discounts at several Colleges and Universities
Clinical collaboration with field experts to continue skill development
Daily operational and administrative support
EHR for data collection and analytics through provided laptop
Empowerment to thrive, grow, contribute, and ultimately feel appreciated

Responsibilities:

Deliver exceptional consumer-focused, evidence-based treatment through ethical interactions
Emphasize individual motivation and engagement to create the space for ongoing progress
Complete initial evidence-based assessments and reassessments per deadline
Assess the family's and consumer's strengths, needs, abilities and preferences
Implement individualized treatment and behavior intervention plans, facilitating skill transfer to all caregivers
Maintain and complete data collection and treatment records

Qualifications (must meet one of the following):

Licensed as:

Psychologist
Professional Counselor
Marriage and Family Therapist
Clinical Social Worker
Social Worker
Behavior Specialist
Registered Certified Nurse Practitioner

A professional with a scope of practice that includes overseeing the provision of ABA services and have one of the following:

BCaBA certification
At least 1 year of full-time experience providing ABA services AND at least 12 credits in ABA from an accredited college or university
At least 1 year of full-time experience providing ABA services under a BCBA AND a minimum of 40 hours of training related to ABA

Licensed as a psychologist AND have a minimum of 1 year of full-time experience providing ABA services AND a minimum of 40 hours of training related to ABA

Who is ATS, and What is our Mission?:

Achieving True Self is passionately cultivating and inspiring growth through the delivery of evidenced based treatment to assist individuals, families, organizations and their surrounding communities to achieve their self-defined goals. Through a supportive organizational culture focused on developing and retaining team members, we are determined to change the world by instilling hope and helping each person whose life we touch achieve their truest self.

*Bonus to be paid out after 90 days in the field

Achieving True Self is an Equal Opportunity Employer and does not discriminate based on race, religion, creed, color, sex, pregnancy, age, national origin, ancestry, sexual orientation, military service or protected veteran status, citizenship, disability, gender identity, or any other status protected by applicable law.

Apply

Back

Board Certified Behavior Analyst (BCBA)

Location: Irwin, PA  Department: BC- PA - Westmoreland
Type: Part Time to Full Time

Board Certified Behavior Analyst (BCBA)

Location:

Frederick, MD

Apply Details Department:

BCBA- MD- Frederick

Back

Board Certified Behavior Analyst (BCBA)

Location: Frederick, MD  Department: BCBA- MD- Frederick
Type: Part Time to Full Time

Board Certified Behavior Analyst (BCBA)

$5000 Sign on Bonus for current BCBAs!

Achieving True Self (ATS) wants to be a part of your professional journey!

At ATS, you will be able to use your knowledge and experience to make an impact on the life of a child. You will be a part of a supportive organizational culture focused on developing and retaining team members. You will have the ability to collaborate with like minded professionals and opportunities for continuing education to build your knowledge and skills. You will feel empowered to thrive, contribute, and ultimately feel appreciated

Benefits of working with Achieving True Self:

Full and part time opportunities

Flexible scheduling with a focus on work/life balance

Medical, Dental, Vision, and Retirement Options

Paid indirect time for travel reimbursement, training and mentoring

Daily operational and administrative support

EHR for data collection and analytics

What Qualifications Do I Need to Join the ATS Team?:

Master's degree in Applied Behavior Analysis or related field and be recognized as a Board Certified Behavior Analyst (BCBA).

A valid driver's license with proof of car insurance and a good driving record is required

New grads are encouraged to apply!

What Do ATS BCBAs do?

Board Certified Behavioral Analysts (BCBAs) at Achieving True Self (ATS) use the principles of Applied Behavior Analysis (ABA) to provide assessment, development, and oversight of treatment for individuals with Autism Spectrum Disorder or behavioral health needs within their home, school, and community. You get to meet families where they are. As one of our therapists, you will create a fun, motivating experience for our clients.

Responsibilities include, but are not limited to:

Delivering exceptional consumer-focused, evidence-based treatment through ethical interactions

Emphasizing individual motivation and engagement to create the space for ongoing progress

Completing initial evidence-based assessments and reassessments per deadline

Assessing the family's and consumer's strengths, needs, abilities, and preferences

Implementing individualized treatment and behavior intervention plans, facilitating skill transfer to all caregivers

Maintaining and completing data collection and treatment records

Achieving True Self is an Equal Opportunity Employer (EOE). Qualified applicants will receive consideration for employment without regard to race, color, religion, sex, age, disability, military status, national origin or any other characteristic protected under federal, state, or applicable local law.

Job Types: Full-time, Part-time

Apply

Back

Board Certified Behavior Analyst (BCBA)

Location: Frederick, MD  Department: BCBA- MD- Frederick
Type: Part Time to Full Time

Board Certified Behavior Analyst (BCBA)

Location:

Cranberry Township, PA, PA

Apply Details Department:

Back

Board Certified Behavior Analyst (BCBA)

Location: Cranberry Township, PA, PA  Department:
Type: Part Time to Full Time

Job description

ABA Behavior Consultant

$2500 Sign On Bonus for qualified candidates

New graduates welcome!
Achieving True Self is expanding, and we have incredible opportunities for talented clinicians! Interested candidates should have a strong desire and passion to make an impact in the lives of your clients.
Benefits of working with Achieving True Self:

Competitive rates
Flexible scheduling offering a work/life balance with FT/PT status options
Medical, Dental, Vision, and Retirement Options
Continuing education opportunities
Paid time off
Paid indirect time for travel reimbursement, training and mentoring
Employee Assistance Program
Tuition discounts at several Colleges and Universities
Clinical collaboration with field experts to continue skill development
Daily operational and administrative support
EHR for data collection and analytics through provided laptop
Empowerment to thrive, grow, contribute, and ultimately feel appreciated

Responsibilities:

Deliver exceptional consumer-focused, evidence-based treatment through ethical interactions
Emphasize individual motivation and engagement to create the space for ongoing progress
Complete initial evidence-based assessments and reassessments per deadline
Assess the family's and consumer's strengths, needs, abilities and preferences
Implement individualized treatment and behavior intervention plans, facilitating skill transfer to all caregivers
Maintain and complete data collection and treatment records

Qualifications (must meet one of the following):

Licensed as:
Psychologist
Professional Counselor
Marriage and Family Therapist
Clinical Social Worker
Social Worker
Behavior Specialist
Registered Certified Nurse Practitioner

A professional with a scope of practice that includes overseeing the provision of ABA services and have one of the following:
BCaBA certification
At least 1 year of full-time experience providing ABA services AND at least 12 credits in ABA from an accredited college or university
At least 1 year of full-time experience providing ABA services under a BCBA AND a minimum of 40 hours of training related to ABA

Licensed as a psychologist AND have a minimum of 1 year of full-time experience providing ABA services AND a minimum of 40 hours of training related to ABA

Who is ATS, and What is our Mission?:
Achieving True Self is passionately cultivating and inspiring growth through the delivery of evidenced based treatment to assist individuals, families, organizations and their surrounding communities to achieve their self-defined goals. Through a supportive organizational culture focused on developing and retaining team members, we are determined to change the world by instilling hope and helping each person whose life we touch achieve their truest self.

Bonus to be paid out after 90 days in the field

Achieving True Self is an Equal Opportunity Employer and does not discriminate based on race, religion, creed, color, sex, pregnancy, age, national origin, ancestry, sexual orientation, military service or protected veteran status, citizenship, disability, gender identity, or any other status protected by applicable law.
Achieving True Self is an Equal Opportunity Employer (EOE). Qualified applicants will receive consideration for employment without regard to race, color, religion, sex, age, disability, military status, national origin or any other characteristic protected under federal, state, or applicable local law.

Apply

Back

Board Certified Behavior Analyst (BCBA)

Location: Cranberry Township, PA, PA  Department:
Type: Part Time to Full Time

Board Certified Behavior Analyst (BCBA)

Location:

Gettysburg, PA

Apply Details Department:

BC- PA- Adams

Back

Board Certified Behavior Analyst (BCBA)

Location: Gettysburg, PA  Department: BC- PA- Adams
Type: Part Time to Full Time

Board Certified Behavior Analyst (BCBA)/ ABA Behavior Consultant

Adams, Pennsylvania

$5000 Sign On Bonus for current BCBAs and BCs with a qualifying license *

New graduates welcome!

Achieving True Self is expanding, and we have incredible opportunities for talented clinicians! Interested candidates should have a strong desire and passion to make an impact in the lives of your clients.

Benefits of working with Achieving True Self:

Competitive rates
Flexible scheduling offering a work/life balance with FT/PT status options
Medical, Dental, Vision, and Retirement Options
Continuing education opportunities
Paid time off
Paid indirect time for travel reimbursement, training and mentoring
Employee Assistance Program
Tuition discounts at several Colleges and Universities
Clinical collaboration with field experts to continue skill development
Daily operational and administrative support
EHR for data collection and analytics through provided laptop
Empowerment to thrive, grow, contribute, and ultimately feel appreciated

Responsibilities:

Deliver exceptional consumer-focused, evidence-based treatment through ethical interactions
Emphasize individual motivation and engagement to create the space for ongoing progress
Complete initial evidence-based assessments and reassessments per deadline
Assess the family's and consumer's strengths, needs, abilities and preferences
Implement individualized treatment and behavior intervention plans, facilitating skill transfer to all caregivers
Maintain and complete data collection and treatment records

Qualifications (must meet one of the following):

Licensed as:

Psychologist
Professional Counselor
Marriage and Family Therapist
Clinical Social Worker
Social Worker
Behavior Specialist
Registered Certified Nurse Practitioner

A professional with a scope of practice that includes overseeing the provision of ABA services and have one of the following:

BCaBA certification
At least 1 year of full-time experience providing ABA services AND at least 12 credits in ABA from an accredited college or university
At least 1 year of full-time experience providing ABA services under a BCBA AND a minimum of 40 hours of training related to ABA

Licensed as a psychologist AND have a minimum of 1 year of full-time experience providing ABA services AND a minimum of 40 hours of training related to ABA

Who is ATS, and What is our Mission?:

Achieving True Self is passionately cultivating and inspiring growth through the delivery of evidenced based treatment to assist individuals, families, organizations and their surrounding communities to achieve their self-defined goals. Through a supportive organizational culture focused on developing and retaining team members, we are determined to change the world by instilling hope and helping each person whose life we touch achieve their truest self.

*Bonus to be paid out after 90 days in the field

Achieving True Self is an Equal Opportunity Employer and does not discriminate based on race, religion, creed, color, sex, pregnancy, age, national origin, ancestry, sexual orientation, military service or protected veteran status, citizenship, disability, gender identity, or any other status protected by applicable law.

Apply

Back

Board Certified Behavior Analyst (BCBA)

Location: Gettysburg, PA  Department: BC- PA- Adams
Type: Part Time to Full Time

Board Certified Behavior Analyst (BCBA)

Location:

Elizabethtown, PA

Apply Details Department:

BC-PA- Lancaster

Back

Board Certified Behavior Analyst (BCBA)

Location: Elizabethtown, PA  Department: BC-PA- Lancaster
Type: Part Time to Full Time

Board Certified Behavior Analyst (BCBA)/ ABA Behavior Consultant

$5000 Sign on Bonus for BCBAs and BCs with a qualifying license*

Elizabethtown, Pennsylvania

New graduates welcome!

Achieving True Self is expanding, and we have incredible opportunities for talented clinicians! Interested candidates should have a strong desire and passion to make an impact in the lives of your clients.

Benefits of working with Achieving True Self:

Competitive rates
Flexible scheduling offering a work/life balance with FT/PT status options
Medical, Dental, Vision, and Retirement Options
Continuing education opportunities
Paid time off
Paid indirect time for travel reimbursement, training and mentoring
Clinical collaboration with field experts to continue skill development
Daily operational and administrative support
EHR for data collection and analytics through provided laptop
Empowerment to thrive, grow, contribute, and ultimately feel appreciated

Responsibilities:

Deliver exceptional consumer-focused, evidence-based treatment through ethical interactions
Emphasize individual motivation and engagement to create the space for ongoing progress
Complete initial evidence-based assessments and reassessments per deadline
Assess the family's and consumer's strengths, needs, abilities and preferences
Implement individualized treatment and behavior intervention plans, facilitating skill transfer to all caregivers
Maintain and complete data collection and treatment records

Qualifications (must meet one of the following):

Licensed as:

Psychologist
Professional Counselor
Marriage and Family Therapist
Clinical Social Worker
Social Worker
Behavior Specialist
Registered Certified Nurse Practitioner

A professional with a scope of practice that includes overseeing the provision of ABA services and have one of the following:

BCaBA certification
At least 1 year of full-time experience providing ABA services AND at least 12 credits in ABA from an accredited college or university
At least 1 year of full-time experience providing ABA services under a BCBA AND a minimum of 40 hours of training related to ABA

Licensed as a psychologist AND have a minimum of 1 year of full-time experience providing ABA services AND a minimum of 40 hours of training related to ABA

Who is ATS, and What is our Mission?:

Achieving True Self is passionately cultivating and inspiring growth through the delivery of evidenced based treatment to assist individuals, families, organizations and their surrounding communities to achieve their self-defined goals. Through a supportive organizational culture focused on developing and retaining team members, we are determined to change the world by instilling hope and helping each person whose life we touch achieve their truest self.

*Bonus to be paid out after 90 days in the field

Achieving True Self is an Equal Opportunity Employer and does not discriminate based on race, religion, creed, color, sex, pregnancy, age, national origin, ancestry, sexual orientation, military service or protected veteran status, citizenship, disability, gender identity, or any other status protected by applicable law.

Apply

Back

Board Certified Behavior Analyst (BCBA)

Location: Elizabethtown, PA  Department: BC-PA- Lancaster
Type: Part Time to Full Time

Board Certified Behavior Analyst (BCBA)

Location:

Laurel, MD

Apply Details Department:

BCBA-MD-Prince George's

Back

Board Certified Behavior Analyst (BCBA)

Location: Laurel, MD  Department: BCBA-MD-Prince George's
Type: Part Time

Board Certified Behavior Analyst (BCBA)

$5000 Sign on Bonus!!

New graduates welcome!
Achieving True Self is expanding, and we have incredible opportunities for talented clinicians! Interested candidates should have a strong desire and passion to make an impact in the lives of your clients.
Benefits of working with Achieving True Self:

Competitive rates
Flexible scheduling offering a work/life balance with FT/PT status options
Medical, Dental, Vision, and Retirement Options
Continuing education opportunities
Paid time off
Paid indirect time for travel reimbursement, training and mentoring
Employee Assistance Program
Tuition discounts at several Colleges and Universities
Clinical collaboration with field experts to continue skill development
Daily operational and administrative support
EHR for data collection and analytics through provided laptop
Empowerment to thrive, grow, contribute, and ultimately feel appreciated

Responsibilities:

Deliver exceptional consumer-focused, evidence-based treatment through ethical interactions
Emphasize individual motivation and engagement to create the space for ongoing progress
Complete initial evidence-based assessments and reassessments per deadline
Assess the family's and consumer's strengths, needs, abilities and preferences
Implement individualized treatment and behavior intervention plans, facilitating skill transfer to all caregivers
Maintain and complete data collection and treatment records

Qualifications (must meet one of the following):

Licensed as:
Psychologist
Professional Counselor
Marriage and Family Therapist
Clinical Social Worker
Social Worker
Behavior Specialist
Registered Certified Nurse Practitioner

A professional with a scope of practice that includes overseeing the provision of ABA services and have one of the following:
BCaBA certification
At least 1 year of full-time experience providing ABA services AND at least 12 credits in ABA from an accredited college or university
At least 1 year of full-time experience providing ABA services under a BCBA AND a minimum of 40 hours of training related to ABA

Licensed as a psychologist AND have a minimum of 1 year of full-time experience providing ABA services AND a minimum of 40 hours of training related to ABA

Who is ATS, and What is our Mission?:
Achieving True Self is passionately cultivating and inspiring growth through the delivery of evidenced based treatment to assist individuals, families, organizations and their surrounding communities to achieve their self-defined goals. Through a supportive organizational culture focused on developing and retaining team members, we are determined to change the world by instilling hope and helping each person whose life we touch achieve their truest self.

Bonus to be paid out after 90 days in the field

Achieving True Self is an Equal Opportunity Employer and does not discriminate based on race, religion, creed, color, sex, pregnancy, age, national origin, ancestry, sexual orientation, military service or protected veteran status, citizenship, disability, gender identity, or any other status protected by applicable law.
Achieving True Self is an Equal Opportunity Employer (EOE). Qualified applicants will receive consideration for employment without regard to race, color, religion, sex, age, disability, military status, national origin or any other characteristic protected under federal, state, or applicable local law.

Apply

Back

Board Certified Behavior Analyst (BCBA)

Location: Laurel, MD  Department: BCBA-MD-Prince George's
Type: Part Time

Board Certified Behavior Analyst (BCBA)

Location:

Apollo, PA

Apply Details Department:

BC- PA- Armstrong

Back

Board Certified Behavior Analyst (BCBA)

Location: Apollo, PA  Department: BC- PA- Armstrong
Type: Part Time to Full Time

Board Certified Behavior Analyst (BCBA) / ABA Behavior Consultant

$5000 Sign on Bonus for BCBAs and BCs with a qualifying license*

Apollo, Pennsylvania

New graduates welcome!

Achieving True Self is expanding, and we have incredible opportunities for talented clinicians! Interested candidates should have a strong desire and passion to make an impact in the lives of your clients.

Benefits of working with Achieving True Self:

Competitive rates
Flexible scheduling offering a work/life balance with FT/PT status options
Medical, Dental, Vision, and Retirement Options
Continuing education opportunities
Paid time off
Paid indirect time for travel reimbursement, training and mentoring
Employee Assistance Program
Tuition discounts at several Colleges and Universities
Clinical collaboration with field experts to continue skill development
Daily operational and administrative support
EHR for data collection and analytics through provided laptop
Empowerment to thrive, grow, contribute, and ultimately feel appreciated

Responsibilities:

Deliver exceptional consumer-focused, evidence-based treatment through ethical interactions
Emphasize individual motivation and engagement to create the space for ongoing progress
Complete initial evidence-based assessments and reassessments per deadline
Assess the family's and consumer's strengths, needs, abilities and preferences
Implement individualized treatment and behavior intervention plans, facilitating skill transfer to all caregivers
Maintain and complete data collection and treatment records

Qualifications (must meet one of the following):

Licensed as:

Psychologist
Professional Counselor
Marriage and Family Therapist
Clinical Social Worker
Social Worker
Behavior Specialist
Registered Certified Nurse Practitioner

A professional with a scope of practice that includes overseeing the provision of ABA services and have one of the following:

BCaBA certification
At least 1 year of full-time experience providing ABA services AND at least 12 credits in ABA from an accredited college or university
At least 1 year of full-time experience providing ABA services under a BCBA AND a minimum of 40 hours of training related to ABA

Licensed as a psychologist AND have a minimum of 1 year of full-time experience providing ABA services AND a minimum of 40 hours of training related to ABA

Who is ATS, and What is our Mission?:

Achieving True Self is passionately cultivating and inspiring growth through the delivery of evidenced based treatment to assist individuals, families, organizations and their surrounding communities to achieve their self-defined goals. Through a supportive organizational culture focused on developing and retaining team members, we are determined to change the world by instilling hope and helping each person whose life we touch achieve their truest self.

*Bonus to be paid out after 90 days in the field

Achieving True Self is an Equal Opportunity Employer and does not discriminate based on race, religion, creed, color, sex, pregnancy, age, national origin, ancestry, sexual orientation, military service or protected veteran status, citizenship, disability, gender identity, or any other status protected by applicable law.

Apply

Back

Board Certified Behavior Analyst (BCBA)

Location: Apollo, PA  Department: BC- PA- Armstrong
Type: Part Time to Full Time

Board Certified Behavior Analyst (BCBA)

Location:

Martinsburg, WV

Apply Details Department:

BCBA-WV-

Back

Board Certified Behavior Analyst (BCBA)

Location: Martinsburg, WV  Department: BCBA-WV-
Type: Full Time

Board Certified Behavior Analyst (BCBA)

$5000 Sign on Bonus for current BCBAs!

Achieving True Self (ATS) wants to be a part of your professional journey!

At ATS, you will be able to use your knowledge and experience to make an impact on the life of a child. You will be a part of a supportive organizational culture focused on developing and retaining team members. You will have the ability to collaborate with like minded professionals and opportunities for continuing education to build your knowledge and skills. You will feel empowered to thrive, contribute, and ultimately feel appreciated

Benefits of working with Achieving True Self:

Competitive rates

Full and part time opportunities

Flexible scheduling with a focus on work/life balance

Medical, Dental, Vision, and Retirement Options

Paid time off

Paid indirect time for travel reimbursement, training and mentoring

Daily operational and administrative support

EHR for data collection and analytics

Company laptop

What Qualifications Do I Need to Join the ATS Team?:

Master's degree in Applied Behavior Analysis or related field and be recognized as a Board Certified Behavior Analyst (BCBA).

A valid driver's license with proof of car insurance and a good driving record is required

New grads are encouraged to apply!

What Do ATS BCBAs do?

Board Certified Behavioral Analysts (BCBAs) at Achieving True Self (ATS) use the principles of Applied Behavior Analysis (ABA) to provide assessment, development, and oversight of treatment for individuals with Autism Spectrum Disorder or behavioral health needs within their home, school, and community. You get to meet families where they are. As one of our therapists, you will create a fun, motivating experience for our clients.

Responsibilities include, but are not limited to:

Delivering exceptional consumer-focused, evidence-based treatment through ethical interactions

Emphasizing individual motivation and engagement to create the space for ongoing progress

Completing initial evidence-based assessments and reassessments per deadline

Assessing the family's and consumer's strengths, needs, abilities, and preferences

Implementing individualized treatment and behavior intervention plans, facilitating skill transfer to all caregivers

Maintaining and completing data collection and treatment records

Apply

Back

Board Certified Behavior Analyst (BCBA)

Location: Martinsburg, WV  Department: BCBA-WV-
Type: Full Time

Back

Board Certified Behavior Analyst (BCBA)

Location: York, PA  Department: BC- PA- York
Type: Part Time to Full Time

Board Certified Behavior Analyst (BCBA) / ABA Behavior Consultant

$5000 Sign on Bonus for BCBAs and BCs with a qualifying license*

York, Pennsylvania

New graduates welcome!

Achieving True Self is expanding, and we have incredible opportunities for talented clinicians! Interested candidates should have a strong desire and passion to make an impact in the lives of your clients.

Benefits of working with Achieving True Self:

Competitive rates
Flexible scheduling offering a work/life balance with FT/PT status options
Medical, Dental, Vision, and Retirement Options
Continuing education opportunities
Paid time off
Paid indirect time for travel reimbursement, training and mentoring
Employee Assistance Program
Tuition discounts at several Colleges and Universities
Clinical collaboration with field experts to continue skill development
Daily operational and administrative support
EHR for data collection and analytics through provided laptop
Empowerment to thrive, grow, contribute, and ultimately feel appreciated

Responsibilities:

Deliver exceptional consumer-focused, evidence-based treatment through ethical interactions
Emphasize individual motivation and engagement to create the space for ongoing progress
Complete initial evidence-based assessments and reassessments per deadline
Assess the family's and consumer's strengths, needs, abilities and preferences
Implement individualized treatment and behavior intervention plans, facilitating skill transfer to all caregivers
Maintain and complete data collection and treatment records

Qualifications (must meet one of the following):

Licensed as:

Psychologist
Professional Counselor
Marriage and Family Therapist
Clinical Social Worker
Social Worker
Behavior Specialist
Registered Certified Nurse Practitioner

A professional with a scope of practice that includes overseeing the provision of ABA services and have one of the following:

BCaBA certification
At least 1 year of full-time experience providing ABA services AND at least 12 credits in ABA from an accredited college or university
At least 1 year of full-time experience providing ABA services under a BCBA AND a minimum of 40 hours of training related to ABA

Licensed as a psychologist AND have a minimum of 1 year of full-time experience providing ABA services AND a minimum of 40 hours of training related to ABA

Who is ATS, and What is our Mission?:

Achieving True Self is passionately cultivating and inspiring growth through the delivery of evidenced based treatment to assist individuals, families, organizations and their surrounding communities to achieve their self-defined goals. Through a supportive organizational culture focused on developing and retaining team members, we are determined to change the world by instilling hope and helping each person whose life we touch achieve their truest self.

*Bonus to be paid out after 90 days in the field

Achieving True Self is an Equal Opportunity Employer and does not discriminate based on race, religion, creed, color, sex, pregnancy, age, national origin, ancestry, sexual orientation, military service or protected veteran status, citizenship, disability, gender identity, or any other status protected by applicable law.

Apply

Back

Board Certified Behavior Analyst (BCBA)

Location: York, PA  Department: BC- PA- York
Type: Part Time to Full Time

Board Certified Behavior Analyst (BCBA)

Location:

Chambersburg, PA

Apply Details Department:

BC- PA - Franklin

Back

Board Certified Behavior Analyst (BCBA)

Location: Chambersburg, PA  Department: BC- PA - Franklin
Type: Part Time to Full Time

Board Certified Behavior Analyst (BCBA) / ABA Behavior Consultant

Chambersburg, Pennsylvania

$5000 Sign on Bonus for BCBAs and BCs with a qualifying license*

New graduates welcome!

Achieving True Self is expanding, and we have incredible opportunities for talented clinicians! Interested candidates should have a strong desire and passion to make an impact in the lives of your clients.

Benefits of working with Achieving True Self:

Competitive rates
Flexible scheduling offering a work/life balance with FT/PT status options
Medical, Dental, Vision, and Retirement Options
Continuing education opportunities
Paid time off
Paid indirect time for travel reimbursement, training and mentoring
Employee Assistance Program
Tuition discounts at several Colleges and Universities
Clinical collaboration with field experts to continue skill development
Daily operational and administrative support
EHR for data collection and analytics through provided laptop
Empowerment to thrive, grow, contribute, and ultimately feel appreciated

Responsibilities:

Deliver exceptional consumer-focused, evidence-based treatment through ethical interactions
Emphasize individual motivation and engagement to create the space for ongoing progress
Complete initial evidence-based assessments and reassessments per deadline
Assess the family's and consumer's strengths, needs, abilities and preferences
Implement individualized treatment and behavior intervention plans, facilitating skill transfer to all caregivers
Maintain and complete data collection and treatment records

Qualifications (must meet one of the following):

Licensed as:

Psychologist
Professional Counselor
Marriage and Family Therapist
Clinical Social Worker
Social Worker
Behavior Specialist
Registered Certified Nurse Practitioner

A professional with a scope of practice that includes overseeing the provision of ABA services and have one of the following:

BCaBA certification
At least 1 year of full-time experience providing ABA services AND at least 12 credits in ABA from an accredited college or university
At least 1 year of full-time experience providing ABA services under a BCBA AND a minimum of 40 hours of training related to ABA

Licensed as a psychologist AND have a minimum of 1 year of full-time experience providing ABA services AND a minimum of 40 hours of training related to ABA

Who is ATS, and What is our Mission?:

Achieving True Self is passionately cultivating and inspiring growth through the delivery of evidenced based treatment to assist individuals, families, organizations and their surrounding communities to achieve their self-defined goals. Through a supportive organizational culture focused on developing and retaining team members, we are determined to change the world by instilling hope and helping each person whose life we touch achieve their truest self.

*Bonus to be paid out after 90 days in the field

Achieving True Self is an Equal Opportunity Employer and does not discriminate based on race, religion, creed, color, sex, pregnancy, age, national origin, ancestry, sexual orientation, military service or protected veteran status, citizenship, disability, gender identity, or any other status protected by applicable law.

Apply

Back

Board Certified Behavior Analyst (BCBA)

Location: Chambersburg, PA  Department: BC- PA - Franklin
Type: Part Time to Full Time

Board Certified Behavior Analyst (BCBA)

Location:

Venango, PA

Apply Details Department:

BC- PA- Venango

Back

Board Certified Behavior Analyst (BCBA)

Location: Venango, PA  Department: BC- PA- Venango
Type: Part Time to Full Time

Board Certified Behavior Analyst (BCBA) / ABA Behavior Consultant

$5000 Sign on Bonus for BCBAs and BCs with a qualifying license*

Achieving True Self (ATS) wants to be a part of your professional journey!

At ATS, you will be able to use your knowledge and experience to make an impact on the life of a child. You will be a part of a supportive organizational culture focused on developing and retaining team members. You will have the ability to collaborate with like minded professionals and opportunities for continuing education to build your knowledge and skills. You will feel empowered to thrive, contribute, and ultimately feel appreciated

Benefits of working with Achieving True Self:

Full and part time opportunities

Flexible scheduling with a focus on work/life balance

Medical, Dental, Vision, and Retirement Options

Paid indirect time for travel reimbursement, training and mentoring
Employee Assistance Program
Tuition discounts at several Colleges and Universitites
Daily operational and administrative support
EHR for data collection and analytics

Qualifications (must meet one of the following):

Licensed as:

Marriage and Family Therapist

Registered Certified Nurse Practitioner

A professional with a scope of practice that includes overseeing the provision of ABA services and have one of the following:

At least 1 year of full-time experience providing ABA services AND at least 12 credits in ABA from an accredited college or university

At least 1 year of full-time experience providing ABA services under a BCBA AND a minimum of 40 hours of training related to ABA

Licensed as a psychologist AND have a minimum of 1 year of full-time experience providing ABA services AND a minimum of 40 hours of training related to ABA

Responsibilities:

Deliver exceptional consumer-focused, evidence-based treatment through ethical interactions

Emphasize individual motivation and engagement to create the space for ongoing progress

Complete initial evidence-based assessments and reassessments per deadline

Assess the family's and consumer's strengths, needs, abilities and preferences

Implement individualized treatment and behavior intervention plans, facilitating skill transfer to all caregivers

Maintain and complete data collection and treatment records

Who is ATS, and What is our Mission?

Achieving True Self is passionately cultivating and inspiring growth through the delivery of evidenced based treatment to assist individuals, families, organizations and their surrounding communities to achieve their self-defined goals. Through a supportive organizational culture focused on developing and retaining team members, we are determined to change the world by instilling hope and helping each person whose life we touch achieve their truest self.

*Bonus to be paid out after 90 days in the field

Achieving True Self is an Equal Opportunity Employer and does not discriminate based on race, religion, creed, color, sex, pregnancy, age, national origin, ancestry, sexual orientation, military service or protected veteran status, citizenship, disability, gender identity, or any other status protected by applicable law.

Job Types: Full-time, Part-time

Apply

Back

Board Certified Behavior Analyst (BCBA)

Location: Venango, PA  Department: BC- PA- Venango
Type: Part Time to Full Time

Board Certified Behavior Analyst (BCBA)

Location:

Kittanning, PA

Apply Details Department:

BC- PA- Armstrong

Back

Board Certified Behavior Analyst (BCBA)

Location: Kittanning, PA  Department: BC- PA- Armstrong
Type: Part Time to Full Time

Board Certified Behavior Analyst (BCBA)/ABA Behavior Consultant

$5000 Sign on Bonus for BCBAs and BCs with a qualifying license*

Armstrong County, Pennsylvania

New graduates welcome!

Achieving True Self is expanding, and we have incredible opportunities for talented clinicians! Interested candidates should have a strong desire and passion to make an impact in the lives of your clients.

Benefits of working with Achieving True Self:

Competitive rates
Flexible scheduling offering a work/life balance with FT/PT status options
Medical, Dental, Vision, and Retirement Options
Continuing education opportunities
Paid time off
Paid indirect time for travel reimbursement, training and mentoring
Employee Assistance Program
Tuition discounts at several Colleges and Universities
Clinical collaboration with field experts to continue skill development
Daily operational and administrative support
EHR for data collection and analytics through provided laptop
Empowerment to thrive, grow, contribute, and ultimately feel appreciated

Responsibilities:

Deliver exceptional consumer-focused, evidence-based treatment through ethical interactions
Emphasize individual motivation and engagement to create the space for ongoing progress
Complete initial evidence-based assessments and reassessments per deadline
Assess the family's and consumer's strengths, needs, abilities and preferences
Implement individualized treatment and behavior intervention plans, facilitating skill transfer to all caregivers
Maintain and complete data collection and treatment records

Qualifications (must meet one of the following):

Licensed as:

Psychologist
Professional Counselor
Marriage and Family Therapist
Clinical Social Worker
Social Worker
Behavior Specialist
Registered Certified Nurse Practitioner

A professional with a scope of practice that includes overseeing the provision of ABA services and have one of the following:

BCaBA certification
At least 1 year of full-time experience providing ABA services AND at least 12 credits in ABA from an accredited college or university
At least 1 year of full-time experience providing ABA services under a BCBA AND a minimum of 40 hours of training related to ABA

Licensed as a psychologist AND have a minimum of 1 year of full-time experience providing ABA services AND a minimum of 40 hours of training related to ABA

Who is ATS, and What is our Mission?:

Achieving True Self is passionately cultivating and inspiring growth through the delivery of evidenced based treatment to assist individuals, families, organizations and their surrounding communities to achieve their self-defined goals. Through a supportive organizational culture focused on developing and retaining team members, we are determined to change the world by instilling hope and helping each person whose life we touch achieve their truest self.

*Bonus to be paid out after 90 days in the field

Achieving True Self is an Equal Opportunity Employer and does not discriminate based on race, religion, creed, color, sex, pregnancy, age, national origin, ancestry, sexual orientation, military service or protected veteran status, citizenship, disability, gender identity, or any other status protected by applicable law.

Apply

Back

Board Certified Behavior Analyst (BCBA)

Location: Kittanning, PA  Department: BC- PA- Armstrong
Type: Part Time to Full Time

Board Certified Behavior Analyst (BCBA)

Location:

Bethesda, MD

Apply Details Department:

BCBA- MD- Montgomery County,

Back

Board Certified Behavior Analyst (BCBA)

Location: Bethesda, MD  Department: BCBA- MD- Montgomery County,
Type: Full Time

Board Certified Behavior Analyst (BCBA)

$5000 Sign on Bonus for current BCBAs!

Achieving True Self (ATS) wants to be a part of your professional journey!

At ATS, you will be able to use your knowledge and experience to make an impact on the life of a child. You will be a part of a supportive organizational culture focused on developing and retaining team members. You will have the ability to collaborate with like minded professionals and opportunities for continuing education to build your knowledge and skills. You will feel empowered to thrive, contribute, and ultimately feel appreciated

Benefits of working with Achieving True Self:

Competitive rates

Full and part time opportunities

Flexible scheduling with a focus on work/life balance

Medical, Dental, Vision, and Retirement Options

Paid time off

Paid indirect time for travel reimbursement, training and mentoring

Daily operational and administrative support

EHR for data collection and analytics

Company laptop

What Qualifications Do I Need to Join the ATS Team?:

Master's degree in Applied Behavior Analysis or related field and be recognized as a Board Certified Behavior Analyst (BCBA).

A valid driver's license with proof of car insurance and a good driving record is required

New grads are encouraged to apply!

What Do ATS BCBAs do?

Board Certified Behavioral Analysts (BCBAs) at Achieving True Self (ATS) use the principles of Applied Behavior Analysis (ABA) to provide assessment, development, and oversight of treatment for individuals with Autism Spectrum Disorder or behavioral health needs within their home, school, and community. You get to meet families where they are. As one of our therapists, you will create a fun, motivating experience for our clients.

Responsibilities include, but are not limited to:

Delivering exceptional consumer-focused, evidence-based treatment through ethical interactions

Emphasizing individual motivation and engagement to create the space for ongoing progress

Completing initial evidence-based assessments and reassessments per deadline

Assessing the family's and consumer's strengths, needs, abilities, and preferences

Implementing individualized treatment and behavior intervention plans, facilitating skill transfer to all caregivers

Maintaining and completing data collection and treatment records

Apply

Back

Board Certified Behavior Analyst (BCBA)

Location: Bethesda, MD  Department: BCBA- MD- Montgomery County,
Type: Full Time

Board Certified Behavior Analyst (BCBA)

Location:

Pittsburgh, PA

Apply Details Department:

BC- PA- Allegheny

Back

Board Certified Behavior Analyst (BCBA)

Location: Pittsburgh, PA  Department: BC- PA- Allegheny
Type: Part Time to Full Time

Board Certified Behavior Analyst (BCBA) / ABA Behavior Consultant

Pittsburgh, Pennsylvania

$5000 Sign on Bonus for BCBAs and BCs with a qualifying license*

New graduates welcome!

Achieving True Self is expanding, and we have incredible opportunities for talented clinicians! Interested candidates should have a strong desire and passion to make an impact in the lives of your clients.

Benefits of working with Achieving True Self:

Competitive rates
Flexible scheduling offering a work/life balance with FT/PT status options
Medical, Dental, Vision, and Retirement Options
Continuing education opportunities
Paid time off
Paid indirect time for travel reimbursement, training and mentoring
Employee Assistance Program
Tuition discounts at several Colleges and Universities
Clinical collaboration with field experts to continue skill development
Daily operational and administrative support
EHR for data collection and analytics through provided laptop
Empowerment to thrive, grow, contribute, and ultimately feel appreciated

Responsibilities:

Deliver exceptional consumer-focused, evidence-based treatment through ethical interactions
Emphasize individual motivation and engagement to create the space for ongoing progress
Complete initial evidence-based assessments and reassessments per deadline
Assess the family's and consumer's strengths, needs, abilities and preferences
Implement individualized treatment and behavior intervention plans, facilitating skill transfer to all caregivers
Maintain and complete data collection and treatment records

Qualifications (must meet one of the following):

Licensed as:

Psychologist
Professional Counselor
Marriage and Family Therapist
Clinical Social Worker
Social Worker
Behavior Specialist
Registered Certified Nurse Practitioner

A professional with a scope of practice that includes overseeing the provision of ABA services and have one of the following:

BCaBA certification
At least 1 year of full-time experience providing ABA services AND at least 12 credits in ABA from an accredited college or university
At least 1 year of full-time experience providing ABA services under a BCBA AND a minimum of 40 hours of training related to ABA

Licensed as a psychologist AND have a minimum of 1 year of full-time experience providing ABA services AND a minimum of 40 hours of training related to ABA

Who is ATS, and What is our Mission?:

Achieving True Self is passionately cultivating and inspiring growth through the delivery of evidenced based treatment to assist individuals, families, organizations and their surrounding communities to achieve their self-defined goals. Through a supportive organizational culture focused on developing and retaining team members, we are determined to change the world by instilling hope and helping each person whose life we touch achieve their truest self.

*Bonus to be paid out after 90 days in the field

Achieving True Self is an Equal Opportunity Employer and does not discriminate based on race, religion, creed, color, sex, pregnancy, age, national origin, ancestry, sexual orientation, military service or protected veteran status, citizenship, disability, gender identity, or any other status protected by applicable law.

Apply

Back

Board Certified Behavior Analyst (BCBA)

Location: Pittsburgh, PA  Department: BC- PA- Allegheny
Type: Part Time to Full Time

Board Certified Behavior Analyst (BCBA)

Location:

Morgantown, WV

Apply Details Department:

BCBA-WV-Monogalia

Back

Board Certified Behavior Analyst (BCBA)

Location: Morgantown, WV  Department: BCBA-WV-Monogalia
Type: Full Time

Board Certified Behavior Analyst (BCBA)

$5000 Sign on Bonus for current BCBAs!

Achieving True Self (ATS) wants to be a part of your professional journey!

At ATS, you will be able to use your knowledge and experience to make an impact on the life of a child. You will be a part of a supportive organizational culture focused on developing and retaining team members. You will have the ability to collaborate with like minded professionals and opportunities for continuing education to build your knowledge and skills. You will feel empowered to thrive, contribute, and ultimately feel appreciated

Benefits of working with Achieving True Self:

Competitive rates

Full and part time opportunities

Flexible scheduling with a focus on work/life balance

Medical, Dental, Vision, and Retirement Options

Paid time off

Paid indirect time for travel reimbursement, training and mentoring

Daily operational and administrative support

EHR for data collection and analytics

Company laptop

What Qualifications Do I Need to Join the ATS Team?:

Master's degree in Applied Behavior Analysis or related field and be recognized as a Board Certified Behavior Analyst (BCBA).

A valid driver's license with proof of car insurance and a good driving record is required

New grads are encouraged to apply!

What Do ATS BCBAs do?

Board Certified Behavioral Analysts (BCBAs) at Achieving True Self (ATS) use the principles of Applied Behavior Analysis (ABA) to provide assessment, development, and oversight of treatment for individuals with Autism Spectrum Disorder or behavioral health needs within their home, school, and community. You get to meet families where they are. As one of our therapists, you will create a fun, motivating experience for our clients.

Responsibilities include, but are not limited to:

Delivering exceptional consumer-focused, evidence-based treatment through ethical interactions

Emphasizing individual motivation and engagement to create the space for ongoing progress

Completing initial evidence-based assessments and reassessments per deadline

Assessing the family's and consumer's strengths, needs, abilities, and preferences

Implementing individualized treatment and behavior intervention plans, facilitating skill transfer to all caregivers

Maintaining and completing data collection and treatment records

Apply

Back

Board Certified Behavior Analyst (BCBA)

Location: Morgantown, WV  Department: BCBA-WV-Monogalia
Type: Full Time

Board Certified Behavior Analyst (BCBA)

Location:

Waldorf, MD

Apply Details Department:

BCBA- MD- Charles

Back

Board Certified Behavior Analyst (BCBA)

Location: Waldorf, MD  Department: BCBA- MD- Charles
Type: Full Time

Board Certified Behavior Analyst (BCBA)

$5000 Sign On Bonus for current BCBAs!

Achieving True Self (ATS) wants to be a part of your professional journey!

At ATS, you will be able to use your knowledge and experience to make an impact on the life of a child. You will be a part of a supportive organizational culture focused on developing and retaining team members. You will have the ability to collaborate with like minded professionals and opportunities for continuing education to build your knowledge and skills. You will feel empowered to thrive, contribute, and ultimately feel appreciated

Benefits of working with Achieving True Self:

Full and part time opportunities

Flexible scheduling with a focus on work/life balance

Medical, Dental, Vision, and Retirement Options

Paid indirect time for travel reimbursement, training and mentoring

Daily operational and administrative support

EHR for data collection and analytics

What Qualifications Do I Need to Join the ATS Team?:

Master's degree in Applied Behavior Analysis or related field and be recognized as a Board Certified Behavior Analyst (BCBA).

A valid driver's license with proof of car insurance and a good driving record is required

New grads are encouraged to apply!

What Do ATS BCBAs do?

Board Certified Behavioral Analysts (BCBAs) at Achieving True Self (ATS) use the principles of Applied Behavior Analysis (ABA) to provide assessment, development, and oversight of treatment for individuals with Autism Spectrum Disorder or behavioral health needs within their home, school, and community. You get to meet families where they are. As one of our therapists, you will create a fun, motivating experience for our clients.

Responsibilities include, but are not limited to:

Delivering exceptional consumer-focused, evidence-based treatment through ethical interactions

Emphasizing individual motivation and engagement to create the space for ongoing progress

Completing initial evidence-based assessments and reassessments per deadline

Assessing the family's and consumer's strengths, needs, abilities, and preferences

Implementing individualized treatment and behavior intervention plans, facilitating skill transfer to all caregivers

Maintaining and completing data collection and treatment records

Achieving True Self is an Equal Opportunity Employer (EOE). Qualified applicants will receive consideration for employment without regard to race, color, religion, sex, age, disability, military status, national origin or any other characteristic protected under federal, state, or applicable local law.

Job Types: Full-time, Part-time

Apply

Back

Board Certified Behavior Analyst (BCBA)

Location: Waldorf, MD  Department: BCBA- MD- Charles
Type: Full Time

Board Certified Behavior Analyst (BCBA)

Location:

Brandywine, MD

Apply Details Department:

BCBA- MD- Prince George

Back

Board Certified Behavior Analyst (BCBA)

Location: Brandywine, MD  Department: BCBA- MD- Prince George
Type: Full Time

Board Certified Behavior Analyst (BCBA)

$5000 Sign On Bonus!!!

Achieving True Self (ATS) wants to be a part of your professional journey!

At ATS, you will be able to use your knowledge and experience to make an impact on the life of a child. You will be a part of a supportive organizational culture focused on developing and retaining team members. You will have the ability to collaborate with like minded professionals and opportunities for continuing education to build your knowledge and skills. You will feel empowered to thrive, contribute, and ultimately feel appreciated

Benefits of working with Achieving True Self:

Competitive rates

Full and part time opportunities

Flexible scheduling with a focus on work/life balance

Medical, Dental, Vision, and Retirement Options

Paid time off

Paid indirect time for travel reimbursement, training and mentoring

Daily operational and administrative support

EHR for data collection and analytics

Company laptop

What Qualifications Do I Need to Join the ATS Team?:

Master's degree in Applied Behavior Analysis or related field and be recognized as a Board Certified Behavior Analyst (BCBA).

A valid driver's license with proof of car insurance and a good driving record is required

New grads are encouraged to apply!

What Do ATS BCBAs do?

Board Certified Behavioral Analysts (BCBAs) at Achieving True Self (ATS) use the principles of Applied Behavior Analysis (ABA) to provide assessment, development, and oversight of treatment for individuals with Autism Spectrum Disorder or behavioral health needs within their home, school, and community. You get to meet families where they are. As one of our therapists, you will create a fun, motivating experience for our clients.

Responsibilities include, but are not limited to:

Delivering exceptional consumer-focused, evidence-based treatment through ethical interactions

Emphasizing individual motivation and engagement to create the space for ongoing progress

Completing initial evidence-based assessments and reassessments per deadline

Assessing the family's and consumer's strengths, needs, abilities, and preferences

Implementing individualized treatment and behavior intervention plans, facilitating skill transfer to all caregivers

Maintaining and completing data collection and treatment records

Apply

Back

Board Certified Behavior Analyst (BCBA)

Location: Brandywine, MD  Department: BCBA- MD- Prince George
Type: Full Time

Board Certified Behavior Analyst (BCBA)

Location:

Laurel, MD

Apply Details Department:

BCBA- MD- Prince George

Back

Board Certified Behavior Analyst (BCBA)

Location: Laurel, MD  Department: BCBA- MD- Prince George
Type: Full Time

Board Certified Behavior Analyst (BCBA)

$5,000 SIGN-ON BONUS!

Achieving True Self (ATS) wants to be a part of your professional journey!

At ATS, you will be able to use your knowledge and experience to make an impact on the life of a child. You will be a part of a supportive organizational culture focused on developing and retaining team members. You will have the ability to collaborate with like minded professionals and opportunities for continuing education to build your knowledge and skills. You will feel empowered to thrive, contribute, and ultimately feel appreciated

Benefits of working with Achieving True Self:

Competitive rates

Full and part time opportunities

Flexible scheduling with a focus on work/life balance

Medical, Dental, Vision, and Retirement Options

Paid time off

Paid indirect time for travel reimbursement, training and mentoring

Daily operational and administrative support

EHR for data collection and analytics

Company laptop

What Qualifications Do I Need to Join the ATS Team?:

Master's degree in Applied Behavior Analysis or related field and be recognized as a Board Certified Behavior Analyst (BCBA).

A valid driver's license with proof of car insurance and a good driving record is required

New grads are encouraged to apply!

What Do ATS BCBAs do?

Board Certified Behavioral Analysts (BCBAs) at Achieving True Self (ATS) use the principles of Applied Behavior Analysis (ABA) to provide assessment, development, and oversight of treatment for individuals with Autism Spectrum Disorder or behavioral health needs within their home, school, and community. You get to meet families where they are. As one of our therapists, you will create a fun, motivating experience for our clients.

Responsibilities include, but are not limited to:

Delivering exceptional consumer-focused, evidence-based treatment through ethical interactions

Emphasizing individual motivation and engagement to create the space for ongoing progress

Completing initial evidence-based assessments and reassessments per deadline

Assessing the family's and consumer's strengths, needs, abilities, and preferences

Implementing individualized treatment and behavior intervention plans, facilitating skill transfer to all caregivers

Maintaining and completing data collection and treatment records

Apply

Back

Board Certified Behavior Analyst (BCBA)

Location: Laurel, MD  Department: BCBA- MD- Prince George
Type: Full Time

Board Certified Behavior Analyst (BCBA)

Location:

Lawrence, PA

Apply Details Department:

BC- PA- Lawrence

Back

Board Certified Behavior Analyst (BCBA)

Location: Lawrence, PA  Department: BC- PA- Lawrence
Type: Part Time to Full Time

Board Certified Behavior Analyst (BCBA) / ABA Behavior Consultant

$5000 Sign on Bonus for BCBAs and BCs with a qualifying license*

Lawrence County, Pennsylvania

New graduates welcome!

Achieving True Self is expanding, and we have incredible opportunities for talented clinicians! Interested candidates should have a strong desire and passion to make an impact in the lives of your clients.

Benefits of working with Achieving True Self:

Competitive rates
Flexible scheduling offering a work/life balance with FT/PT status options
Medical, Dental, Vision, and Retirement Options
Continuing education opportunities
Paid time off
Paid indirect time for travel reimbursement, training and mentoring
Employee Assistance Program
Tuition discounts at several Colleges and Universities
Clinical collaboration with field experts to continue skill development
Daily operational and administrative support
EHR for data collection and analytics through provided laptop
Empowerment to thrive, grow, contribute, and ultimately feel appreciated

Responsibilities:

Deliver exceptional consumer-focused, evidence-based treatment through ethical interactions
Emphasize individual motivation and engagement to create the space for ongoing progress
Complete initial evidence-based assessments and reassessments per deadline
Assess the family's and consumer's strengths, needs, abilities and preferences
Implement individualized treatment and behavior intervention plans, facilitating skill transfer to all caregivers
Maintain and complete data collection and treatment records

Qualifications (must meet one of the following):

Licensed as:

Psychologist
Professional Counselor
Marriage and Family Therapist
Clinical Social Worker
Social Worker
Behavior Specialist
Registered Certified Nurse Practitioner

A professional with a scope of practice that includes overseeing the provision of ABA services and have one of the following:

BCaBA certification
At least 1 year of full-time experience providing ABA services AND at least 12 credits in ABA from an accredited college or university
At least 1 year of full-time experience providing ABA services under a BCBA AND a minimum of 40 hours of training related to ABA

Licensed as a psychologist AND have a minimum of 1 year of full-time experience providing ABA services AND a minimum of 40 hours of training related to ABA

Who is ATS, and What is our Mission?:

Achieving True Self is passionately cultivating and inspiring growth through the delivery of evidenced based treatment to assist individuals, families, organizations and their surrounding communities to achieve their self-defined goals. Through a supportive organizational culture focused on developing and retaining team members, we are determined to change the world by instilling hope and helping each person whose life we touch achieve their truest self.

*Bonus to be paid out after 90 days in the field

Achieving True Self is an Equal Opportunity Employer and does not discriminate based on race, religion, creed, color, sex, pregnancy, age, national origin, ancestry, sexual orientation, military service or protected veteran status, citizenship, disability, gender identity, or any other status protected by applicable law.

Apply

Back

Board Certified Behavior Analyst (BCBA)

Location: Lawrence, PA  Department: BC- PA- Lawrence
Type: Part Time to Full Time

Board Certified Behavior Analyst (BCBA)

Location:

Oakland, MD

Apply Details Department:

BCBA- MD- Garrett

Back

Board Certified Behavior Analyst (BCBA)

Location: Oakland, MD  Department: BCBA- MD- Garrett
Type: Part Time to Full Time

Board Certified Behavior Analyst (BCBA)

$5000 Sign on Bonus for current BCBAs!

Achieving True Self (ATS) wants to be a part of your professional journey!

At ATS, you will be able to use your knowledge and experience to make an impact on the life of a child. You will be a part of a supportive organizational culture focused on developing and retaining team members. You will have the ability to collaborate with like minded professionals and opportunities for continuing education to build your knowledge and skills. You will feel empowered to thrive, contribute, and ultimately feel appreciated

Benefits of working with Achieving True Self:

Full and part time opportunities

Flexible scheduling with a focus on work/life balance

Medical, Dental, Vision, and Retirement Options

Paid indirect time for travel reimbursement, training and mentoring

Daily operational and administrative support

EHR for data collection and analytics

What Qualifications Do I Need to Join the ATS Team?:

Master's degree in Applied Behavior Analysis or related field and be recognized as a Board Certified Behavior Analyst (BCBA).

A valid driver's license with proof of car insurance and a good driving record is required

New grads are encouraged to apply!

What Do ATS BCBAs do?

Board Certified Behavioral Analysts (BCBAs) at Achieving True Self (ATS) use the principles of Applied Behavior Analysis (ABA) to provide assessment, development, and oversight of treatment for individuals with Autism Spectrum Disorder or behavioral health needs within their home, school, and community. You get to meet families where they are. As one of our therapists, you will create a fun, motivating experience for our clients.

Responsibilities include, but are not limited to:

Delivering exceptional consumer-focused, evidence-based treatment through ethical interactions

Emphasizing individual motivation and engagement to create the space for ongoing progress

Completing initial evidence-based assessments and reassessments per deadline

Assessing the family's and consumer's strengths, needs, abilities, and preferences

Implementing individualized treatment and behavior intervention plans, facilitating skill transfer to all caregivers

Maintaining and completing data collection and treatment records

Achieving True Self is an Equal Opportunity Employer (EOE). Qualified applicants will receive consideration for employment without regard to race, color, religion, sex, age, disability, military status, national origin or any other characteristic protected under federal, state, or applicable local law.

Job Types: Full-time, Part-time

Apply

Back

Board Certified Behavior Analyst (BCBA)

Location: Oakland, MD  Department: BCBA- MD- Garrett
Type: Part Time to Full Time

Board Certified Behavior Analyst (BCBA)

Location:

Harrisburg, PA

Apply Details Department:

BC- PA - Dauphin

Back

Board Certified Behavior Analyst (BCBA)

Location: Harrisburg, PA  Department: BC- PA - Dauphin
Type: Part Time to Full Time

Board Certified Behavior Analyst (BCBA / )ABA Behavior Consultant

$5000 Sign on Bonus for BCBAs and BCs with a qualifying license*

Dauphin County, Pennsylvania

New graduates welcome!

Achieving True Self is expanding, and we have incredible opportunities for talented clinicians! Interested candidates should have a strong desire and passion to make an impact in the lives of your clients.

Benefits of working with Achieving True Self:

Competitive rates
Flexible scheduling offering a work/life balance with FT/PT status options
Medical, Dental, Vision, and Retirement Options
Continuing education opportunities
Paid time off
Paid indirect time for travel reimbursement, training and mentoring
Employee Assistance Program
Tuition discounts at several Colleges and Universities
Clinical collaboration with field experts to continue skill development
Daily operational and administrative support
EHR for data collection and analytics through provided laptop
Empowerment to thrive, grow, contribute, and ultimately feel appreciated

Responsibilities:

Deliver exceptional consumer-focused, evidence-based treatment through ethical interactions
Emphasize individual motivation and engagement to create the space for ongoing progress
Complete initial evidence-based assessments and reassessments per deadline
Assess the family's and consumer's strengths, needs, abilities and preferences
Implement individualized treatment and behavior intervention plans, facilitating skill transfer to all caregivers
Maintain and complete data collection and treatment records

Qualifications (must meet one of the following):

Licensed as:

Psychologist
Professional Counselor
Marriage and Family Therapist
Clinical Social Worker
Social Worker
Behavior Specialist
Registered Certified Nurse Practitioner

A professional with a scope of practice that includes overseeing the provision of ABA services and have one of the following:

BCaBA certification
At least 1 year of full-time experience providing ABA services AND at least 12 credits in ABA from an accredited college or university
At least 1 year of full-time experience providing ABA services under a BCBA AND a minimum of 40 hours of training related to ABA

Licensed as a psychologist AND have a minimum of 1 year of full-time experience providing ABA services AND a minimum of 40 hours of training related to ABA

Who is ATS, and What is our Mission?:

Achieving True Self is passionately cultivating and inspiring growth through the delivery of evidenced based treatment to assist individuals, families, organizations and their surrounding communities to achieve their self-defined goals. Through a supportive organizational culture focused on developing and retaining team members, we are determined to change the world by instilling hope and helping each person whose life we touch achieve their truest self.

*Bonus to be paid out after 90 days in the field

Achieving True Self is an Equal Opportunity Employer and does not discriminate based on race, religion, creed, color, sex, pregnancy, age, national origin, ancestry, sexual orientation, military service or protected veteran status, citizenship, disability, gender identity, or any other status protected by applicable law.

Apply

Back

Board Certified Behavior Analyst (BCBA)

Location: Harrisburg, PA  Department: BC- PA - Dauphin
Type: Part Time to Full Time

Board Certified Behavior Analyst (BCBA)

Location:

Greencastle, PA

Apply Details Department:

BC- PA - Franklin

Back

Board Certified Behavior Analyst (BCBA)

Location: Greencastle, PA  Department: BC- PA - Franklin
Type: Part Time to Full Time

Board Certified Behavior Analyst (BCBA)/ ABA Behavior Consultant

$5000 Sign on Bonus for BCBAs and BCs with a qualifying license*

Franklin County, Pennsylvania

New graduates welcome!

Achieving True Self is expanding, and we have incredible opportunities for talented clinicians! Interested candidates should have a strong desire and passion to make an impact in the lives of your clients.

Benefits of working with Achieving True Self:

Competitive rates
Flexible scheduling offering a work/life balance with FT/PT status options
Medical, Dental, Vision, and Retirement Options
Continuing education opportunities
Paid time off
Paid indirect time for travel reimbursement, training and mentoring
Employee Assistance Program
Tuition discounts at several Colleges and Universities
Clinical collaboration with field experts to continue skill development
Daily operational and administrative support
EHR for data collection and analytics through provided laptop
Empowerment to thrive, grow, contribute, and ultimately feel appreciated

Responsibilities:

Deliver exceptional consumer-focused, evidence-based treatment through ethical interactions
Emphasize individual motivation and engagement to create the space for ongoing progress
Complete initial evidence-based assessments and reassessments per deadline
Assess the family's and consumer's strengths, needs, abilities and preferences
Implement individualized treatment and behavior intervention plans, facilitating skill transfer to all caregivers
Maintain and complete data collection and treatment records

Qualifications (must meet one of the following):

Licensed as:

Psychologist
Professional Counselor
Marriage and Family Therapist
Clinical Social Worker
Social Worker
Behavior Specialist
Registered Certified Nurse Practitioner

A professional with a scope of practice that includes overseeing the provision of ABA services and have one of the following:

BCaBA certification
At least 1 year of full-time experience providing ABA services AND at least 12 credits in ABA from an accredited college or university
At least 1 year of full-time experience providing ABA services under a BCBA AND a minimum of 40 hours of training related to ABA

Licensed as a psychologist AND have a minimum of 1 year of full-time experience providing ABA services AND a minimum of 40 hours of training related to ABA

Who is ATS, and What is our Mission?:

Achieving True Self is passionately cultivating and inspiring growth through the delivery of evidenced based treatment to assist individuals, families, organizations and their surrounding communities to achieve their self-defined goals. Through a supportive organizational culture focused on developing and retaining team members, we are determined to change the world by instilling hope and helping each person whose life we touch achieve their truest self.

*Bonus to be paid out after 90 days in the field

Achieving True Self is an Equal Opportunity Employer and does not discriminate based on race, religion, creed, color, sex, pregnancy, age, national origin, ancestry, sexual orientation, military service or protected veteran status, citizenship, disability, gender identity, or any other status protected by applicable law.

Apply

Back

Board Certified Behavior Analyst (BCBA)

Location: Greencastle, PA  Department: BC- PA - Franklin
Type: Part Time to Full Time

Board Certified Behavior Analyst (BCBA)

Location:

Westover, MD

Apply Details Department:

BCBA- MD- Somerset

Back

Board Certified Behavior Analyst (BCBA)

Location: Westover, MD  Department: BCBA- MD- Somerset
Type: Full Time

Board Certified Behavior Analyst (BCBA)

$5000 Sign on Bonus for current BCBAs!

Achieving True Self (ATS) wants to be a part of your professional journey!

At ATS, you will be able to use your knowledge and experience to make an impact on the life of a child. You will be a part of a supportive organizational culture focused on developing and retaining team members. You will have the ability to collaborate with like minded professionals and opportunities for continuing education to build your knowledge and skills. You will feel empowered to thrive, contribute, and ultimately feel appreciated

Benefits of working with Achieving True Self:

Competitive rates

Full and part time opportunities

Flexible scheduling with a focus on work/life balance

Medical, Dental, Vision, and Retirement Options

Paid time off

Paid indirect time for travel reimbursement, training and mentoring

Daily operational and administrative support

EHR for data collection and analytics

Company laptop

What Qualifications Do I Need to Join the ATS Team?:

Master's degree in Applied Behavior Analysis or related field and be recognized as a Board Certified Behavior Analyst (BCBA).

A valid driver's license with proof of car insurance and a good driving record is required

New grads are encouraged to apply!

What Do ATS BCBAs do?

Board Certified Behavioral Analysts (BCBAs) at Achieving True Self (ATS) use the principles of Applied Behavior Analysis (ABA) to provide assessment, development, and oversight of treatment for individuals with Autism Spectrum Disorder or behavioral health needs within their home, school, and community. You get to meet families where they are. As one of our therapists, you will create a fun, motivating experience for our clients.

Responsibilities include, but are not limited to:

Delivering exceptional consumer-focused, evidence-based treatment through ethical interactions

Emphasizing individual motivation and engagement to create the space for ongoing progress

Completing initial evidence-based assessments and reassessments per deadline

Assessing the family's and consumer's strengths, needs, abilities, and preferences

Implementing individualized treatment and behavior intervention plans, facilitating skill transfer to all caregivers

Maintaining and completing data collection and treatment records

Apply

Back

Board Certified Behavior Analyst (BCBA)

Location: Westover, MD  Department: BCBA- MD- Somerset
Type: Full Time

Board Certified Behavior Analyst (BCBA)

Location:

Westminster, MD

Apply Details Department:

BCBA- MD- Carroll

Back

Board Certified Behavior Analyst (BCBA)

Location: Westminster, MD  Department: BCBA- MD- Carroll
Type: Part Time to Full Time

Board Certified Behavior Analyst (BCBA)

$5000 Sign on Bonus for current BCBAs!

Achieving True Self (ATS) wants to be a part of your professional journey!

At ATS, you will be able to use your knowledge and experience to make an impact on the life of a child. You will be a part of a supportive organizational culture focused on developing and retaining team members. You will have the ability to collaborate with like minded professionals and opportunities for continuing education to build your knowledge and skills. You will feel empowered to thrive, contribute, and ultimately feel appreciated

Benefits of working with Achieving True Self:

Competitive rates

Full and part time opportunities

Flexible scheduling with a focus on work/life balance

Medical, Dental, Vision, and Retirement Options

Paid time off

Paid indirect time for travel reimbursement, training and mentoring

Daily operational and administrative support

EHR for data collection and analytics

Company laptop

What Qualifications Do I Need to Join the ATS Team?:

Master's degree in Applied Behavior Analysis or related field and be recognized as a Board Certified Behavior Analyst (BCBA).

A valid driver's license with proof of car insurance and a good driving record is required

New grads are encouraged to apply!

What Do ATS BCBAs do?

Board Certified Behavioral Analysts (BCBAs) at Achieving True Self (ATS) use the principles of Applied Behavior Analysis (ABA) to provide assessment, development, and oversight of treatment for individuals with Autism Spectrum Disorder or behavioral health needs within their home, school, and community. You get to meet families where they are. As one of our therapists, you will create a fun, motivating experience for our clients.

Responsibilities include, but are not limited to:

Delivering exceptional consumer-focused, evidence-based treatment through ethical interactions

Emphasizing individual motivation and engagement to create the space for ongoing progress

Completing initial evidence-based assessments and reassessments per deadline

Assessing the family's and consumer's strengths, needs, abilities, and preferences

Implementing individualized treatment and behavior intervention plans, facilitating skill transfer to all caregivers

Maintaining and completing data collection and treatment records

Apply

Back

Board Certified Behavior Analyst (BCBA)

Location: Westminster, MD  Department: BCBA- MD- Carroll
Type: Part Time to Full Time

Board Certified Behavior Analyst (BCBA)

Location:

Rockville, MD

Apply Details Department:

BCBA- MD-MoCo

Back

Board Certified Behavior Analyst (BCBA)

Location: Rockville, MD  Department: BCBA- MD-MoCo
Type: Part Time

Job description

Board Certified Behavior Analyst (BCBA)

$5000 Sign on Bonus!!

New graduates welcome!
Achieving True Self is expanding, and we have incredible opportunities for talented clinicians! Interested candidates should have a strong desire and passion to make an impact in the lives of your clients.
Benefits of working with Achieving True Self:

Competitive rates
Flexible scheduling offering a work/life balance with FT/PT status options
Medical, Dental, Vision, and Retirement Options
Continuing education opportunities
Paid time off
Paid indirect time for travel reimbursement, training and mentoring
Employee Assistance Program
Tuition discounts at several Colleges and Universities
Clinical collaboration with field experts to continue skill development
Daily operational and administrative support
EHR for data collection and analytics through provided laptop
Empowerment to thrive, grow, contribute, and ultimately feel appreciated

Responsibilities:

Deliver exceptional consumer-focused, evidence-based treatment through ethical interactions
Emphasize individual motivation and engagement to create the space for ongoing progress
Complete initial evidence-based assessments and reassessments per deadline
Assess the family's and consumer's strengths, needs, abilities and preferences
Implement individualized treatment and behavior intervention plans, facilitating skill transfer to all caregivers
Maintain and complete data collection and treatment records

Qualifications (must meet one of the following):

Licensed as:
Psychologist
Professional Counselor
Marriage and Family Therapist
Clinical Social Worker
Social Worker
Behavior Specialist
Registered Certified Nurse Practitioner

A professional with a scope of practice that includes overseeing the provision of ABA services and have one of the following:
BCaBA certification
At least 1 year of full-time experience providing ABA services AND at least 12 credits in ABA from an accredited college or university
At least 1 year of full-time experience providing ABA services under a BCBA AND a minimum of 40 hours of training related to ABA

Licensed as a psychologist AND have a minimum of 1 year of full-time experience providing ABA services AND a minimum of 40 hours of training related to ABA

Who is ATS, and What is our Mission?:
Achieving True Self is passionately cultivating and inspiring growth through the delivery of evidenced based treatment to assist individuals, families, organizations and their surrounding communities to achieve their self-defined goals. Through a supportive organizational culture focused on developing and retaining team members, we are determined to change the world by instilling hope and helping each person whose life we touch achieve their truest self.

Bonus to be paid out after 90 days in the field

Achieving True Self is an Equal Opportunity Employer and does not discriminate based on race, religion, creed, color, sex, pregnancy, age, national origin, ancestry, sexual orientation, military service or protected veteran status, citizenship, disability, gender identity, or any other status protected by applicable law.
Achieving True Self is an Equal Opportunity Employer (EOE). Qualified applicants will receive consideration for employment without regard to race, color, religion, sex, age, disability, military status, national origin or any other characteristic protected under federal, state, or applicable local law.

Apply

Back

Board Certified Behavior Analyst (BCBA)

Location: Rockville, MD  Department: BCBA- MD-MoCo
Type: Part Time

Board Certified Behavior Analyst (BCBA)

Location:

Fort Washington, MD

Apply Details Department:

BCBA- MD- Prince George

Back

Board Certified Behavior Analyst (BCBA)

Location: Fort Washington, MD  Department: BCBA- MD- Prince George
Type: Full Time

Board Certified Behavior Analyst (BCBA)

$5,000 SIGN-ON BONUS!

Achieving True Self (ATS) wants to be a part of your professional journey!

At ATS, you will be able to use your knowledge and experience to make an impact on the life of a child. You will be a part of a supportive organizational culture focused on developing and retaining team members. You will have the ability to collaborate with like minded professionals and opportunities for continuing education to build your knowledge and skills. You will feel empowered to thrive, contribute, and ultimately feel appreciated

Benefits of working with Achieving True Self:

Competitive rates

Full and part time opportunities

Flexible scheduling with a focus on work/life balance

Medical, Dental, Vision, and Retirement Options

Paid time off

Paid indirect time for travel reimbursement, training and mentoring

Daily operational and administrative support

EHR for data collection and analytics

Company laptop

What Qualifications Do I Need to Join the ATS Team?:

Master's degree in Applied Behavior Analysis or related field and be recognized as a Board Certified Behavior Analyst (BCBA).

A valid driver's license with proof of car insurance and a good driving record is required

New grads are encouraged to apply!

What Do ATS BCBAs do?

Board Certified Behavioral Analysts (BCBAs) at Achieving True Self (ATS) use the principles of Applied Behavior Analysis (ABA) to provide assessment, development, and oversight of treatment for individuals with Autism Spectrum Disorder or behavioral health needs within their home, school, and community. You get to meet families where they are. As one of our therapists, you will create a fun, motivating experience for our clients.

Responsibilities include, but are not limited to:

Delivering exceptional consumer-focused, evidence-based treatment through ethical interactions

Emphasizing individual motivation and engagement to create the space for ongoing progress

Completing initial evidence-based assessments and reassessments per deadline

Assessing the family's and consumer's strengths, needs, abilities, and preferences

Implementing individualized treatment and behavior intervention plans, facilitating skill transfer to all caregivers

Maintaining and completing data collection and treatment records

Apply

Back

Board Certified Behavior Analyst (BCBA)

Location: Fort Washington, MD  Department: BCBA- MD- Prince George
Type: Full Time

Board Certified Behavior Analyst (BCBA)

Location:

Silver Spring, MD

Apply Details Department:

BCBA- MD- Washington

Back

Board Certified Behavior Analyst (BCBA)

Location: Silver Spring, MD  Department: BCBA- MD- Washington
Type: Full Time

Board Certified Behavior Analyst (BCBA)

$5000 Sign on Bonus for current BCBAs!

Achieving True Self (ATS) wants to be a part of your professional journey!

At ATS, you will be able to use your knowledge and experience to make an impact on the life of a child. You will be a part of a supportive organizational culture focused on developing and retaining team members. You will have the ability to collaborate with like minded professionals and opportunities for continuing education to build your knowledge and skills. You will feel empowered to thrive, contribute, and ultimately feel appreciated

Benefits of working with Achieving True Self:

Competitive rates

Full and part time opportunities

Flexible scheduling with a focus on work/life balance

Medical, Dental, Vision, and Retirement Options

Paid time off

Paid indirect time for travel reimbursement, training and mentoring

Daily operational and administrative support

EHR for data collection and analytics

Company laptop

What Qualifications Do I Need to Join the ATS Team?:

Master's degree in Applied Behavior Analysis or related field and be recognized as a Board Certified Behavior Analyst (BCBA).

A valid driver's license with proof of car insurance and a good driving record is required

New grads are encouraged to apply!

What Do ATS BCBAs do?

Board Certified Behavioral Analysts (BCBAs) at Achieving True Self (ATS) use the principles of Applied Behavior Analysis (ABA) to provide assessment, development, and oversight of treatment for individuals with Autism Spectrum Disorder or behavioral health needs within their home, school, and community. You get to meet families where they are. As one of our therapists, you will create a fun, motivating experience for our clients.

Responsibilities include, but are not limited to:

Delivering exceptional consumer-focused, evidence-based treatment through ethical interactions

Emphasizing individual motivation and engagement to create the space for ongoing progress

Completing initial evidence-based assessments and reassessments per deadline

Assessing the family's and consumer's strengths, needs, abilities, and preferences

Implementing individualized treatment and behavior intervention plans, facilitating skill transfer to all caregivers

Maintaining and completing data collection and treatment records

Apply

Back

Board Certified Behavior Analyst (BCBA)

Location: Silver Spring, MD  Department: BCBA- MD- Washington
Type: Full Time

Board Certified Behavior Analyst (BCBA)

Location:

Indiana, PA

Apply Details Department:

BC- PA - Indiana

Back

Board Certified Behavior Analyst (BCBA)

Location: Indiana, PA  Department: BC- PA - Indiana
Type: Part Time to Full Time

Board Certified Behavior Analyst (BCBA) / ABA Behavior Consultant

$5000 Sign on Bonus for BCBAs and BCs with a qualifying license*

Indiana County, Pennsylvania

New graduates welcome!

Achieving True Self is expanding, and we have incredible opportunities for talented clinicians! Interested candidates should have a strong desire and passion to make an impact in the lives of your clients.

Benefits of working with Achieving True Self:

Competitive rates
Flexible scheduling offering a work/life balance with FT/PT status options
Medical, Dental, Vision, and Retirement Options
Continuing education opportunities
Paid time off
Paid indirect time for travel reimbursement, training and mentoring
Employee Assistance Program
Tuition discounts at several Colleges and Universities
Clinical collaboration with field experts to continue skill development
Daily operational and administrative support
EHR for data collection and analytics through provided laptop
Empowerment to thrive, grow, contribute, and ultimately feel appreciated

Responsibilities:

Deliver exceptional consumer-focused, evidence-based treatment through ethical interactions
Emphasize individual motivation and engagement to create the space for ongoing progress
Complete initial evidence-based assessments and reassessments per deadline
Assess the family's and consumer's strengths, needs, abilities and preferences
Implement individualized treatment and behavior intervention plans, facilitating skill transfer to all caregivers
Maintain and complete data collection and treatment records

Qualifications (must meet one of the following):

Licensed as:

Psychologist
Professional Counselor
Marriage and Family Therapist
Clinical Social Worker
Social Worker
Behavior Specialist
Registered Certified Nurse Practitioner

A professional with a scope of practice that includes overseeing the provision of ABA services and have one of the following:

BCaBA certification
At least 1 year of full-time experience providing ABA services AND at least 12 credits in ABA from an accredited college or university
At least 1 year of full-time experience providing ABA services under a BCBA AND a minimum of 40 hours of training related to ABA

Licensed as a psychologist AND have a minimum of 1 year of full-time experience providing ABA services AND a minimum of 40 hours of training related to ABA

Who is ATS, and What is our Mission?:

Achieving True Self is passionately cultivating and inspiring growth through the delivery of evidenced based treatment to assist individuals, families, organizations and their surrounding communities to achieve their self-defined goals. Through a supportive organizational culture focused on developing and retaining team members, we are determined to change the world by instilling hope and helping each person whose life we touch achieve their truest self.

*Bonus to be paid out after 90 days in the field

Achieving True Self is an Equal Opportunity Employer and does not discriminate based on race, religion, creed, color, sex, pregnancy, age, national origin, ancestry, sexual orientation, military service or protected veteran status, citizenship, disability, gender identity, or any other status protected by applicable law.

Apply

Back

Board Certified Behavior Analyst (BCBA)

Location: Indiana, PA  Department: BC- PA - Indiana
Type: Part Time to Full Time

Board Certified Behavior Analyst (BCBA)

Location:

North Bethesda, MD

Apply Details Department:

BCBA- MD-MoCo

Back

Board Certified Behavior Analyst (BCBA)

Location: North Bethesda, MD  Department: BCBA- MD-MoCo
Type: Part Time

Job description

Board Certified Behavior Analyst (BCBA)

$5000 Sign on Bonus!!

New graduates welcome!
Achieving True Self is expanding, and we have incredible opportunities for talented clinicians! Interested candidates should have a strong desire and passion to make an impact in the lives of your clients.
Benefits of working with Achieving True Self:

Competitive rates
Flexible scheduling offering a work/life balance with FT/PT status options
Medical, Dental, Vision, and Retirement Options
Continuing education opportunities
Paid time off
Paid indirect time for travel reimbursement, training and mentoring
Employee Assistance Program
Tuition discounts at several Colleges and Universities
Clinical collaboration with field experts to continue skill development
Daily operational and administrative support
EHR for data collection and analytics through provided laptop
Empowerment to thrive, grow, contribute, and ultimately feel appreciated

Responsibilities:

Deliver exceptional consumer-focused, evidence-based treatment through ethical interactions
Emphasize individual motivation and engagement to create the space for ongoing progress
Complete initial evidence-based assessments and reassessments per deadline
Assess the family's and consumer's strengths, needs, abilities and preferences
Implement individualized treatment and behavior intervention plans, facilitating skill transfer to all caregivers
Maintain and complete data collection and treatment records

Qualifications (must meet one of the following):

Licensed as:
Psychologist
Professional Counselor
Marriage and Family Therapist
Clinical Social Worker
Social Worker
Behavior Specialist
Registered Certified Nurse Practitioner

A professional with a scope of practice that includes overseeing the provision of ABA services and have one of the following:
BCaBA certification
At least 1 year of full-time experience providing ABA services AND at least 12 credits in ABA from an accredited college or university
At least 1 year of full-time experience providing ABA services under a BCBA AND a minimum of 40 hours of training related to ABA

Licensed as a psychologist AND have a minimum of 1 year of full-time experience providing ABA services AND a minimum of 40 hours of training related to ABA

Who is ATS, and What is our Mission?:
Achieving True Self is passionately cultivating and inspiring growth through the delivery of evidenced based treatment to assist individuals, families, organizations and their surrounding communities to achieve their self-defined goals. Through a supportive organizational culture focused on developing and retaining team members, we are determined to change the world by instilling hope and helping each person whose life we touch achieve their truest self.

Bonus to be paid out after 90 days in the field

Achieving True Self is an Equal Opportunity Employer and does not discriminate based on race, religion, creed, color, sex, pregnancy, age, national origin, ancestry, sexual orientation, military service or protected veteran status, citizenship, disability, gender identity, or any other status protected by applicable law.
Achieving True Self is an Equal Opportunity Employer (EOE). Qualified applicants will receive consideration for employment without regard to race, color, religion, sex, age, disability, military status, national origin or any other characteristic protected under federal, state, or applicable local law.

Apply

Back

Board Certified Behavior Analyst (BCBA)

Location: North Bethesda, MD  Department: BCBA- MD-MoCo
Type: Part Time

Board Certified Behavior Analyst (BCBA)

Location:

Elkton, MD

Apply Details Department:

BCBA- MD- Cecil

Back

Board Certified Behavior Analyst (BCBA)

Location: Elkton, MD  Department: BCBA- MD- Cecil
Type: Full Time

Board Certified Behavior Analyst (BCBA)

Achieving True Self (ATS) wants to be a part of your professional journey!

At ATS, you will be able to use your knowledge and experience to make an impact on the life of a child. You will be a part of a supportive organizational culture focused on developing and retaining team members. You will have the ability to collaborate with like minded professionals and opportunities for continuing education to build your knowledge and skills. You will feel empowered to thrive, contribute, and ultimately feel appreciated

Benefits of working with Achieving True Self:

Competitive rates

Full and part time opportunities

Flexible scheduling with a focus on work/life balance

Medical, Dental, Vision, and Retirement Options

Paid time off

Paid indirect time for travel reimbursement, training and mentoring

Daily operational and administrative support

EHR for data collection and analytics

Company laptop

What Qualifications Do I Need to Join the ATS Team?:

Master's degree in Applied Behavior Analysis or related field and be recognized as a Board Certified Behavior Analyst (BCBA).

A valid driver's license with proof of car insurance and a good driving record is required

New grads are encouraged to apply!

What Do ATS BCBAs do?

Board Certified Behavioral Analysts (BCBAs) at Achieving True Self (ATS) use the principles of Applied Behavior Analysis (ABA) to provide assessment, development, and oversight of treatment for individuals with Autism Spectrum Disorder or behavioral health needs within their home, school, and community. You get to meet families where they are. As one of our therapists, you will create a fun, motivating experience for our clients.

Responsibilities include, but are not limited to:

Delivering exceptional consumer-focused, evidence-based treatment through ethical interactions

Emphasizing individual motivation and engagement to create the space for ongoing progress

Completing initial evidence-based assessments and reassessments per deadline

Assessing the family's and consumer's strengths, needs, abilities, and preferences

Implementing individualized treatment and behavior intervention plans, facilitating skill transfer to all caregivers

Maintaining and completing data collection and treatment records

Apply

Back

Board Certified Behavior Analyst (BCBA)

Location: Elkton, MD  Department: BCBA- MD- Cecil
Type: Full Time

Board Certified Behavior Analyst (BCBA)

Location:

Baltimore, MD

Apply Details Department:

BCBA- MD- Baltimore

Back

Board Certified Behavior Analyst (BCBA)

Location: Baltimore, MD  Department: BCBA- MD- Baltimore
Type: Part Time to Full Time

Board Certified Behavior Analyst (BCBA)

$5000 Sign on Bonus for current BCBAs!

Achieving True Self (ATS) wants to be a part of your professional journey!

At ATS, you will be able to use your knowledge and experience to make an impact on the life of a child. You will be a part of a supportive organizational culture focused on developing and retaining team members. You will have the ability to collaborate with like minded professionals and opportunities for continuing education to build your knowledge and skills. You will feel empowered to thrive, contribute, and ultimately feel appreciated

Benefits of working with Achieving True Self:

Competitive rates

Full and part time opportunities

Flexible scheduling with a focus on work/life balance

Medical, Dental, Vision, and Retirement Options

Paid time off

Paid indirect time for travel reimbursement, training and mentoring

Daily operational and administrative support

EHR for data collection and analytics

Company laptop

What Qualifications Do I Need to Join the ATS Team?:

Master's degree in Applied Behavior Analysis or related field and be recognized as a Board Certified Behavior Analyst (BCBA).

A valid driver's license with proof of car insurance and a good driving record is required

New grads are encouraged to apply!

What Do ATS BCBAs do?

Board Certified Behavioral Analysts (BCBAs) at Achieving True Self (ATS) use the principles of Applied Behavior Analysis (ABA) to provide assessment, development, and oversight of treatment for individuals with Autism Spectrum Disorder or behavioral health needs within their home, school, and community. You get to meet families where they are. As one of our therapists, you will create a fun, motivating experience for our clients.

Responsibilities include, but are not limited to:

Delivering exceptional consumer-focused, evidence-based treatment through ethical interactions

Emphasizing individual motivation and engagement to create the space for ongoing progress

Completing initial evidence-based assessments and reassessments per deadline

Assessing the family's and consumer's strengths, needs, abilities, and preferences

Implementing individualized treatment and behavior intervention plans, facilitating skill transfer to all caregivers

Maintaining and completing data collection and treatment records

Apply

Back

Board Certified Behavior Analyst (BCBA)

Location: Baltimore, MD  Department: BCBA- MD- Baltimore
Type: Part Time to Full Time

Board Certified Behavior Analyst (BCBA)

Location:

Gaithersburg, MD

Apply Details Department:

BCBA- MD- Montgomery

Back

Board Certified Behavior Analyst (BCBA)

Location: Gaithersburg, MD  Department: BCBA- MD- Montgomery
Type: Full Time

Board Certified Behavior Analyst (BCBA)

$5,000 Sign-on bonus for current BCBAs

Achieving True Self (ATS) wants to be a part of your professional journey!

At ATS, you will be able to use your knowledge and experience to make an impact on the life of a child. You will be a part of a supportive organizational culture focused on developing and retaining team members. You will have the ability to collaborate with like minded professionals and opportunities for continuing education to build your knowledge and skills. You will feel empowered to thrive, contribute, and ultimately feel appreciated

Benefits of working with Achieving True Self:

Competitive rates

Full and part time opportunities

Flexible scheduling with a focus on work/life balance

Medical, Dental, Vision, and Retirement Options

Paid time off

Paid indirect time for travel reimbursement, training and mentoring

Daily operational and administrative support

EHR for data collection and analytics

Company laptop

What Qualifications Do I Need to Join the ATS Team?:

Master's degree in Applied Behavior Analysis or related field and be recognized as a Board Certified Behavior Analyst (BCBA).

A valid driver's license with proof of car insurance and a good driving record is required

New grads are encouraged to apply!

What Do ATS BCBAs do?

Board Certified Behavioral Analysts (BCBAs) at Achieving True Self (ATS) use the principles of Applied Behavior Analysis (ABA) to provide assessment, development, and oversight of treatment for individuals with Autism Spectrum Disorder or behavioral health needs within their home, school, and community. You get to meet families where they are. As one of our therapists, you will create a fun, motivating experience for our clients.

Responsibilities include, but are not limited to:

Delivering exceptional consumer-focused, evidence-based treatment through ethical interactions

Emphasizing individual motivation and engagement to create the space for ongoing progress

Completing initial evidence-based assessments and reassessments per deadline

Assessing the family's and consumer's strengths, needs, abilities, and preferences

Implementing individualized treatment and behavior intervention plans, facilitating skill transfer to all caregivers

Maintaining and completing data collection and treatment records

Apply

Back

Board Certified Behavior Analyst (BCBA)

Location: Gaithersburg, MD  Department: BCBA- MD- Montgomery
Type: Full Time

Clinical Director of ABA Services

Location:

Bethel Park, PA

Apply Details Department:

Clinical Director

Back

Clinical Director of ABA Services

Location: Bethel Park, PA  Department: Clinical Director
Type: Full Time

Achieving True Self (ATS) wants you to help lead and grow our team!

What position is ATS hiring for? Clinical Director of ABA Services

Location: Southern Allegheny County and Washington County, PA.

Availability: Daytime, evenings, occasional weekends

What Do ATS Clinical Directors Do?

As the Clinical Director at ACHIEVING TRUE SELF, you get to inspire, influence, and impact a team of exceptional Board Certified Behavior Analysts (BCBA), Behavior Specialists, Registered Behavior Technicians (RBT), and Behavior Technicians (BT), in home, school, and community-based settings. You will also have the ability to increase your knowledge and skills through developmental and educational opportunities. You will also have easy access to support and collaboration from our extensive and knowledgeable team.

What are the Benefits of Working at ATS?

Incredibly competitive compensation

Performance based increases

Generous medical, dental, vision, and life and disability insurance coverage

401K with employer match

Paid time off

Paid travel time

Modern EHR

Company provided computer

Full administrative support provided

The best perk we can offer is to provide you with the chance to make a difference in young lives while working with talented and dedicated people who love what they do.

What Qualifications Do I Need to Join the ATS Team?:

Masters or doctorate in Psychology, Applied Behavior Analysis, Special Education, or related field with active PA professional license (LBS, LSW, LCSW, LPC, etc.)

Board Certification in Behavior Analysis (BCBA or BCBA-D)

Minimum of 5 years of experience working with children and adolescents who are diagnosed with a developmental delay, communication disorder and/or an autism spectrum disorder

What are some of the job responsibilities?:

Develop, implement, and provide oversight of comprehensive behavioral assessments and behavioral treatment plans

Review, monitor, and evaluate treatment integrity of clinical team to ensure optimal implementation of treatment protocols

Facilitate regularly scheduled group supervision of clinical team as well as conduct training and professional development opportunities

Administer functional behavior assessments, as well as other recognized assessments, such as the VB-MAPP, ABLLS-R, and Vineland-3

Mentor clinicians to standardize and implement individualized clinical programs

Create curriculum and other resources for new training and treatment programs

Disseminate resources across organization and its population served

Effectively collaborate with all ATS team members, community agencies, schools, medical practices, therapy providers and other entities as appropriate

Maintain billable caseload as assigned by Leadership team

Strictly adhere to BACB Professional and Ethical Compliance Code, applicable license code of ethics, and regulations

Steward the mission, vision, values and beliefs of ATS with all interactions in role

Who is ATS, and What is Your Mission?:

Achieving True Self is passionately cultivating and inspiring growth through the delivery of evidenced based treatment to assist individuals, families, organizations and their surrounding communities to achieve their self-defined goals. Through a supportive organizational culture focused on developing and retaining team members, we are determined to change the world by instilling hope and helping each person whose life we touch achieve their truest self.

Achieving True Self is an Equal Opportunity Employer (EOE). Qualified applicants will receive consideration for employment without regard to race, color, religion, sex, age, disability, military status, national origin, or any other characteristic protected under federal, state, or applicable local law.

Apply

Back

Clinical Director of ABA Services

Location: Bethel Park, PA  Department: Clinical Director
Type: Full Time

Back

Clinical Director of ABA Services

Location: Irwin, PA  Department: Achieving True Self
Type: Full Time

Achieving True Self (ATS) wants you to help lead and grow our team!

What position is ATS hiring for? Clinical Director of Center Based ABA Services

Location: Achieving True Self, Center for Achievement-Irwin, 1015 Pennsylvania Ave, Irwin, Pa 15642

*This is an on-site position.

Availability: Daytime, evenings, occasional weekends

What Do ATS Clinical Directors Do?

As the Clinical Director at ACHIEVING TRUE SELF, you get to inspire, influence, and impact a team of exceptional Board Certified Behavior Analysts (BCBA), Behavior Specialists, Registered Behavior Technicians (RBT), and Behavior Technicians (BT), in our Irwin Center for Achievement. You will also have the ability to increase your knowledge and skills through developmental and educational opportunities. You will also have easy access to support and collaboration from our extensive and knowledgeable team.

What are the Benefits of Working at ATS?

Incredibly competitive compensation

Performance based increases

Generous medical, dental, vision, and life and disability insurance coverage

401K with employer match

Paid time off

Paid travel time

Modern EHR

Company provided computer

Full administrative support provided

The best perk we can offer is to provide you with the chance to make a difference in young lives while working with talented and dedicated people who love what they do.

What Qualifications Do I Need to Join the ATS Team?:

Masters or doctorate in Psychology, Applied Behavior Analysis, Special Education, or related field with active PA professional license (LBS, LSW, LCSW, LPC, etc.)

Board Certification in Behavior Analysis (BCBA or BCBA-D)

Minimum of 5 years of experience working with children and adolescents who are diagnosed with a developmental delay, communication disorder and/or an autism spectrum disorder

What are some of the job responsibilities?:

Develop, implement, and provide oversight of comprehensive behavioral assessments and behavioral treatment plans for center based services.

Review, monitor, and evaluate treatment integrity of clinical team to ensure optimal implementation of treatment protocols

Facilitate regularly scheduled group supervision of center clinical team as well as conduct training and professional development opportunities

Administer functional behavior assessments as well as other recognized assessments such as the VB-MAPP, ABLLS-R, and Vineland-3

Mentor clinicians to standardize and implement individualized clinical programs

Create curriculum and other resources for new training and treatment programs

Disseminate resources across organization and its population served

Effectively collaborate with all ATS team members, community agencies, schools, medical practices, therapy providers and other entities as appropriate

Maintain billable caseload as assigned by Leadership team

Strictly adhere to BACB Professional and Ethical Compliance Code, applicable license code of ethics, and regulations

Steward the mission, vision, values and beliefs of ATS with all interactions in role

Who is ATS, and What is Your Mission?:

Achieving True Self is passionately cultivating and inspiring growth through the delivery of evidenced based treatment to assist individuals, families, organizations and their surrounding communities to achieve their self-defined goals. Through a supportive organizational culture focused on developing and retaining team members, we are determined to change the world by instilling hope and helping each person whose life we touch achieve their truest self.

Achieving True Self is an Equal Opportunity Employer (EOE). Qualified applicants will receive consideration for employment without regard to race, color, religion, sex, age, disability, military status, national origin, or any other characteristic protected under federal, state, or applicable local law.

Apply

Back

Clinical Director of ABA Services

Location: Irwin, PA  Department: Achieving True Self
Type: Full Time

Back

Employment Specialist

Location: Irwin, PA  Department: IDD/A-Employment-Westmoreland
Type: Part Time to Full Time

Employment Specialist - Westmoreland County, PA

Achieving True Self (ATS) wants to invest in you!

At ATS, you will have the opportunity to make a difference in the life of a client. As an Employment Specialist, you will help individuals with disabilities and/or Autism transition into the job market by providing job readiness and employment support; assisting them to find, acquire, and maintain employment. You will get to have fun and let your personality shine while helping your client maintain their independence through meaningful employment.

As an Employment Specialist, we offer you paid training, opportunities for external education, and professional development. You will be a part of an exceptionally supportive work environment where team members thrive, feel valued, and are ultimately appreciated for their contributions.

Where is ATS providing Employment Specialist services?

Benefits of working at Achieving True Self:

Competitive pay
Full time and part time opportunities available
Bi-weekly paydays
Paid time off
Medical, Dental, Vision, and Retirement Option
Travel time reimbursement
Continued education supervision opportunities
Employee Assistance Program
Tuition discounts at several Colleges and Universities
Work/Life Balance
Company Chromebook provided

Required Qualifications:

High school diploma or equivalent
A valid driver's license with proof of car insurance and a good driving record.
Your own reliable vehicle.
Previous experience with employment development and support, a plus.

Core Responsibilities:

Work with your client to determine career interests and strengths.
Complete a Career Assessment Report to include interests, skills, work and volunteer history, situational assessments, informative interviews, job-type identification, based on interests and strengths, and skills and training needed.
Assist your client with job finding; resume building and development, job seeking and job skills, including consulting with employment networks, as well as, exploring opportunities for self-employment, interview preparation and guidance
Provide transportation services, as needed, to support your clients ability to get to and from employment. Provide support and instruction for learning transportation usage.
Work with your clients to customize supports, as well as, work through negotiating conditions of employment with the employer.
Provide in-person, on the job training on job tasks and ongoing support with the client and their employer, to include instruction for work habits, work assignments, maintaining job skills and performance achievements, orientation, job aid tools, accommodations including technology, and interpersonal skills.
Create a detailed plan for support to decrease as their independence, skills, and productivity increase.

Who is ATS, and What is our Mission?:

Achieving True Self is passionately cultivating and inspiring growth through the delivery of evidenced based treatment to assist individuals, families, organizations and their surrounding communities to achieve their self-defined goals. Through a supportive organizational culture focused on developing and retaining team members, we are determined to change the world by instilling hope and helping each person whose life we touch achieve their truest self.

Achieving True Self is an Equal Opportunity Employer (EOE). Qualified applicants will receive consideration for employment without regard to race, color, religion, sex, age, disability, military status, national origin or any other characteristic protected under federal, state, or applicable local law.

Apply

Back

Employment Specialist

Location: Irwin, PA  Department: IDD/A-Employment-Westmoreland
Type: Part Time to Full Time

Back

Habilitation Aide Specialist (HAB)

Location: Irwin, PA  Department:
Type: Part Time to Full Time

Habilitation Aide Specialist (HAB) - Westmoreland County, PA

Achieving True Self (ATS) wants to invest in you!

At ATS, you will have the opportunity to make a difference in the life of a client. As an Intellectual Disabilities/Autism (ID/A) Habilitation Aide Specialist you will provide direct support services for our clients in their homes or in the community setting. You will get to have fun and let your personality shine while providing one-on-one support to help them achieve their truest self.

As a Habilitation Aide Specialist (HAB), we offer you paid training, opportunities for external education, and professional development. You will be a part of an exceptionally supportive work environment where team members thrive, feel valued, and are ultimately appreciated for their contributions.

Where is ATS providing HAB Aide services?

Benefits of working at Achieving True Self:

Competitive pay

Full time and part time opportunities available

Bi-weekly paydays

Paid time off

Medical, Dental, Vision, and Retirement Options

Travel time reimbursement

Continued education supervision opportunities

Employee Assistance Program

Tuition discounts at several Colleges and Universities

Work/Life Balance

Company Chromebook provided

Required Qualifications:

High school diploma

or GED equivalent

.

A valid driver's license with proof of car insurance, good

driving record, and a reliable vehicle.

Ability to lift a minimum of 25 lbs.

Core Responsibilities:

Complete necessary documentation for each service provided, collect, and evaluate any applicable data and progress, and

assess and further work with the team to develop positive strategies of support

Provide direct support in accordance with the plan and ODP guidelines

Provide supports to children and adults in home and community-based settings to acquire, maintain and improve skills necessary to live in the community, to live more independently, and to participate meaningfully in community life.

Provide assistance, support, and guidance with self-care, maintaining health and

well-being, home management, communication, mobility, relationship development

and socialization, participation in community activities

Provide transportation for consumers to be able to attend engagement activities within the community, such as, but not limited to, community events, social appointments, errands, and volunteer activities.

Who is ATS, and What is our Mission?:

Achieving True Self is passionately cultivating and inspiring growth through the delivery of evidenced based treatment to assist individuals, families, organizations, and their surrounding communities to achieve their self-defined goals. Through a supportive organizational culture focused on developing and retaining team members, we are determined to change the world by instilling hope and helping each person whose life we touch achieve their truest self.

Achieving True Self is an Equal Opportunity Employer (EOE). Qualified applicants will receive consideration for employment without regard to race, color, religion, sex, age, disability, military status, national origin, or any other characteristic protected under federal, state, or applicable local law.

Apply

Back

Habilitation Aide Specialist (HAB)

Location: Irwin, PA  Department:
Type: Part Time to Full Time

Back

Information Technology (IT) Specialist

Location: Irwin, PA  Department: Administration
Type: Full Time

Information Technology Specialist-Achieving True Self

Irwin, PA.

Achieving True Self (ATS) wants you to join their growing team!

At ATS, the Information Technology Specialist will assist in ensuring the efficient and smooth, day-to-day operations of the IT department. The IT Specialist will manage the IT departments timely response to IT support tickets, be responsible for tracking technology and assist to maintain user accounts across the company. You will be a part of an exceptionally supportive work environment where team members thrive, feel valued, and are ultimately appreciated for their contributions.

What are the benefits of working at Achieving True Self?

Competitive pay.

Full Time or Part-time, flexible opportunities.

Bi-weekly paydays.

Paid time off.

Medical, dental, vision, retirement options, and employee assistance programs.

Supplemental insurance through Aflac to include short term disability options.

We "Hire to Retire" providing you with the tools necessary to grow with Achieving True Self. Tuition discounts, college and university partnerships, and continued education and supervision opportunities.

A company that strives for work/life balance.

The best perk we can offer is to provide you with a chance to make a difference in young lives while working with talented and dedicated people who love what they do.

What qualifications do I need to join the ATS team?

Associates Degree in Information Technology, Computer Science, or Equivalent.

Must be at least 18 years of age.

Must have required criminal history clearances per state guidelines.

Experience with Google Workspace, Microsoft Office, Active Directory, Hardware diagnosis and repair

Excellent interpersonal skills, ability to interact with coworkers who may not have computer skills.

Strong record keeping and documentation skills.

Experience with Data Security and specifically HIPAA.

Preferred skills in Microsoft Access and Excel including VBA and advanced formulas.

What are the core responsibilities?

Field incoming trouble calls and provide tier 1 support of issues remotely via phone or email.

Document and catalog existing and future equipment and software.

Help maintain user accounts and group membership in Google Workspace environment.

Help maintain user accounts in Avaya IP Office Phone system.

Prepare and ship Chromebook's and Windows computers to new employees.

Process Terminations from an IT perspective. (collect equipment, cancel software subscriptions, remove Avaya extension).

Maintains respect and confidentiality for all individuals.

Attends staff trainings and agency meetings, as needed.

Performs other job duties as assigned.

Who is ATS, and What is our Mission?

Achieving True Self is passionately cultivating and inspiring growth through the delivery of evidenced based treatment to assist individuals, families, organizations and their surrounding communities to achieve their self-defined goals. Through a supportive organizational culture focused on developing and retaining team members, we are determined to change the world by instilling hope and helping each person whose life we touch achieve their truest self.

Achieving True Self is an Equal Opportunity Employer (EOE). Qualified applicants will receive consideration for employment without regard to race, color, religion, sex, age, disability, military status, national origin or any other characteristic protected under federal, state, or applicable local law.

Apply

Back

Information Technology (IT) Specialist

Location: Irwin, PA  Department: Administration
Type: Full Time

Back

Insurance Verification Specialist

Location: Irwin, PA  Department: Achieving True Self
Type: Full Time

Achieving True Self is expanding, and we have INCREDIBLE opportunities for an

Insurance Verification Specialist!

What Do ATS Insurance Verification Specialists Do?

Our insurance verification specialists are responsible for maintaining the eligibility of our consumers from intake until discharge, maintaining fee schedules in our electronic health records system, invoicing for consumer responsibility, and following up on outstanding consumer balances. You will be a part of an exceptionally supportive work environment where team members thrive, feel valued, and are ultimately appreciated for their contributions.


What are the core responsibilities of the role?

Checking Insurance verification of all consumers on a bi-monthly basis.

Reviewing and confirming benefits at intake.

Process invoices for consumer responsibility.

Following up on outstanding consumer invoices.

Collaborating with families to set up payment arrangements.

Maintaining fee schedules for all payers.

Perform additional reasonable tasks as requested by the Controller.

Where is ATS Located?:

Maryland

Pennsylvania

West Virginia

What are the Benefits of Working at ATS?

Flexible full and part-time opportunities with competitive bi-weekly pay

Paid time off

Employee Assistance Program

Medical, Dental, Vision, and Retirement Options

Opportunity to focus on clinical collaboration with field experts in order to develop skills

Daily operational and administrative support from the leadership team

Transformational leadership team that empowers individuals to thrive, grow, contribute, and ultimately feel appreciated.

The best perk we can offer is an opportunity to be a part of a team that offers support and growth!

What Qualifications Do I Need to Join the ATS Team?:

High School Diploma.

Insurance verification experience.

Knowledge of Electronic Health Record systems, Google Suite, Insurance portals

A drive to be part of an innovative, expanding company with amazing potential for growth.

Who is ATS, and What is our Mission?:

Achieving True Self is passionately cultivating and inspiring growth through the delivery of evidenced based treatment to assist individuals, families, organizations and their surrounding communities to achieve their self-defined goals. Through a supportive organizational culture focused on developing and retaining team members, we are determined to change the world by instilling hope and helping each person whose life we touch achieve their truest self.

Apply

Back

Insurance Verification Specialist

Location: Irwin, PA  Department: Achieving True Self
Type: Full Time

Back

Lead Registered Behavior Technician (RBT)

Location: Irwin, PA  Department: Lead RBT
Type: Full Time

Achieving True Self (ATS) wants to invest in you

Become a Lead Registered Behavior Technician in Westmoreland County PA!

What Do ATS Lead Registered Behavioral Technicians Do?

Lead Registered Behavioral Technicians at Achieving True Self (ATS) use the principles of Applied Behavior Analysis (ABA) to provide 1:1 direct services with the utmost quality in family homes and community settings, and mentor other BT/RBT's in or around their surrounding areas. Our therapists create a fun, motivating experience to generate the highest level of performance from the individuals we are fortunate to serve, collect data on their programming targets, and provide comprehensive support to their parents and caregivers, teachers, and other members of their treatment team. Lead RBT's will be the point person for team engagement events to create team-building opportunities and to foster positive workplace culture. A Lead RBT will also have the opportunity to collaborate and mentor other RBT's on the team to help each other thrive.


What are the Benefits of Working at ATS?

Full-time opportunities, with competitive pay

Paid time off

Medical, dental, vision, and retirement options

Travel reimbursement

Opportunities to collaborate with other professionals and field experts

Consistent professional development through training and mentoring, and external opportunities (seminars, conferences, etc.)

Professional licensure and supervision opportunities

Exceptionally supportive work environment where team members can thrive, feel valued, and are ultimately appreciated for their contributions

Bi-weekly paydays

The best perk we can offer is to provide you with the chance to make a difference in young lives while working with talented and dedicated people who love what they do.

What Qualifications Do I Need to Join the ATS Team?

A Bachelor's Degree and educational coursework completed in the areas of psychology, child development, education and/or special education, or a related field is preferred

Compassionate demeanor, with a strong desire to help children and adolescents develop, maximizing their potential and capitalizing on their strengths

Minimum of 1 year of continuous employment with ATS, providing ABA or working with youth who have autism, is preferred

Recommendation from current or former ATS supervising BCBA

A valid driver's license, use of personal vehicle, and a good driving record is required

A drive to be part of an innovative, expanding company with amazing potential for growth

What are some of the job responsibilities?

Provide one-to-one ABA therapy to children

Create and implement individualized skill acquisition and behavior reduction programs

Participate in the creation and delivery of clinical workshops

Lead and create team engagement events

Attend area marketing and community events to represent the organization

Mentor other BHT/RBT team members

Ability to develop and maintain professional relationships with clients, co-workers, supervisors, and community members.

Who is ATS, and What is Your Mission?:

Achieving True Self is passionately cultivating and inspiring growth through the delivery of evidenced based treatment to assist individuals, families, organizations and their surrounding communities to achieve their self-defined goals. Through a supportive organizational culture focused on developing and retaining team members, we are determined to change the world by instilling hope and helping each person whose life we touch achieve their truest self.


Achieving True Self is an Equal Opportunity Employer (EOE). Qualified applicants will receive consideration for employment without regard to race, color, religion, sex, age, disability, military status, national origin or any other characteristic protected under federal, state, or applicable local law.

Apply

Back

Lead Registered Behavior Technician (RBT)

Location: Irwin, PA  Department: Lead RBT
Type: Full Time

Back

Mobile Therapist

Location: Chambersburg, PA  Department: MT-PA-Frankland
Type: Part Time to Full Time

Achieving True Self is expanding, and we have INCREDIBLE opportunities
for talented Mobile Therapists!

What Do ATS MT's do?

Mobile Therapists (MT's) at Achieving True Self (ATS) are responsible for the provision of individual and family therapy sessions clients assigned to their caseload. The primary setting for services is the client's home; however, services may be provided in the school and other community settings as well. The Mobile Therapist may utilize a variety of therapeutic modalities based upon the client's needs. Our therapists create a fun, motivating experience to generate the highest level of response from the individuals we are fortunate to serve, collect data on their programming targets, and provide comprehensive support to their parents and caregivers, teachers, and other members of their treatment team.

Responsibilities include, but are not limited to:

Provision of child-centered, family focused, individual, and family therapy as agreed upon by the therapist and family.

Participation, as required and/or requested, in team meetings, evaluations, etc. regarding the client's progress in treatment.

Completion of all required paperwork and documentation, including treatment plans, monthly reviews, clinical progress notes, encounter forms, etc. Documentation and paperwork must be completed in a timely manner.

Provide ongoing assessment, with the active participation of the child and family, of strengths and progress with treatment.

Collaborate with other members of the treatment team, other professionals involved with the family, other service systems, and ATS supervisors and administrators.

Participate in supervision, internal training, and other mentoring requirements.

Provide the prescribed number of hours to each client each week.

Seek additional training within therapeutic modalities that would promote professional growth and ultimately more effective treatment for clients.

Support and facilitate the success of clients and their families.

Work within the framework of all policies and procedures of Achieving True Self.

Where is ATS Located?:

Maryland

Pennsylvania

West Virginia


What are the Benefits of Working at ATS?

Flexible opportunities with competitive bi-weekly pay

Paid time off

Paid indirect time for mileage and travel reimbursement, training and mentoring

Medical, Dental, Vision, and Retirement Options

Opportunity to focus on clinical collaboration with field experts in order to develop skills

Daily operational and administrative support from the leadership team (authorizations, billing, scheduling and more)

Use of innovative technology including EHR for data collection and analytics through company devices provided to staff.

Transformational leadership team that empowers individuals to thrive, grow, contribute, and ultimately feel appreciated


The best perk we can offer is to provide you with the chance to make a difference in young lives while working with talented and dedicated people who love what they do.

What Qualifications Do I Need to Join the ATS Team?:

Licensed Psychologist, Professional Counselor, Marriage and Family Therapist or Clinical Social Worker OR

Licensed Social Worker or Behavior Specialist with a Clinical / Mental Health graduate degree and practicum OR

Graduate degree from accredited program with a minimum nine (9) credits in psychology, social work or counseling AND a minimum of 1 year experience providing mental health services to children OR

Graduate degree with Clinical / Mental Health service practicum with at least nine (9) credits in clinical psychology, social work, education, counseling, or a related field.

Comfortable working with all age ranges.

New graduates are welcome!

Compassionate demeanor, with a strong desire to help clients develop, maximizing their potential and capitalizing on their strengths.

A drive to be part of an innovative and expanding company with amazing potential for growth.

A valid driver's license with proof of car insurance and a good driving record is required.

Experience with autism is strongly preferred.

Who is ATS, and What is our Mission?


Achieving True Self is passionately cultivating and inspiring growth through the delivery of evidenced based treatment to assist individuals, families, organizations and their surrounding communities to achieve their self-defined goals. Through a supportive organizational culture focused on developing and retaining team members, we are determined to change the world by instilling hope and helping each person whose life we touch achieve their truest self.

Apply

Back

Mobile Therapist

Location: Chambersburg, PA  Department: MT-PA-Frankland
Type: Part Time to Full Time

Back

Mobile Therapist

Location: Lancaster, PA  Department: MT-PA-Lancaster
Type: Part Time to Full Time

Achieving True Self is expanding, and we have INCREDIBLE opportunities
for talented Mobile Therapists!

What Do ATS MT's do?

Mobile Therapists (MT's) at Achieving True Self (ATS) are responsible for the provision of individual and family therapy sessions clients assigned to their caseload. The primary setting for services is the client's home; however, services may be provided in the school and other community settings as well. The Mobile Therapist may utilize a variety of therapeutic modalities based upon the client's needs. Our therapists create a fun, motivating experience to generate the highest level of response from the individuals we are fortunate to serve, collect data on their programming targets, and provide comprehensive support to their parents and caregivers, teachers, and other members of their treatment team.

Responsibilities include, but are not limited to:

Provision of child-centered, family focused, individual, and family therapy as agreed upon by the therapist and family.

Participation, as required and/or requested, in team meetings, evaluations, etc. regarding the client's progress in treatment.

Completion of all required paperwork and documentation, including treatment plans, monthly reviews, clinical progress notes, encounter forms, etc. Documentation and paperwork must be completed in a timely manner.

Provide ongoing assessment, with the active participation of the child and family, of strengths and progress with treatment.

Collaborate with other members of the treatment team, other professionals involved with the family, other service systems, and ATS supervisors and administrators.

Participate in supervision, internal training, and other mentoring requirements.

Provide the prescribed number of hours to each client each week.

Seek additional training within therapeutic modalities that would promote professional growth and ultimately more effective treatment for clients.

Support and facilitate the success of clients and their families.

Work within the framework of all policies and procedures of Achieving True Self.

Where is ATS Located?:

Maryland

Pennsylvania

West Virginia


What are the Benefits of Working at ATS?

Flexible opportunities with competitive bi-weekly pay

Paid time off

Paid indirect time for mileage and travel reimbursement, training and mentoring

Medical, Dental, Vision, and Retirement Options

Opportunity to focus on clinical collaboration with field experts in order to develop skills

Daily operational and administrative support from the leadership team (authorizations, billing, scheduling and more)

Use of innovative technology including EHR for data collection and analytics through company devices provided to staff.

Transformational leadership team that empowers individuals to thrive, grow, contribute, and ultimately feel appreciated


The best perk we can offer is to provide you with the chance to make a difference in young lives while working with talented and dedicated people who love what they do.

What Qualifications Do I Need to Join the ATS Team?:

Licensed Psychologist, Professional Counselor, Marriage and Family Therapist or Clinical Social Worker OR

Licensed Social Worker or Behavior Specialist with a Clinical / Mental Health graduate degree and practicum OR

Graduate degree from accredited program with a minimum nine (9) credits in psychology, social work or counseling AND a minimum of 1 year experience providing mental health services to children OR

Graduate degree with Clinical / Mental Health service practicum with at least nine (9) credits in clinical psychology, social work, education, counseling, or a related field.

Comfortable working with all age ranges.

New graduates are welcome!

Compassionate demeanor, with a strong desire to help clients develop, maximizing their potential and capitalizing on their strengths.

A drive to be part of an innovative and expanding company with amazing potential for growth.

A valid driver's license with proof of car insurance and a good driving record is required.

Experience with autism is strongly preferred.

Who is ATS, and What is our Mission?


Achieving True Self is passionately cultivating and inspiring growth through the delivery of evidenced based treatment to assist individuals, families, organizations and their surrounding communities to achieve their self-defined goals. Through a supportive organizational culture focused on developing and retaining team members, we are determined to change the world by instilling hope and helping each person whose life we touch achieve their truest self.

Apply

Back

Mobile Therapist

Location: Lancaster, PA  Department: MT-PA-Lancaster
Type: Part Time to Full Time

Back

Mobile Therapist

Location: McConnellsburg, PA  Department: MT-PA-Fulton
Type: Part Time to Full Time

Achieving True Self is expanding, and we have INCREDIBLE opportunities
for talented Mobile Therapists!

What Do ATS MT's do?

Mobile Therapists (MT's) at Achieving True Self (ATS) are responsible for the provision of individual and family therapy sessions clients assigned to their caseload. The primary setting for services is the client's home; however, services may be provided in the school and other community settings as well. The Mobile Therapist may utilize a variety of therapeutic modalities based upon the client's needs. Our therapists create a fun, motivating experience to generate the highest level of response from the individuals we are fortunate to serve, collect data on their programming targets, and provide comprehensive support to their parents and caregivers, teachers, and other members of their treatment team.

Responsibilities include, but are not limited to:

Provision of child-centered, family focused, individual, and family therapy as agreed upon by the therapist and family.

Participation, as required and/or requested, in team meetings, evaluations, etc. regarding the client's progress in treatment.

Completion of all required paperwork and documentation, including treatment plans, monthly reviews, clinical progress notes, encounter forms, etc. Documentation and paperwork must be completed in a timely manner.

Provide ongoing assessment, with the active participation of the child and family, of strengths and progress with treatment.

Collaborate with other members of the treatment team, other professionals involved with the family, other service systems, and ATS supervisors and administrators.

Participate in supervision, internal training, and other mentoring requirements.

Provide the prescribed number of hours to each client each week.

Seek additional training within therapeutic modalities that would promote professional growth and ultimately more effective treatment for clients.

Support and facilitate the success of clients and their families.

Work within the framework of all policies and procedures of Achieving True Self.

Where is ATS Located?:

Maryland

Pennsylvania

West Virginia


What are the Benefits of Working at ATS?

Flexible opportunities with competitive bi-weekly pay

Paid time off

Paid indirect time for mileage and travel reimbursement, training and mentoring

Medical, Dental, Vision, and Retirement Options

Opportunity to focus on clinical collaboration with field experts in order to develop skills

Daily operational and administrative support from the leadership team (authorizations, billing, scheduling and more)

Use of innovative technology including EHR for data collection and analytics through company devices provided to staff.

Transformational leadership team that empowers individuals to thrive, grow, contribute, and ultimately feel appreciated


The best perk we can offer is to provide you with the chance to make a difference in young lives while working with talented and dedicated people who love what they do.

What Qualifications Do I Need to Join the ATS Team?:

Licensed Psychologist, Professional Counselor, Marriage and Family Therapist or Clinical Social Worker OR

Licensed Social Worker or Behavior Specialist with a Clinical / Mental Health graduate degree and practicum OR

Graduate degree from accredited program with a minimum nine (9) credits in psychology, social work or counseling AND a minimum of 1 year experience providing mental health services to children OR

Graduate degree with Clinical / Mental Health service practicum with at least nine (9) credits in clinical psychology, social work, education, counseling, or a related field.

Comfortable working with all age ranges.

New graduates are welcome!

Compassionate demeanor, with a strong desire to help clients develop, maximizing their potential and capitalizing on their strengths.

A drive to be part of an innovative and expanding company with amazing potential for growth.

A valid driver's license with proof of car insurance and a good driving record is required.

Experience with autism is strongly preferred.

Who is ATS, and What is our Mission?


Achieving True Self is passionately cultivating and inspiring growth through the delivery of evidenced based treatment to assist individuals, families, organizations and their surrounding communities to achieve their self-defined goals. Through a supportive organizational culture focused on developing and retaining team members, we are determined to change the world by instilling hope and helping each person whose life we touch achieve their truest self.

Apply

Back

Mobile Therapist

Location: McConnellsburg, PA  Department: MT-PA-Fulton
Type: Part Time to Full Time

Back

Occupational Therapist

Location: Irwin, PA  Department: Achieving True Self
Type: Full Time

Occupational Therapist (OT)- Center for Achievement, Irwin, PA.

Achieving True Self (ATS) wants to invest in you!

At ATS, you have the opportunity to make a change in the life of a child. As an Occupational Therapist, you will provide occupational therapy assessment and treatment using advanced clinical skills in a specialty area of occupational therapy for patients referred to our Center for Achievement. You will get to have fun and let your personality shine while applying individualized treatment! You will be a part of an exceptionally supportive work environment where team members thrive, feel valued, and are ultimately appreciated for their contributions.

What are the benefits of working at Achieving True Self?

Competitive pay.

Part-time, flexible opportunities, available to work afternoons and evenings.

Bi-weekly paydays.

Paid time off.

Medical, dental, vision, retirement options, and employee assistance programs.

Supplemental insurance through Aflac to include short term disability options.

Travel time reimbursement; included in your total weekly hours.

Considerate client matching based on your location and availability.

We "Hire to Retire" providing you with the tools necessary to grow with Achieving True Self. Tuition discounts, college and university partnerships, and continued education and supervision opportunities.

Paid training for your

Registered Behavior Technician

within the first month of employment.

A company that strives for work/life balance.

Company chromebook provided.

The best perk we can offer is to provide you with a chance to make a difference in young lives while working with talented and dedicated people who love what they do.

What qualifications do I need to join the ATS team? (Must have one):

Graduate of an accredited program approved by The Accreditation Council for Occupational Therapy Education (ACOTE)

Basic Life Support (BLS) OR Cardiopulmonary Resuscitation (CPR)

National Board for Certification in Occupational Therapy (NBCOT)

Occupational Therapist (OT)

Act 34

OAPSA

An unstoppable passion for excellence and an unquestionable commitment to those we serve.

What are the core responsibilities?

● Maintains written documentation for all occupational therapy services rendered including documentation of initial assessment, follow-up visits, and discharge summary consistent with department standards. Co-signs occupational therapy assistant documentation biweekly.

● Communicates the patient's status to the referring physician and other health care team members.

● Completes necessary charge and statistical information to accurately reflect the service rendered to the patient.

● Schedules patients to achieve and maintain a level of productivity which meets or exceeds the standard established for the facility by the organization while ensuring delivery of quality patient care.

● Provides verbal and/or written home instructions to patient and/or family members when applicable.

● Maintains professional license/registration through steady pursuit and participation in appropriate continuing education and professional development opportunities to satisfy requirements for licensure/registration renewal.

● Performs occupational therapy assessment, reassessment and treatment and supervises occupational therapy assistants in the treatment of pediatric, adolescent,adult, and geriatric patients referred by a physician to the clinic.

Develops plan of care including goals and treatment plan in accordance with physician referral, nature of injury/illness and results of occupational therapy assessment. Modifies or adjusts plan of care based on patient's response to treatment and/or changes in patient's status.

● Attends and actively participates in staff meetings and in-service education programs.

Who is ATS, and What is our Mission?

Achieving True Self is passionately cultivating and inspiring growth through the delivery of evidenced based treatment to assist individuals, families, organizations and their surrounding communities to achieve their self-defined goals. Through a supportive organizational culture focused on developing and retaining team members, we are determined to change the world by instilling hope and helping each person whose life we touch achieve their truest self.

Achieving True Self is an Equal Opportunity Employer (EOE). Qualified applicants will receive consideration for employment without regard to race, color, religion, sex, age, disability, military status, national origin or any other characteristic protected under federal, state, or applicable local law.

Apply

Back

Occupational Therapist

Location: Irwin, PA  Department: Achieving True Self
Type: Full Time

Back

Registered Behavior Technician (RBT)

Location: Conowingo, MD  Department: RBT-MD-Cecil
Type: Part Time

Job description

Achieving True Self (ATS) wants to invest in you!

PAID TRAINING! $500 Sign On Bonus

At ATS, you have the opportunity to make a change in the life of a child. As a Registered Behavior Technician, you will use the principles of Applied Behavior Analysis (ABA) to provide 1:1 direct services in homes and community settings. You will get to have fun and let your personality shine while applying individualized treatment! You will be a part of an exceptionally supportive work environment where team members thrive, feel valued, and are ultimately appreciated for their contributions.

What are the benefits of working at Achieving True Self?

Part-time, flexible opportunities, available to work afternoons and evenings.

Medical, dental, vision, retirement options, and employee assistance programs.

Supplemental insurance through Aflac to include short term disability options.

Travel time reimbursement; included in your total weekly hours.

Considerate client matching based on your location and availability.

We "Hire to Retire" providing you with the tools necessary to grow with Achieving True Self. Tuition discounts, college and university partnerships, and continued education and supervision opportunities.

Paid training for your Registered Behavior Technician within the first month of employment.

A company that strives for work/life balance.

Company chromebook provided.

The best perk we can offer is to provide you with a chance to make a difference in young lives while working with talented and dedicated people who love what they do.

What qualifications do I need to join the ATS team?

Proof of high school diploma or transcripts.

A valid driver's license with proof of car insurance, a good driving record and your own reliable vehicle.

Experience working with children, children with disabilities, or adults with disabilities is a plus.

An unstoppable passion for excellence and an unquestionable commitment to those we serve.

What are the core responsibilities?

Carry out individualized treatment and behavior intervention plans to support our kiddos within the home and community setting.

Collect data as defined within the plan.

Be a part of the ongoing success and achievement of our kiddos by focusing on their strengths, needs, abilities, and preferences.

Help to guide and support families and caregivers to implement new skills.

Record data within the Electronic Health Records (EHR) system.

Be a stewart of ATSs mission, vision, values, and beliefs.

Who is ATS, and What is our Mission?

Achieving True Self is passionately cultivating and inspiring growth through the delivery of evidenced based treatment to assist individuals, families, organizations and their surrounding communities to achieve their self-defined goals. Through a supportive organizational culture focused on developing and retaining team members, we are determined to change the world by instilling hope and helping each person whose life we touch achieve their truest self.

*Bonus to be paid out after 90 days in the field.

Achieving True Self is an Equal Opportunity Employer (EOE). Qualified applicants will receive consideration for employment without regard to race, color, religion, sex, age, disability, military status, national origin or any other characteristic protected under federal, state, or applicable local law.

Apply

Back

Registered Behavior Technician (RBT)

Location: Conowingo, MD  Department: RBT-MD-Cecil
Type: Part Time

Back

Registered Behavior Technician (RBT)

Location: Joppa, MD  Department: RBT-MD-Harford
Type: Part Time

Job description

Achieving True Self (ATS) wants to invest in you!

PAID TRAINING! $500 Sign On Bonus

At ATS, you have the opportunity to make a change in the life of a child. As a Registered Behavior Technician, you will use the principles of Applied Behavior Analysis (ABA) to provide 1:1 direct services in homes and community settings. You will get to have fun and let your personality shine while applying individualized treatment! You will be a part of an exceptionally supportive work environment where team members thrive, feel valued, and are ultimately appreciated for their contributions.

What are the benefits of working at Achieving True Self?

Part-time, flexible opportunities, available to work afternoons and evenings.

Medical, dental, vision, retirement options, and employee assistance programs.

Supplemental insurance through Aflac to include short term disability options.

Travel time reimbursement; included in your total weekly hours.

Considerate client matching based on your location and availability.

We "Hire to Retire" providing you with the tools necessary to grow with Achieving True Self. Tuition discounts, college and university partnerships, and continued education and supervision opportunities.

Paid training for your Registered Behavior Technician within the first month of employment.

A company that strives for work/life balance.

Company chromebook provided.

The best perk we can offer is to provide you with a chance to make a difference in young lives while working with talented and dedicated people who love what they do.

What qualifications do I need to join the ATS team?

Proof of high school diploma or transcripts.

A valid driver's license with proof of car insurance, a good driving record and your own reliable vehicle.

Experience working with children, children with disabilities, or adults with disabilities is a plus.

An unstoppable passion for excellence and an unquestionable commitment to those we serve.

What are the core responsibilities?

Carry out individualized treatment and behavior intervention plans to support our kiddos within the home and community setting.

Collect data as defined within the plan.

Be a part of the ongoing success and achievement of our kiddos by focusing on their strengths, needs, abilities, and preferences.

Help to guide and support families and caregivers to implement new skills.

Record data within the Electronic Health Records (EHR) system.

Be a stewart of ATSs mission, vision, values, and beliefs.

Who is ATS, and What is our Mission?

Achieving True Self is passionately cultivating and inspiring growth through the delivery of evidenced based treatment to assist individuals, families, organizations and their surrounding communities to achieve their self-defined goals. Through a supportive organizational culture focused on developing and retaining team members, we are determined to change the world by instilling hope and helping each person whose life we touch achieve their truest self.

*Bonus to be paid out after 90 days in the field.

Achieving True Self is an Equal Opportunity Employer (EOE). Qualified applicants will receive consideration for employment without regard to race, color, religion, sex, age, disability, military status, national origin or any other characteristic protected under federal, state, or applicable local law.

Apply

Back

Registered Behavior Technician (RBT)

Location: Joppa, MD  Department: RBT-MD-Harford
Type: Part Time

Registered Behavior Technician (RBT)

Location:

Brunswick, MD

Apply Details Department:

RBT-MD-Frederick

Back

Registered Behavior Technician (RBT)

Location: Brunswick, MD  Department: RBT-MD-Frederick
Type: Part Time

Job description

Achieving True Self (ATS) wants to invest in you!

PAID TRAINING!

$1,000 Sign on Bonus for Established RBTs after First Day in the field.

Not an RBT - $500 Sign On Bonus after completion of RBT certification and $500 after 90 days in the field.

At ATS, you have the opportunity to make a change in the life of a child. As a Registered Behavior Technician, you will use the principles of Applied Behavior Analysis (ABA) to provide 1:1 direct services in homes and community settings. You will get to have fun and let your personality shine while applying individualized treatment! You will be a part of an exceptionally supportive work environment where team members thrive, feel valued, and are ultimately appreciated for their contributions.

What are the benefits of working at Achieving True Self?

Part-time, flexible opportunities, available to work afternoons and evenings.

Medical, dental, vision, retirement options, and employee assistance programs.

Supplemental insurance through Aflac to include short term disability options.

Travel time reimbursement; included in your total weekly hours.

Considerate client matching based on your location and availability.

We "Hire to Retire" providing you with the tools necessary to grow with Achieving True Self. Tuition discounts, college and university partnerships, and continued education and supervision opportunities.

Paid training for your Registered Behavior Technician within the first month of employment.

A company that strives for work/life balance.

Company chromebook provided.

The best perk we can offer is to provide you with a chance to make a difference in young lives while working with talented and dedicated people who love what they do.

What qualifications do I need to join the ATS team?

Proof of high school diploma or transcripts.

A valid driver's license with proof of car insurance, a good driving record and your own reliable vehicle.

Experience working with children, children with disabilities, or adults with disabilities is a plus.

An unstoppable passion for excellence and an unquestionable commitment to those we serve.

What are the core responsibilities?

Carry out individualized treatment and behavior intervention plans to support our kiddos within the home and community setting.

Collect data as defined within the plan.

Be a part of the ongoing success and achievement of our kiddos by focusing on their strengths, needs, abilities, and preferences.

Help to guide and support families and caregivers to implement new skills.

Record data within the Electronic Health Records (EHR) system.

Be a stewart of ATSs mission, vision, values, and beliefs.

Who is ATS, and What is our Mission?

Achieving True Self is passionately cultivating and inspiring growth through the delivery of evidenced based treatment to assist individuals, families, organizations and their surrounding communities to achieve their self-defined goals. Through a supportive organizational culture focused on developing and retaining team members, we are determined to change the world by instilling hope and helping each person whose life we touch achieve their truest self.

*Bonus to be paid out after 90 days in the field.

Achieving True Self is an Equal Opportunity Employer (EOE). Qualified applicants will receive consideration for employment without regard to race, color, religion, sex, age, disability, military status, national origin or any other characteristic protected under federal, state, or applicable local law.

Apply

Back

Registered Behavior Technician (RBT)

Location: Brunswick, MD  Department: RBT-MD-Frederick
Type: Part Time

Back

Registered Behavior Technician (RBT)

Location: Oakland, MD  Department: RBT-MD-Garrett
Type: Part Time

Job description

Achieving True Self (ATS) wants to invest in you!

PAID TRAINING! $500 Sign On Bonus!!

At ATS, you have the opportunity to make a change in the life of a child. As a Registered Behavior Technician, you will use the principles of Applied Behavior Analysis (ABA) to provide 1:1 direct services in homes and community settings. You will get to have fun and let your personality shine while applying individualized treatment! You will be a part of an exceptionally supportive work environment where team members thrive, feel valued, and are ultimately appreciated for their contributions.

What are the benefits of working at Achieving True Self?

Part-time, flexible opportunities, available to work afternoons and evenings.

Medical, dental, vision, retirement options, and employee assistance programs.

Supplemental insurance through Aflac to include short term disability options.

Travel time reimbursement; included in your total weekly hours.

Considerate client matching based on your location and availability.

We "Hire to Retire" providing you with the tools necessary to grow with Achieving True Self. Tuition discounts, college and university partnerships, and continued education and supervision opportunities.

Paid training for your Registered Behavior Technician within the first month of employment.

A company that strives for work/life balance.

Company chromebook provided.

The best perk we can offer is to provide you with a chance to make a difference in young lives while working with talented and dedicated people who love what they do.

What qualifications do I need to join the ATS team?

Proof of high school diploma or transcripts.

A valid driver's license with proof of car insurance, a good driving record and your own reliable vehicle.

Experience working with children, children with disabilities, or adults with disabilities is a plus.

An unstoppable passion for excellence and an unquestionable commitment to those we serve.

What are the core responsibilities?

Carry out individualized treatment and behavior intervention plans to support our kiddos within the home and community setting.

Collect data as defined within the plan.

Be a part of the ongoing success and achievement of our kiddos by focusing on their strengths, needs, abilities, and preferences.

Help to guide and support families and caregivers to implement new skills.

Record data within the Electronic Health Records (EHR) system.

Be a stewart of ATSs mission, vision, values, and beliefs.

Who is ATS, and What is our Mission?

Achieving True Self is passionately cultivating and inspiring growth through the delivery of evidenced based treatment to assist individuals, families, organizations and their surrounding communities to achieve their self-defined goals. Through a supportive organizational culture focused on developing and retaining team members, we are determined to change the world by instilling hope and helping each person whose life we touch achieve their truest self.

*Bonus to be paid out after 90 days in the field.

Achieving True Self is an Equal Opportunity Employer (EOE). Qualified applicants will receive consideration for employment without regard to race, color, religion, sex, age, disability, military status, national origin or any other characteristic protected under federal, state, or applicable local law.

Apply

Back

Registered Behavior Technician (RBT)

Location: Oakland, MD  Department: RBT-MD-Garrett
Type: Part Time

Back

Registered Behavior Technician (RBT)

Location: Bowie, MD  Department: RBT-MD-PG
Type: Part Time

Job description

Achieving True Self (ATS) wants to invest in you!

PAID TRAINING! $500 Sign On Bonus!!

At ATS, you have the opportunity to make a change in the life of a child. As a Registered Behavior Technician, you will use the principles of Applied Behavior Analysis (ABA) to provide 1:1 direct services in homes and community settings. You will get to have fun and let your personality shine while applying individualized treatment! You will be a part of an exceptionally supportive work environment where team members thrive, feel valued, and are ultimately appreciated for their contributions.

What are the benefits of working at Achieving True Self?

Part-time, flexible opportunities, available to work afternoons and evenings.

Medical, dental, vision, retirement options, and employee assistance programs.

Supplemental insurance through Aflac to include short term disability options.

Travel time reimbursement; included in your total weekly hours.

Considerate client matching based on your location and availability.

We "Hire to Retire" providing you with the tools necessary to grow with Achieving True Self. Tuition discounts, college and university partnerships, and continued education and supervision opportunities.

Paid training for your Registered Behavior Technician within the first month of employment.

A company that strives for work/life balance.

Company chromebook provided.

The best perk we can offer is to provide you with a chance to make a difference in young lives while working with talented and dedicated people who love what they do.

What qualifications do I need to join the ATS team?

Proof of high school diploma or transcripts.

A valid driver's license with proof of car insurance, a good driving record and your own reliable vehicle.

Experience working with children, children with disabilities, or adults with disabilities is a plus.

An unstoppable passion for excellence and an unquestionable commitment to those we serve.

What are the core responsibilities?

Carry out individualized treatment and behavior intervention plans to support our kiddos within the home and community setting.

Collect data as defined within the plan.

Be a part of the ongoing success and achievement of our kiddos by focusing on their strengths, needs, abilities, and preferences.

Help to guide and support families and caregivers to implement new skills.

Record data within the Electronic Health Records (EHR) system.

Be a stewart of ATSs mission, vision, values, and beliefs.

Who is ATS, and What is our Mission?

Achieving True Self is passionately cultivating and inspiring growth through the delivery of evidenced based treatment to assist individuals, families, organizations and their surrounding communities to achieve their self-defined goals. Through a supportive organizational culture focused on developing and retaining team members, we are determined to change the world by instilling hope and helping each person whose life we touch achieve their truest self.

*Bonus to be paid out after 90 days in the field.

Achieving True Self is an Equal Opportunity Employer (EOE). Qualified applicants will receive consideration for employment without regard to race, color, religion, sex, age, disability, military status, national origin or any other characteristic protected under federal, state, or applicable local law.

Apply

Back

Registered Behavior Technician (RBT)

Location: Bowie, MD  Department: RBT-MD-PG
Type: Part Time

Registered Behavior Technician (RBT)

Location:

Owings Mills, MD

Apply Details Department:

RBT-MD-Baltimore

Back

Registered Behavior Technician (RBT)

Location: Owings Mills, MD  Department: RBT-MD-Baltimore
Type: Part Time

Job description

Achieving True Self (ATS) wants to invest in you!

PAID TRAINING! $500 Sign On Bonus

At ATS, you have the opportunity to make a change in the life of a child. As a Registered Behavior Technician, you will use the principles of Applied Behavior Analysis (ABA) to provide 1:1 direct services in homes and community settings. You will get to have fun and let your personality shine while applying individualized treatment! You will be a part of an exceptionally supportive work environment where team members thrive, feel valued, and are ultimately appreciated for their contributions.

What are the benefits of working at Achieving True Self?

Part-time, flexible opportunities, available to work afternoons and evenings.

Medical, dental, vision, retirement options, and employee assistance programs.

Supplemental insurance through Aflac to include short term disability options.

Travel time reimbursement; included in your total weekly hours.

Considerate client matching based on your location and availability.

We "Hire to Retire" providing you with the tools necessary to grow with Achieving True Self. Tuition discounts, college and university partnerships, and continued education and supervision opportunities.

Paid training for your Registered Behavior Technician within the first month of employment.

A company that strives for work/life balance.

Company chromebook provided.

The best perk we can offer is to provide you with a chance to make a difference in young lives while working with talented and dedicated people who love what they do.

What qualifications do I need to join the ATS team?

Proof of high school diploma or transcripts.

A valid driver's license with proof of car insurance, a good driving record and your own reliable vehicle.

Experience working with children, children with disabilities, or adults with disabilities is a plus.

An unstoppable passion for excellence and an unquestionable commitment to those we serve.

What are the core responsibilities?

Carry out individualized treatment and behavior intervention plans to support our kiddos within the home and community setting.

Collect data as defined within the plan.

Be a part of the ongoing success and achievement of our kiddos by focusing on their strengths, needs, abilities, and preferences.

Help to guide and support families and caregivers to implement new skills.

Record data within the Electronic Health Records (EHR) system.

Be a stewart of ATSs mission, vision, values, and beliefs.

Who is ATS, and What is our Mission?

Achieving True Self is passionately cultivating and inspiring growth through the delivery of evidenced based treatment to assist individuals, families, organizations and their surrounding communities to achieve their self-defined goals. Through a supportive organizational culture focused on developing and retaining team members, we are determined to change the world by instilling hope and helping each person whose life we touch achieve their truest self.

*Bonus to be paid out after 90 days in the field.

Achieving True Self is an Equal Opportunity Employer (EOE). Qualified applicants will receive consideration for employment without regard to race, color, religion, sex, age, disability, military status, national origin or any other characteristic protected under federal, state, or applicable local law.

Apply

Back

Registered Behavior Technician (RBT)

Location: Owings Mills, MD  Department: RBT-MD-Baltimore
Type: Part Time

Registered Behavior Technician (RBT)

Location:

Upper Marlboro, MD

Apply Details Department:

RBT-MD-PG

Back

Registered Behavior Technician (RBT)

Location: Upper Marlboro, MD  Department: RBT-MD-PG
Type: Part Time

Job description

Achieving True Self (ATS) wants to invest in you!

PAID TRAINING! $500 Sign On Bonus

At ATS, you have the opportunity to make a change in the life of a child. As a Registered Behavior Technician, you will use the principles of Applied Behavior Analysis (ABA) to provide 1:1 direct services in homes and community settings. You will get to have fun and let your personality shine while applying individualized treatment! You will be a part of an exceptionally supportive work environment where team members thrive, feel valued, and are ultimately appreciated for their contributions.

What are the benefits of working at Achieving True Self?

Part-time, flexible opportunities, available to work afternoons and evenings.

Medical, dental, vision, retirement options, and employee assistance programs.

Supplemental insurance through Aflac to include short term disability options.

Travel time reimbursement; included in your total weekly hours.

Considerate client matching based on your location and availability.

We "Hire to Retire" providing you with the tools necessary to grow with Achieving True Self. Tuition discounts, college and university partnerships, and continued education and supervision opportunities.

Paid training for your Registered Behavior Technician within the first month of employment.

A company that strives for work/life balance.

Company chromebook provided.

The best perk we can offer is to provide you with a chance to make a difference in young lives while working with talented and dedicated people who love what they do.

What qualifications do I need to join the ATS team?

Proof of high school diploma or transcripts.

A valid driver's license with proof of car insurance, a good driving record and your own reliable vehicle.

Experience working with children, children with disabilities, or adults with disabilities is a plus.

An unstoppable passion for excellence and an unquestionable commitment to those we serve.

What are the core responsibilities?

Carry out individualized treatment and behavior intervention plans to support our kiddos within the home and community setting.

Collect data as defined within the plan.

Be a part of the ongoing success and achievement of our kiddos by focusing on their strengths, needs, abilities, and preferences.

Help to guide and support families and caregivers to implement new skills.

Record data within the Electronic Health Records (EHR) system.

Be a stewart of ATSs mission, vision, values, and beliefs.

Who is ATS, and What is our Mission?

Achieving True Self is passionately cultivating and inspiring growth through the delivery of evidenced based treatment to assist individuals, families, organizations and their surrounding communities to achieve their self-defined goals. Through a supportive organizational culture focused on developing and retaining team members, we are determined to change the world by instilling hope and helping each person whose life we touch achieve their truest self.

*Bonus to be paid out after 90 days in the field.

Achieving True Self is an Equal Opportunity Employer (EOE). Qualified applicants will receive consideration for employment without regard to race, color, religion, sex, age, disability, military status, national origin or any other characteristic protected under federal, state, or applicable local law.

Apply

Back

Registered Behavior Technician (RBT)

Location: Upper Marlboro, MD  Department: RBT-MD-PG
Type: Part Time

Registered Behavior Technician (RBT)

Location:

Hagerstown, MD

Apply Details Department:

RBT-MD-Washington

Back

Registered Behavior Technician (RBT)

Location: Hagerstown, MD  Department: RBT-MD-Washington
Type: Part Time

Job description

Achieving True Self (ATS) wants to invest in you!

PAID TRAINING! $500 Sign On Bonus!!

At ATS, you have the opportunity to make a change in the life of a child. As a Registered Behavior Technician, you will use the principles of Applied Behavior Analysis (ABA) to provide 1:1 direct services in homes and community settings. You will get to have fun and let your personality shine while applying individualized treatment! You will be a part of an exceptionally supportive work environment where team members thrive, feel valued, and are ultimately appreciated for their contributions.

What are the benefits of working at Achieving True Self?

Part-time, flexible opportunities, available to work afternoons and evenings.

Medical, dental, vision, retirement options, and employee assistance programs.

Supplemental insurance through Aflac to include short term disability options.

Travel time reimbursement; included in your total weekly hours.

Considerate client matching based on your location and availability.

We "Hire to Retire" providing you with the tools necessary to grow with Achieving True Self. Tuition discounts, college and university partnerships, and continued education and supervision opportunities.

Paid training for your Registered Behavior Technician within the first month of employment.

A company that strives for work/life balance.

Company chromebook provided.

The best perk we can offer is to provide you with a chance to make a difference in young lives while working with talented and dedicated people who love what they do.

What qualifications do I need to join the ATS team?

Proof of high school diploma or transcripts.

A valid driver's license with proof of car insurance, a good driving record and your own reliable vehicle.

Experience working with children, children with disabilities, or adults with disabilities is a plus.

An unstoppable passion for excellence and an unquestionable commitment to those we serve.

What are the core responsibilities?

Carry out individualized treatment and behavior intervention plans to support our kiddos within the home and community setting.

Collect data as defined within the plan.

Be a part of the ongoing success and achievement of our kiddos by focusing on their strengths, needs, abilities, and preferences.

Help to guide and support families and caregivers to implement new skills.

Record data within the Electronic Health Records (EHR) system.

Be a stewart of ATSs mission, vision, values, and beliefs.

Who is ATS, and What is our Mission?

Achieving True Self is passionately cultivating and inspiring growth through the delivery of evidenced based treatment to assist individuals, families, organizations and their surrounding communities to achieve their self-defined goals. Through a supportive organizational culture focused on developing and retaining team members, we are determined to change the world by instilling hope and helping each person whose life we touch achieve their truest self.

*Bonus to be paid out after 90 days in the field.

Achieving True Self is an Equal Opportunity Employer (EOE). Qualified applicants will receive consideration for employment without regard to race, color, religion, sex, age, disability, military status, national origin or any other characteristic protected under federal, state, or applicable local law.

Apply

Back

Registered Behavior Technician (RBT)

Location: Hagerstown, MD  Department: RBT-MD-Washington
Type: Part Time

Registered Behavior Technician (RBT)

Location:

Silver Spring, MD

Apply Details Department:

RBT-MD-Montgomery

Back

Registered Behavior Technician (RBT)

Location: Silver Spring, MD  Department: RBT-MD-Montgomery
Type: Part Time

Job description

Achieving True Self (ATS) wants to invest in you!

PAID TRAINING! $500 Sign On Bonus!!

At ATS, you have the opportunity to make a change in the life of a child. As a Registered Behavior Technician, you will use the principles of Applied Behavior Analysis (ABA) to provide 1:1 direct services in homes and community settings. You will get to have fun and let your personality shine while applying individualized treatment! You will be a part of an exceptionally supportive work environment where team members thrive, feel valued, and are ultimately appreciated for their contributions.

What are the benefits of working at Achieving True Self?

Part-time, flexible opportunities, available to work afternoons and evenings.

Medical, dental, vision, retirement options, and employee assistance programs.

Supplemental insurance through Aflac to include short term disability options.

Travel time reimbursement; included in your total weekly hours.

Considerate client matching based on your location and availability.

We "Hire to Retire" providing you with the tools necessary to grow with Achieving True Self. Tuition discounts, college and university partnerships, and continued education and supervision opportunities.

Paid training for your Registered Behavior Technician within the first month of employment.

A company that strives for work/life balance.

Company chromebook provided.

The best perk we can offer is to provide you with a chance to make a difference in young lives while working with talented and dedicated people who love what they do.

What qualifications do I need to join the ATS team?

Proof of high school diploma or transcripts.

A valid driver's license with proof of car insurance, a good driving record and your own reliable vehicle.

Experience working with children, children with disabilities, or adults with disabilities is a plus.

An unstoppable passion for excellence and an unquestionable commitment to those we serve.

What are the core responsibilities?

Carry out individualized treatment and behavior intervention plans to support our kiddos within the home and community setting.

Collect data as defined within the plan.

Be a part of the ongoing success and achievement of our kiddos by focusing on their strengths, needs, abilities, and preferences.

Help to guide and support families and caregivers to implement new skills.

Record data within the Electronic Health Records (EHR) system.

Be a stewart of ATSs mission, vision, values, and beliefs.

Who is ATS, and What is our Mission?

Achieving True Self is passionately cultivating and inspiring growth through the delivery of evidenced based treatment to assist individuals, families, organizations and their surrounding communities to achieve their self-defined goals. Through a supportive organizational culture focused on developing and retaining team members, we are determined to change the world by instilling hope and helping each person whose life we touch achieve their truest self.

*Bonus to be paid out after 90 days in the field.

Achieving True Self is an Equal Opportunity Employer (EOE). Qualified applicants will receive consideration for employment without regard to race, color, religion, sex, age, disability, military status, national origin or any other characteristic protected under federal, state, or applicable local law.

Apply

Back

Registered Behavior Technician (RBT)

Location: Silver Spring, MD  Department: RBT-MD-Montgomery
Type: Part Time

Registered Behavior Technician (RBT)

Location:

Reisterstown, MD

Apply Details Department:

RBT-MD-Baltimore

Back

Registered Behavior Technician (RBT)

Location: Reisterstown, MD  Department: RBT-MD-Baltimore
Type: Part Time

Job description

Achieving True Self (ATS) wants to invest in you!

PAID TRAINING! $500 Sign On Bonus

At ATS, you have the opportunity to make a change in the life of a child. As a Registered Behavior Technician, you will use the principles of Applied Behavior Analysis (ABA) to provide 1:1 direct services in homes and community settings. You will get to have fun and let your personality shine while applying individualized treatment! You will be a part of an exceptionally supportive work environment where team members thrive, feel valued, and are ultimately appreciated for their contributions.

What are the benefits of working at Achieving True Self?

Part-time, flexible opportunities, available to work afternoons and evenings.

Medical, dental, vision, retirement options, and employee assistance programs.

Supplemental insurance through Aflac to include short term disability options.

Travel time reimbursement; included in your total weekly hours.

Considerate client matching based on your location and availability.

We "Hire to Retire" providing you with the tools necessary to grow with Achieving True Self. Tuition discounts, college and university partnerships, and continued education and supervision opportunities.

Paid training for your Registered Behavior Technician within the first month of employment.

A company that strives for work/life balance.

Company chromebook provided.

The best perk we can offer is to provide you with a chance to make a difference in young lives while working with talented and dedicated people who love what they do.

What qualifications do I need to join the ATS team?

Proof of high school diploma or transcripts.

A valid driver's license with proof of car insurance, a good driving record and your own reliable vehicle.

Experience working with children, children with disabilities, or adults with disabilities is a plus.

An unstoppable passion for excellence and an unquestionable commitment to those we serve.

What are the core responsibilities?

Carry out individualized treatment and behavior intervention plans to support our kiddos within the home and community setting.

Collect data as defined within the plan.

Be a part of the ongoing success and achievement of our kiddos by focusing on their strengths, needs, abilities, and preferences.

Help to guide and support families and caregivers to implement new skills.

Record data within the Electronic Health Records (EHR) system.

Be a stewart of ATSs mission, vision, values, and beliefs.

Who is ATS, and What is our Mission?

Achieving True Self is passionately cultivating and inspiring growth through the delivery of evidenced based treatment to assist individuals, families, organizations and their surrounding communities to achieve their self-defined goals. Through a supportive organizational culture focused on developing and retaining team members, we are determined to change the world by instilling hope and helping each person whose life we touch achieve their truest self.

*Bonus to be paid out after 90 days in the field.

Achieving True Self is an Equal Opportunity Employer (EOE). Qualified applicants will receive consideration for employment without regard to race, color, religion, sex, age, disability, military status, national origin or any other characteristic protected under federal, state, or applicable local law.

Apply

Back

Registered Behavior Technician (RBT)

Location: Reisterstown, MD  Department: RBT-MD-Baltimore
Type: Part Time

Registered Behavior Technician (RBT)

Location:

White Hall, MD

Apply Details Department:

RBT-MD-Baltimore

Back

Registered Behavior Technician (RBT)

Location: White Hall, MD  Department: RBT-MD-Baltimore
Type: Part Time

Job description

Achieving True Self (ATS) wants to invest in you!

PAID TRAINING! $500 Sign On Bonus

At ATS, you have the opportunity to make a change in the life of a child. As a Registered Behavior Technician, you will use the principles of Applied Behavior Analysis (ABA) to provide 1:1 direct services in homes and community settings. You will get to have fun and let your personality shine while applying individualized treatment! You will be a part of an exceptionally supportive work environment where team members thrive, feel valued, and are ultimately appreciated for their contributions.

What are the benefits of working at Achieving True Self?

Part-time, flexible opportunities, available to work afternoons and evenings.

Medical, dental, vision, retirement options, and employee assistance programs.

Supplemental insurance through Aflac to include short term disability options.

Travel time reimbursement; included in your total weekly hours.

Considerate client matching based on your location and availability.

We "Hire to Retire" providing you with the tools necessary to grow with Achieving True Self. Tuition discounts, college and university partnerships, and continued education and supervision opportunities.

Paid training for your Registered Behavior Technician within the first month of employment.

A company that strives for work/life balance.

Company chromebook provided.

The best perk we can offer is to provide you with a chance to make a difference in young lives while working with talented and dedicated people who love what they do.

What qualifications do I need to join the ATS team?

Proof of high school diploma or transcripts.

A valid driver's license with proof of car insurance, a good driving record and your own reliable vehicle.

Experience working with children, children with disabilities, or adults with disabilities is a plus.

An unstoppable passion for excellence and an unquestionable commitment to those we serve.

What are the core responsibilities?

Carry out individualized treatment and behavior intervention plans to support our kiddos within the home and community setting.

Collect data as defined within the plan.

Be a part of the ongoing success and achievement of our kiddos by focusing on their strengths, needs, abilities, and preferences.

Help to guide and support families and caregivers to implement new skills.

Record data within the Electronic Health Records (EHR) system.

Be a stewart of ATSs mission, vision, values, and beliefs.

Who is ATS, and What is our Mission?

Achieving True Self is passionately cultivating and inspiring growth through the delivery of evidenced based treatment to assist individuals, families, organizations and their surrounding communities to achieve their self-defined goals. Through a supportive organizational culture focused on developing and retaining team members, we are determined to change the world by instilling hope and helping each person whose life we touch achieve their truest self.

*Bonus to be paid out after 90 days in the field.

Achieving True Self is an Equal Opportunity Employer (EOE). Qualified applicants will receive consideration for employment without regard to race, color, religion, sex, age, disability, military status, national origin or any other characteristic protected under federal, state, or applicable local law.

Apply

Back

Registered Behavior Technician (RBT)

Location: White Hall, MD  Department: RBT-MD-Baltimore
Type: Part Time

Registered Behavior Technician (RBT)

Location:

Burtonsville, MD

Apply Details Department:

RBT-MD-Montgomery

Back

Registered Behavior Technician (RBT)

Location: Burtonsville, MD  Department: RBT-MD-Montgomery
Type: Part Time

Job description

Achieving True Self (ATS) wants to invest in you!

PAID TRAINING! $500 Sign On Bonus

At ATS, you have the opportunity to make a change in the life of a child. As a Registered Behavior Technician, you will use the principles of Applied Behavior Analysis (ABA) to provide 1:1 direct services in homes and community settings. You will get to have fun and let your personality shine while applying individualized treatment! You will be a part of an exceptionally supportive work environment where team members thrive, feel valued, and are ultimately appreciated for their contributions.

What are the benefits of working at Achieving True Self?

Part-time, flexible opportunities, available to work afternoons and evenings.

Medical, dental, vision, retirement options, and employee assistance programs.

Supplemental insurance through Aflac to include short term disability options.

Travel time reimbursement; included in your total weekly hours.

Considerate client matching based on your location and availability.

We "Hire to Retire" providing you with the tools necessary to grow with Achieving True Self. Tuition discounts, college and university partnerships, and continued education and supervision opportunities.

Paid training for your Registered Behavior Technician within the first month of employment.

A company that strives for work/life balance.

Company chromebook provided.

The best perk we can offer is to provide you with a chance to make a difference in young lives while working with talented and dedicated people who love what they do.

What qualifications do I need to join the ATS team?

Proof of high school diploma or transcripts.

A valid driver's license with proof of car insurance, a good driving record and your own reliable vehicle.

Experience working with children, children with disabilities, or adults with disabilities is a plus.

An unstoppable passion for excellence and an unquestionable commitment to those we serve.

What are the core responsibilities?

Carry out individualized treatment and behavior intervention plans to support our kiddos within the home and community setting.

Collect data as defined within the plan.

Be a part of the ongoing success and achievement of our kiddos by focusing on their strengths, needs, abilities, and preferences.

Help to guide and support families and caregivers to implement new skills.

Record data within the Electronic Health Records (EHR) system.

Be a stewart of ATSs mission, vision, values, and beliefs.

Who is ATS, and What is our Mission?

Achieving True Self is passionately cultivating and inspiring growth through the delivery of evidenced based treatment to assist individuals, families, organizations and their surrounding communities to achieve their self-defined goals. Through a supportive organizational culture focused on developing and retaining team members, we are determined to change the world by instilling hope and helping each person whose life we touch achieve their truest self.

*Bonus to be paid out after 90 days in the field.

Achieving True Self is an Equal Opportunity Employer (EOE). Qualified applicants will receive consideration for employment without regard to race, color, religion, sex, age, disability, military status, national origin or any other characteristic protected under federal, state, or applicable local law.

Apply

Back

Registered Behavior Technician (RBT)

Location: Burtonsville, MD  Department: RBT-MD-Montgomery
Type: Part Time

Registered Behavior Technician (RBT)

Location:

Frederick, MD

Apply Details Department:

RBT-MD-Frederick

Back

Registered Behavior Technician (RBT)

Location: Frederick, MD  Department: RBT-MD-Frederick
Type: Part Time

Job description

Achieving True Self (ATS) wants to invest in you!

PAID TRAINING! $500 Sign On Bonus!!

At ATS, you have the opportunity to make a change in the life of a child. As a Registered Behavior Technician, you will use the principles of Applied Behavior Analysis (ABA) to provide 1:1 direct services in homes and community settings. You will get to have fun and let your personality shine while applying individualized treatment! You will be a part of an exceptionally supportive work environment where team members thrive, feel valued, and are ultimately appreciated for their contributions.

What are the benefits of working at Achieving True Self?

Part-time, flexible opportunities, available to work afternoons and evenings.

Medical, dental, vision, retirement options, and employee assistance programs.

Supplemental insurance through Aflac to include short term disability options.

Travel time reimbursement; included in your total weekly hours.

Considerate client matching based on your location and availability.

We "Hire to Retire" providing you with the tools necessary to grow with Achieving True Self. Tuition discounts, college and university partnerships, and continued education and supervision opportunities.

Paid training for your Registered Behavior Technician within the first month of employment.

A company that strives for work/life balance.

Company chromebook provided.

The best perk we can offer is to provide you with a chance to make a difference in young lives while working with talented and dedicated people who love what they do.

What qualifications do I need to join the ATS team?

Proof of high school diploma or transcripts.

A valid driver's license with proof of car insurance, a good driving record and your own reliable vehicle.

Experience working with children, children with disabilities, or adults with disabilities is a plus.

An unstoppable passion for excellence and an unquestionable commitment to those we serve.

What are the core responsibilities?

Carry out individualized treatment and behavior intervention plans to support our kiddos within the home and community setting.

Collect data as defined within the plan.

Be a part of the ongoing success and achievement of our kiddos by focusing on their strengths, needs, abilities, and preferences.

Help to guide and support families and caregivers to implement new skills.

Record data within the Electronic Health Records (EHR) system.

Be a stewart of ATSs mission, vision, values, and beliefs.

Who is ATS, and What is our Mission?

Achieving True Self is passionately cultivating and inspiring growth through the delivery of evidenced based treatment to assist individuals, families, organizations and their surrounding communities to achieve their self-defined goals. Through a supportive organizational culture focused on developing and retaining team members, we are determined to change the world by instilling hope and helping each person whose life we touch achieve their truest self.

*Bonus to be paid out after 90 days in the field.

Achieving True Self is an Equal Opportunity Employer (EOE). Qualified applicants will receive consideration for employment without regard to race, color, religion, sex, age, disability, military status, national origin or any other characteristic protected under federal, state, or applicable local law.

Apply

Back

Registered Behavior Technician (RBT)

Location: Frederick, MD  Department: RBT-MD-Frederick
Type: Part Time

Registered Behavior Technician (RBT)

Location:

Westminster, MD

Apply Details Department:

RBT-MD-Carroll

Back

Registered Behavior Technician (RBT)

Location: Westminster, MD  Department: RBT-MD-Carroll
Type: Part Time

Job description

Achieving True Self (ATS) wants to invest in you!

PAID TRAINING! $500 Sign On Bonus!!

At ATS, you have the opportunity to make a change in the life of a child. As a Registered Behavior Technician, you will use the principles of Applied Behavior Analysis (ABA) to provide 1:1 direct services in homes and community settings. You will get to have fun and let your personality shine while applying individualized treatment! You will be a part of an exceptionally supportive work environment where team members thrive, feel valued, and are ultimately appreciated for their contributions.

* Evening and weekend availability*

What are the benefits of working at Achieving True Self?

Part-time, flexible opportunities, available to work afternoons and evenings.

Medical, dental, vision, retirement options, and employee assistance programs.

Supplemental insurance through Aflac to include short term disability options.

Travel time reimbursement; included in your total weekly hours.

Considerate client matching based on your location and availability.

We "Hire to Retire" providing you with the tools necessary to grow with Achieving True Self. Tuition discounts, college and university partnerships, and continued education and supervision opportunities.

Paid training for your Registered Behavior Technician within the first month of employment.

A company that strives for work/life balance.

Company chromebook provided.

The best perk we can offer is to provide you with a chance to make a difference in young lives while working with talented and dedicated people who love what they do.

What qualifications do I need to join the ATS team?

Proof of high school diploma or transcripts.

A valid driver's license with proof of car insurance, a good driving record and your own reliable vehicle.

Experience working with children, children with disabilities, or adults with disabilities is a plus.

An unstoppable passion for excellence and an unquestionable commitment to those we serve.

What are the core responsibilities?

Carry out individualized treatment and behavior intervention plans to support our kiddos within the home and community setting.

Collect data as defined within the plan.

Be a part of the ongoing success and achievement of our kiddos by focusing on their strengths, needs, abilities, and preferences.

Help to guide and support families and caregivers to implement new skills.

Record data within the Electronic Health Records (EHR) system.

Be a stewart of ATSs mission, vision, values, and beliefs.

Who is ATS, and What is our Mission?

Achieving True Self is passionately cultivating and inspiring growth through the delivery of evidenced based treatment to assist individuals, families, organizations and their surrounding communities to achieve their self-defined goals. Through a supportive organizational culture focused on developing and retaining team members, we are determined to change the world by instilling hope and helping each person whose life we touch achieve their truest self.

*Bonus to be paid out after 90 days in the field.

Achieving True Self is an Equal Opportunity Employer (EOE). Qualified applicants will receive consideration for employment without regard to race, color, religion, sex, age, disability, military status, national origin or any other characteristic protected under federal, state, or applicable local law.

Apply

Back

Registered Behavior Technician (RBT)

Location: Westminster, MD  Department: RBT-MD-Carroll
Type: Part Time

Treatment Integrity and Outcomes Analyst

Location:

Irwin, PA

Apply Details Department:

Achieving True Self

Back

Treatment Integrity and Outcomes Analyst

Location: Irwin, PA  Department: Achieving True Self
Type: Full Time

Achieving True Self is expanding, and we have an INCREDIBLE opportunity for an exceptional Treatment Integrity and Outcomes Analyst!

$5000 Sign on Bonus

As a member of the Achieving True Self team, our Treatment Integrity and Outcomes Analyst will ensure that the Center for Achievement-Irwin's ABA services operate with optimal clinical outcomes. They will work with an unstoppable passion for excellence and an unquestionable commitment to ensuring those we serve always receive the highest quality clinical treatment and outcomes while at our Center for Achievement.

What are the benefits of working at ATS?

Full-Time opportunity with competitive bi-weekly pay.

Paid time off.

Medical, dental, vision, and retirement options. Supplemental insurance through Aflec offered, including short term disability.

Work in our Center for Achievement-a newly renovated, state-of-the-art center with numerous sensory classrooms, PCIT training rooms, and comfortable office space.

On-site fitness center accessible to all employees.

A company that strives for work-life balance.

We hire to retire; providing you with the tools necessary to succeed and grow with Achieving True Self.

Professional Development; opportunity to focus on clinical collaboration with field experts in order to develop skills.

Daily operational and administrative support from the leadership team.

Transformational leadership team that empowers individuals to thrive, grow, contribute, and ultimately feel appreciated.

The best perk we can offer is to provide you with the chance to make a difference in young lives while working with talented and dedicated people who love what they do.

What qualifications do I need to join the ATS team?

Master's degree or national equivalent with major in psychology, special education, ABA experience,

valid certification of BCBA/BCBA-D through BACB, and

a valid Pennsylvania Professional License.

Minimum of 3 years full time experience in providing clinical oversight of an ABA program.

Experience with data analysis, including visual analysis of single-subject data as well as statistical analysis of grouped data

Experience with implementation of Organizational Behavior Management (OBM) principles, including strategies related to Performance Management (PM) and Behavioral Systems Analysis (BSA)

Knowledge of IBHS regulations

Knowledge of medical billing for ABA and navigating insurance is preferred  

A drive to be part of an innovative, expanding company with amazing potential for growth

What are the core responsibilities?

Prepares and ensures accuracy of reports on client outcomes and communicates treatment outcome information and activities to appropriate teams and staff

Takes ownership of the clinical outcomes from services provided

Serves as a communication link between administration and the clinical teams

Maintains treatment integrity and outcomes data by measuring implementation of treatment protocols, progress of client goals/objectives, timeliness of services, appropriateness of services, etc.

Collaborate with BCBAs/BCs to develop treatment integrity assessments for current client program protocols

Present outcomes to stakeholders as well as present outcomes at local and national conferences

Develop and present training to ensure staff provide services with exceptional treatment integrity

Reviews individuals and families satisfaction information

Maintain professional and technical knowledge by attending educational workshops; reviewing professional publications; establishing personal networks; participating in professional societies; and remaining current on research on treatment integrity including assessment and intervention strategies

Maintain and protect the well-being of all clients during treatment sessions and when emergency crisis situations arise 

Be able to work with a diverse team of professionals to provide the best behavioral services possible to clients

Attend staff trainings and agency meetings voluntarily

Other job duties as assigned by the Leadership Team and supervisor. 

Who is ATS, and what is our mission?:

Achieving True Self is passionately cultivating and inspiring growth through the delivery of evidenced based treatment to assist individuals, families, organizations and their surrounding communities to achieve their self-defined goals. Through a supportive organizational culture focused on developing and retaining team members, we are determined to change the world by instilling hope and helping each person whose life we touch achieve their truest self.

Achieving True Self is an Equal Opportunity Employer (EOE). Qualified applicants will receive consideration for employment without regard to race, color, religion, sex, age, disability, military status, national origin or any other characteristic protected under federal, state, or applicable local law.

*Bonus paid out after 90 days.

Apply

Back

Treatment Integrity and Outcomes Analyst

Location: Irwin, PA  Department: Achieving True Self
Type: Full Time