The ATS Center for Achievement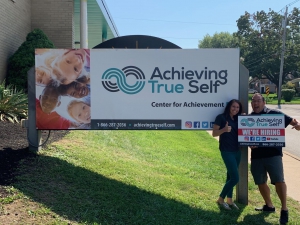 Located at 1015 Pennsylvania Avenue near downtown Irwin, this center will be a hub for many services, including the Applied Behavior Analysis services and consultation for schools we already provide, and our Speech and Language Pathology Services (NEW!).

Over the next several months, we will continue to build upon the current supports we already have available to bring the Norwin community (and surrounding communities across the county and beyond) a comprehensive center (a true "one stop shop" if you will) for individuals across the lifespan who have autism, behavioral health challenges, intellectual disabilities, and other learning differences.
---
Additional services to be added to our center in the future include and are not limited to:
Site-based Applied Behavior Analysis programming, including Functional Analysis assessments


Parent-Child Interaction Therapy (PCIT)


Teacher-Child Interaction Training (TCIT)


Occupational Therapy


Vocational Training


Social Skills Opportunities


Home and Community Based Waiver Services (HCBS) funded by Medicaid in Pennsylvania
---
There is a lot more in store for ATS, including expansion at our current site in Hagerstown, Maryland, and the development of additional ATS Centers for Achievement across the country and beyond.

As the photo suggests, WE ARE HIRING! We "#hiretoretire" at Achieving True Self, and we like to say that applicants should "grab your (their) shades, because the future here is bright!"

Learn about ALL of our opportunities by visiting our employment page! While you're there, be sure to watch our video if you've never seen it, and learn about the ATS difference.

Here, people matter. A concept so simply stated, yet powerfully embraced.
---
"The best way to predict the future is to create it." ~ Abraham Lincoln
---
Pictured left to right in photo: Brittany Mears, BS, Director of Team Connection and Engagement; Rick J. Murray, LSW, BCBA, LBA, President/CEO and Founder
---